25 Coupons for Affordably Starting a New Years Resolution
January 3, 2020 by Samantha Carey
New year, new you. Right?
The new year is right around the corner and with it comes a fresh start. While New Year's resolutions may seem like a cliche thing to partake in, there is no doubt that the beginning of a new chapter lends room for you to do a proverbial restart.
Whether you want to improve your health, take a break from social media, or challenge yourself to complete a task you've been putting off for a long time, the new year can be the perfect time to set and maintain goals for yourself.
Check out this list of 25 coupons that will make it a breeze for you to start the new year off right without breaking the bank! Also, be sure to check how technology can help your New Year's resolution.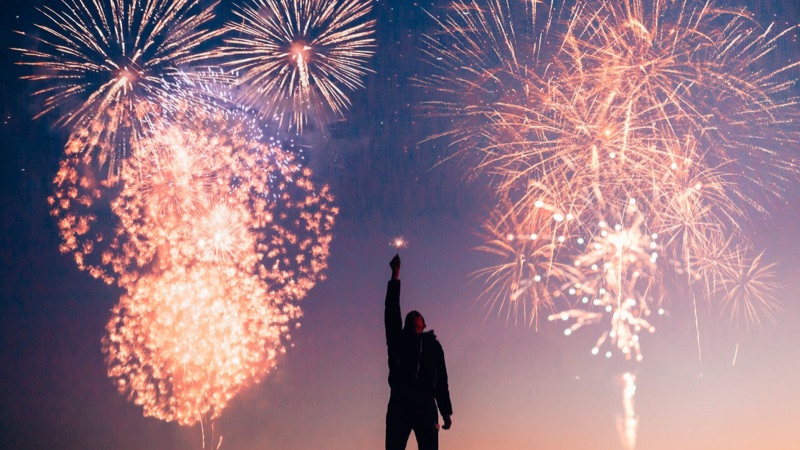 25 New Year's Resolution Coupons
1. Extra 20% Off Sitewide at IdealFit - One of the most popular New Year's resolutions is to get fit and healthy. IdealFit sells premium protein powders, fitness apparel, and more for all of your workout needs. Get an extra 20% off anything on their site with this coupon. Expires December 31, 2019. Here are some other IdealFit promos you can use throughout the year:
2. Buy 2 Of Our Frequently Bought Together Courses At Only $19.98 at Udemy - A great way to kick off the new year is by investing in your education and career. Udemy offers online courses to help you learn and fine-tune your skills. They now have an offer if you buy one course, you get 2 additional courses for $19.98 for both! Ongoing Offer. Save on your education with a Udemy coupon code:
3. $40 Off First 2 Weeks of Meals ($20 off each week) at Factor 75 - Eating healthy may not have been your strong suit in previous years, but in 2020 it can be a breeze with Factor 75. This food service company will send you pre-cooked meals right to your door. You can get $40 off your first 2 weeks of meals and get to eating healthy food right away. Ongoing Offer. Pair any of these Factor coupons with your purchase to save:
4. *Exclusive* Up To $30 Off Our Fees On Flights at CheapOair - Traveling is a great way to kick off a new year full of new adventures. CheapOair finds the best and cheapest flights all around the world and is perfect for satisfying your traveler's heart. You can get up to $30 off CheapOair's fees with this coupon. Expires December 31, 2019. Travel is more affordable with CheapOair discount codes:
5. 20% Off All Orders at Sunday Scaries - Want to start the year relaxed and at ease? Sunday Scaries make the stress of the holidays and new year fade away with their high-quality hemp and CBD products that are shown to calm the mind. Get 20% off your order with this coupon! Ongoing Offer. Sunday Scaries promo codes such as these will help you save on this New Year's purchase:
6. $5 Off Sitewide *Exclusive* at Hidrate - Looking to improve your health by staying hydrated? Hidrate sells smart water bottles that track your water intake to ensure you're getting enough. Get $5 any product on their site. Ongoing Offer. Hidrate discount codes can make this purchase more affordable:
7. *Exclusive* 10% Off Sitewide at 360Training - Want to tap into a new industry in the new year? 360Training focuses on helping you obtain skills through thousands of online courses on topics such as food handling, OSHA, and more. You can get 10% off sitewide on any course using this coupon. Ongoing Offer. Save on your new skill with 360Training coupons:
8. 40% Off Strength.com Brand Items at Strength.com - If you're trying to start the new year with a bit more muscle, you can check out the supplements, shakers, and more exercise accessories available through Strength.com. Get 40% off any of their personal brand items with this coupon. Ongoing Offer. New supplements are more affordable when you use a Strength.com coupon code with your order:
9. ** Exclusive** 10% Off Any Order at Loog - Want to help your kiddos learn a new skill in the new year? Loog has reimagined kids' guitars and made them simpler to play and learn. You can get 10% off any order, with no restrictions, with this offer. Ongoing Offer. These Loog discount codes are currently available for savings:
10. 25% Off Sitewide - Exclusive at Skinny Tan - Have the resolution to keep confident about your appearance? Skinny Tan sells natural and vegan skin tanning lotions to give you the perfect glow. Get 25% off their products sitewide with this code. Ongoing Offer. Your new look is more affordable with a Skinny Tan promo code:
11. 25% Off A First Time Preferred Customer Order at Balance of Nature - Balance of Nature health capsules make it simple and tasty to incorporate healthier foods into your diet. You can get 25% off your first order with this coupon. Must be a first time order and order as a preferred customer. Expires December 31, 2019. Balance of Nature promo codes can make this purchase for New Years more affordable:
12. *Exclusive* 15% Off Sitewide at Grosche - Want to live more intentionally in the new year with the support of philanthropic brands? Grosche sells coffee, tea, and accessories and gives a portion of their sales going toward their safe water projects, Habitat for Humanity, and other charitable causes. Ongoing Offer. Don't make this purchase with a Grosche promo code:
13. *Exclusive* - $10 Off Service Fees at Reservations.com - Make your resolution of traveling easier by booking through Reservations.com for the best hotel rooms. You can get $10 off their service fees with this coupon. Expires December 31, 2019. Save on 2020 travel with these Reservations.com coupons:
14. 20% Off All Deals at Eduonix - You've been putting off getting your degree for years now. Eduonix has a ton of e-courses and online degrees to choose from that will help you kickstart 2020 with a new education. You can get 20% off all select deals at Eduonix. Ongoing Offer. A new education is more easily attained with the help of Eduonix discount codes:
15. *Exclusive* - 10% Off Sitewide at Engine DIY - Maybe your goal for 2020 is to put your intellect and hands to work by building your own engine. You can get everything you need to build and modify engines and get 10% off of any Engine DIY product with this coupon. Expires February 29th, 2020. Modify engines and save money with EngineDIY coupon codes:
16. 10% Off on Participating Hotels at Travelocity - Your New Year resolution is to travel more and you can do it with one of the most reputable travel booking companies on the market. Get 10% off participating hotels through Travelocity with this coupon code. Expires December 31, 2019. Travelocity coupons can help you see a new city:
17. 50% Off The First Box Of Any 3-month Premium Subscription at GlobeIn - A great way to fulfill your resolution to shop smarter in the new year is by subscribing to GlobeIn. This subscription company supports real artists by exclusively selling their homemade products. You can get 50% off your first box of a subscription of 3 months or longer with this coupon. Ongoing Offer. Artisan products are more affordable with the help of GlobeIn discount codes:
18. Extra 20% Off Sitewide at IdealShape - Getting healthy in the new year involves a lot of diet changes, and a great way to eat better is to incorporate nutritious meal replacement shakes in your daily routine. You can get 20% off shakes and other health products at IdealShape. Expires December 31, 2019. IdealShape promo codes like these can help you save anytime:
19. $5 Off Sitewide Coupon at Love Goodly - So you want to look your best but you also want to shop with ethics in mind in the new year. Love Goodly sells a line of healthy, cruelty-free beauty products that are free of toxins and are also eco-friendly. You can get $5 off sitewide on these fantastic products and subscription boxes. Ongoing Offer. Don't forget to use a Love Goodly coupon upon checkout to access the savings:
20. 10% off orders of $35+ at Sheet Music Plus - Want to brush up on your musical abilities in 2020? Sheet Music Plus has sheet music for just about every instrument so you can get right to playing with 10% off your order of $35 or more with this code. Expires December 31, 2019. Sheet Music Plus promo codes are essential when checking out:
21. **Exclusive** 10% Off All Designevo Logo Packages (Free, $24.99 Basic, and $49.99 Plus) at Designevo - Want to get serious about your small business in 2020? The first thing you need is a logo, and you can have the perfect logo designed at Desighevo. Use this coupon to get 10% off all Designevo logo packages. Expires December 31, 2019. Use a DesignEvo discount code when shopping to save:
22. **Exclusive** 10% Off Sitewide at Quantum Wellness - To boost your health in the new year, Quantum Wellness sells natural health supplements, vitamins, and more. You can get 10% off on their website with this coupon. Ongoing Offer. Quantum Wellness coupons are regularly available for shoppers to use:
23. Get 50% Off when You Invite Your Friend to Start One of 2019's Best Courses on Coursera - Another great place to fulfill your resolution of continuing your education is Coursera. They have a wide variety of online courses in multiple disciples to choose from. You can get half off a course when you invite a friend to start one with you. Expires December 30, 2019. Coursera coupon codes can help you achieve your career goals:
24. Get $30 Off + Free Shipping With Your First Box on EveryPlate - A simple way to meet your goal of becoming a better cook is through EveryPlate. This affordable meal kit delivery service can come at an even better cost with this coupon for $30 off and free shipping with your first box. Expires December 31, 2019. Cook better and eat healthier with EveryPlate promo codes:
25. Save up to $40 off Best Flight Deals to the Hottest Destinations at MyFlightSearch - Lastly, if your New Year's resolution is to travel around the world, MyFlightSearch is a great option for purchasing your ticket. You can get up to $40 off your ticket with this coupon. Expires June 25, 2020. See the world and save money with MyFlightSearch discount codes:
Whether you are making a resolution to travel the world, get an education, or simply make strides toward better health, you can save a little bit of money this year as you seek to have success in your New Year's resolution.
---