5 Simple Ways to Start Prepping for Tax Day 2020 Right Now
April 22, 2019 by Angie Long
Thousands of Americans rushed last week to get their taxes done at the last minute before Tax Day. But waiting until the last minute to finish your taxes can lead to missing important items, high stress and potential late fees. For this coming tax year, we wanted to provide a few tips on how to better prepare yourself. A little care and attention throughout the year leading up to Tax Day 2020 can go a long way!
Here are 5 easy ways you can start prepping right now for next Tax Day. If you're looking to save money on tax services, try our collection of Tax Day coupons and deals!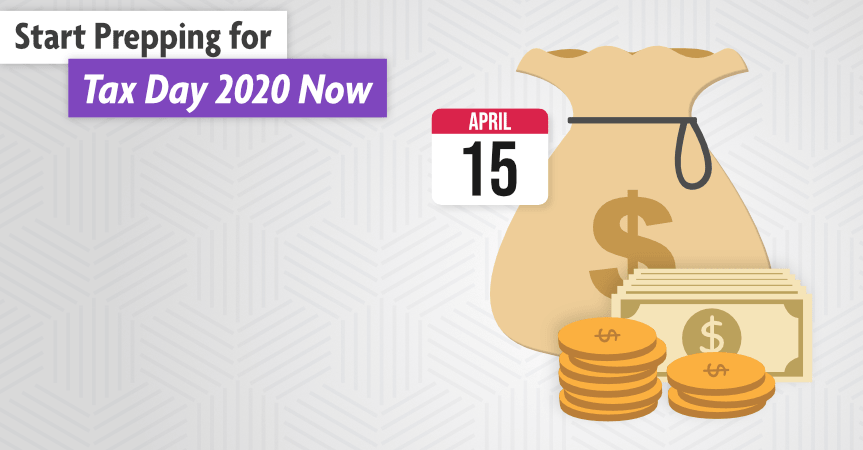 Prepping for Tax Day 2020
1. Organize your receipts throughout the year. Remembering that charitable contributions and clothing donations are tax-deductible, having all your receipts in folders categorized by the type of deduction can be a big saver of money and time. Simply create an email folder titled something like, "2019 Deductions," with sub-folders for each type of specific deduction. Do the same with your physical receipts. You can save hundreds of dollars with this simple method. Use folders or a filing cabinet from Staples to stay organized! You can save money on organization for Tax Day by using Staples coupon codes like these:

Details:
Last Day!
Click "Show Coupon Code" To Activate This Deal. Exclusions May Apply
$15 Off $60+ Order
2. Budget ahead of time. Never assume you're going to get a refund, especially considering tax laws change regularly. And if you had to pay taxes this year, chances are you'll have to pay next year as well. One way to ensure you don't get stuck with a big tax bill is to increase your withholding through your employer. It simply involves filling out a new W-4 form. Generally, the higher your withholding, the more the government reserves from your paycheck (and the more they have to give back to you at tax time). You'll just have to deal with the fact that you're providing the government with a free loan in the meantime.

3. Research tax services beforehand. Nowadays, there is great software that makes it easy to file your taxes online while making sure you get back the money you deserve. Some software is even free. If you don't have complicated taxes, it may be worthwhile to simply use the federal government's "Free File" website for your federal taxes and your state's Department of Revenue for your state taxes. Both options beat waiting the long lines at traditional tax preparation services, which start to get crazy busy the end of March.

4. Plan for retirement, now. Did you know that setting money aside in a tax-sheltered account can significantly help your 2020 tax return? After all, any money you save for retirement lowers the amount of income you have to claim on your tax return. And the lower your income, the less tax you'll have to pay. The bonus is the interest that money earns while it's sitting in your retirement account. You can contribute up to $6,000 to a Traditional or Roth IRA (or both) for 2019. We also recommend using a service like Acorns to stash extra money and continue saving! Our 2019 Acorns discount codes are helpful for getting an account started:
5. Research Tax Day freebies. Many businesses offer incentives to get you in the door on Tax Day, and some deals are better than others. Regardless, if there's one day of the year that you could use a discount, it's April 15, so be sure to check out the Tax Day coupons and deals near you ahead of time so you can get the most bang for your buck.

Tax Day doesn't have to be an overwhelming burden, and you can benefit greatly by preparing throughout the year. After all, haste makes waste and waiting until the last minute can be an expensive and stressful mistake.
---