Best Memorial Day Deals and How to Celebrate At-Home in 2020
May 18, 2020 by Aubrey Meister
Memorial Day falls on Monday, May 25, 2020. Observed on the last Monday in May each year, the day is meant to remember those who have died in military service. Many people have Memorial Day off and celebrate with a cookout, a long weekend trip, and other activities. Due to the coronavirus stay-at-home orders, Memorial Day might look different for you this year.

While you're at home this Memorial Day, you can take advantage of a variety of sales. Tons of retailers offer discounts on Memorial Day. Take a look at these popular Memorial Day deals and scroll to the bottom to see recommendations on how to celebrate Memorial Day at-home in 2020.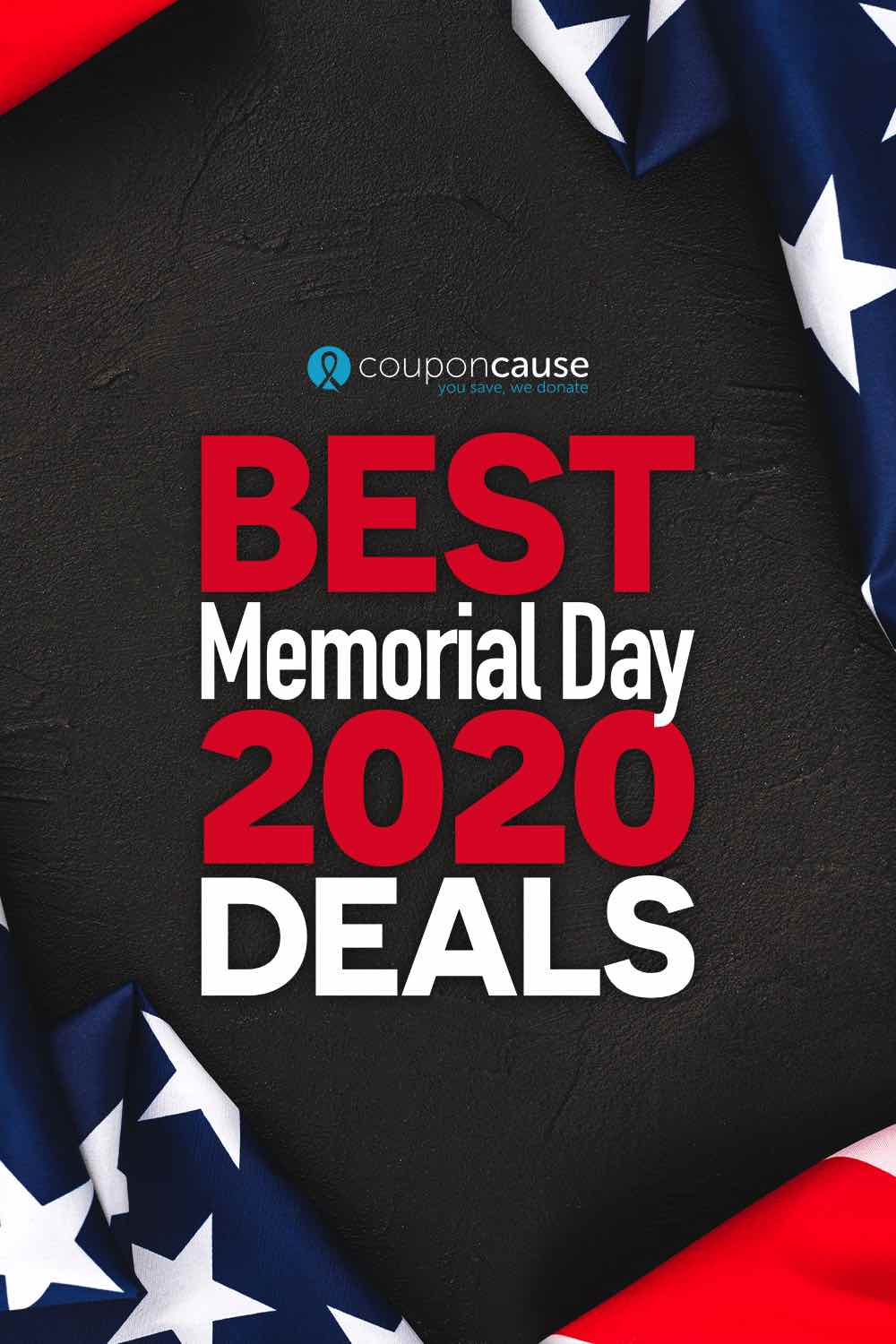 Memorial Day 2020
Piedmontese
Piedmontese specializes in beef but offers a wide variety of meats, seasonings, and jerky. For Memorial Day, you can save 25% sitewide on your beef purchase. The deal is good through May 20. There is no promo code needed to get the discount. Check out these two Piedmontese coupons for savings all year:
Overnightprints.com
Overnightprints.com carries a range of printed products, from business cards to brochures. Currently, Overnightprints.com is offering 25% off sitewide. Exclusions may apply. The coupon code does not expire. You can find other Overnightprints.com coupon codes regularly updated here at CouponCause:

Dango Products
Dango Products wallets, watches, belts, and other accessories are great for anyone with an active lifestyle. For Memorial Day, Dango is offering 15% off sitewide. The coupon code expires on May 25. Dango also offers free shipping on orders over $49 and other Dango promo codes like these:

Grunt Style
Grunt Style offers a selection of military-inspired clothing, making it the perfect place to shop this Memorial Day. You can save 25% on most items, but some do not qualify. This is an ongoing offer so the code does not have a set expiration date. Use one of these other Grunt Style discount codes to save on other orders:

Casetify
Casetify phone and iPad cases, laptop sleeves, and Apple Watch accessories are unique and designed by an impressive range of designers. You can save 15% off sitewide. This deal is ongoing, so it does not have a set expiration date. Keep in mind that there may be some exclusions to this coupon code. Here are two Casetify discount codes for your use:

AlphaMarts
AlphaMarts offers a selection of patio furniture, kitchen items, and more. For Memorial Day, AlphaMarts has two special deals. If you spend $89, you will save $15 on your purchase. If you spend $189, you will save $30 on your purchase. This deal ends on May 31st. Try these other AlphaMarts coupons for further savings:
Nest Bedding
Nest Bedding carries mattresses, bedding, and furniture. Nest Bedding is offering 25% off sitewide with a luxury mattress bundle. No code is needed for the discount. The sale is good through May 31st. Here are two Nest Bedding coupon codes for customer use:

Adornmonde
Adornmonde's line of fine jewelry includes earrings, necklaces, rings, bracelets, and anklets. Some of these items can be personalized. You can save 10% on your next purchase with Adornmonde. The code is ongoing and does not have a set expiration date. Here are a couple Adornmonde promo codes for use:

Home Depot
If you're working on a home project, Home Depot is the perfect place to shop. For Memorial Day, Home Depot is offering a variety of percent off discounts throughout the store. You can save up to 30% on cookware, wine and bottle racks, and kitchen carts. You can also save up to 20% on small appliances, air fryers, blenders, and coffee. There are more discounts available in other departments. Home Depot coupons like these can be found all year:

Callaway Apparel
You might check out Callaway's collection of golf apparel this Memorial Day. Callaway Apparel is offering an extra 40% off sale items. You can save more on already discounted items. This code expires on May 26. Try a different Callaway Apparel promo code like these:
How to Celebrate Memorial Day 2020 At-Home
While you might typically go on a long weekend getaway, go to a parade, or gather with a large group of friends, the stay-at-home orders are affecting Memorial Day 2020. In some states and cities, the government has relaxed the orders, but some people are still choosing to play it safe. Fortunately, there are other ways to spend the holiday while maintaining safe practices.

1. Spend time outdoors. Outdoor activities are still allowed with the stay-at-home orders in place, as long as you keep your distance from others. Go fishing, enjoy a hike, or have a picnic outside.

2. Watch the National Memorial Day Concert. This special event features tributes and performances. It airs on PBS on Sunday, May 24 at 8:00 pm EST. Check your local listings for additional details.
3. Host a social-distancing parade. With most parades canceled this year, you can coordinate with friends, family, and neighbors to make your own. Everyone can drive their cars through the neighborhood for a Memorial Day parade while keeping safe.
4. Have your own cookout in the backyard. Even if you can't gather with all your friends and family, you can have a cookout with the people you live with. Grab the lawn chairs and fire up the grill. You can enjoy s'mores in the evening too.
5. Video chat with your typical cookout crew. Missing your usual Memorial Day festivities? You can give your friends and family a video call and "hang out" while enjoying your own separate cookouts.

---