CC Month Preview: February 2018 Movies, TV, Video Games, Music and More!
January 29, 2018 by Eric White
February is the shortest month of the year, but judging by the looks of our February calendar, it certainly will not be the dullest! There are many new things coming out this month, starting off of course with new Netflix movies and TV, Hulu, Amazon Prime and so much more. Oh, and there's this little thing called the Winter Olympics happening this month too!
Here is what you can expect from movies, TV, music, video games and sports this February 2018.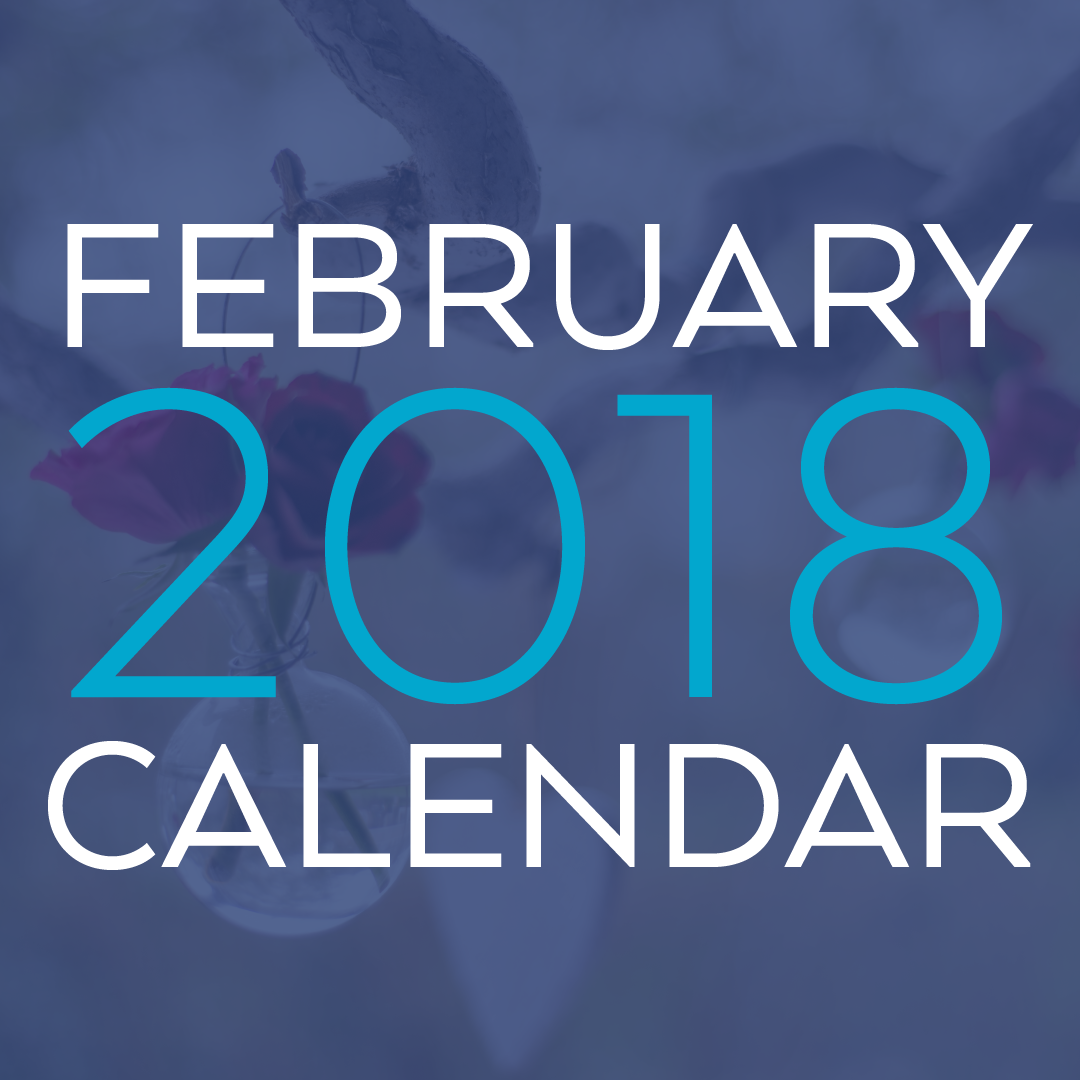 February 2018 Pop Culture Calendar
February 1

Movies and TV
New Netflix releases including:

3,000 Miles to Graceland
42 Grams
Aeon Flux
American Pie Series
Ella Enchanted, Extract
GoodFellas
How the Beatles Changed the World
John Mellencamp: Plain Spoken
Kill Bill: Vol. 1 & 2
Lara Croft: Tomb Raider
Liberated: The New Sexual Revolution
Lovesick
Meet the Fockers
Meet the Parents
Men in Black
National Parks Adventure
Ocean's 11-13
Paint It Black, Scream 3
The Hurt Locker
Walk Hard: The Dewey Cox Story
Z Nation: Season 4

New Hulu releases including:

A Date for Mad Mary
A Fish Called Wanda
Agent Cody Banks 1 + 2
Akeelah and the Bee
Amelie
American Idiots
The Animal
An Officer and a Gentleman
Asterix & Obelix: Mission Cleopatre
The Benchwarmers
Black Spurs
Blazing Saddles
Casi Divas
Charm School
Confessions of A Dangerous Mind
Cougar Town: Complete Series
The Cutting Edge 1 + 2
Daybreakers
Dirt: The Complete Series
Everwood: The Complete Series
Face Off: Season 1-10
Gang Related
The Good, the Bad, and the Ugly
The Goods: Live Hard, Sell Hard
Hannah Montana & Miley Cyrus: Best of Both Worlds
Harsh Times
The Haunting
He Said, She Said
Hoodlum
The Hurt Locker
Intersection
Keeping Up with the Steins
Larry the Cable Guy: Health Inspector
Lulu on the Bridge
Manhattan
Manhunter
Mermaids
Michael
Mystic Pizza
Nightcap: Season 2
Nine Queens
One Tree Hill: The Complete Series
Perfect Stranger
Real Humans: Season 1 + 2
Red Dawn
Redline
Rollerball (1975 + 2002)
Frailty
Running Scared
Rustlers' Rhapsody
Sabrina
Sin City
Slow Burn
The Spirit
The Swan Princess 1-3
Swimming with Sharks
Terms of Endearment
The Thaw
The Warriors
Things You Can Tell Just By Looking At Her

New Amazon Prime releases including:

American Idiots
Black Spurs
The Cutting Edge 1 + 2
Daybreakers
A Fish Called Wanda
Gang Related
The Good, The Bad, and the Ugly
The Goods: Live Hard, Sell Hard
Harsh Times
The Haunting
He Said, She Said
Hoodlum
Intersection
Larry the Cable Guy: Health Inspector
Lulu on the Bridge
Manhattan
Manhunter
Mermaids
Mystic Pizza
An Officer and a Gentleman
Red Dawn
Rollerball
Running Scared
Rustlers' Rhapsody
Sabrina
Slow Burn
Swimming with Sharks
Terms of Endearment
The Thaw
Things You Can Tell Just By Looking at Her
The Warrios
Video Games
Final Fantasy XII: The Zodiac Age on PC
Night in the Woods on Switch
Steamworld Dig on Switch
Music
AWOLNATION - "Here Come the Runts" album
Justin Timberlake - "Man of the Woods" album
Skyzoo - "In Celebration of Us" album
February 2

Movies and TV
Altered Carbons: Season 1 on Netflix
Cabin Fever on Netflix
Coach Snoop: Season 1 on Netflix
Kavin Jay: Everybody Calm Down! on Netflix
Luna Petunia: Return to Amazia: Season 1 on Netflix
On Body and Soul on Netflix
AP Bio: Season 1 on Hulu
Absentia: Season 1 on Amazon Prime
2 Dope Queens Season 1 Premiere on HBO
DGA Awards
Video Games
UFC 3 on Xbox One and PS4
Holiday
February 4
Movies and TV
Broad City: Season 4 on Hulu
My Dead Boyfriend on Hulu and Amazon Prime
Sports
Holiday
February 5
Movies and TV
Archer: Dreamland Season 8 on Hulu
Beach Rats on Hulu
The Challenge on Hulu
Weiner on Hulu
February 6
Movies and TV
Fred Armisen: Standup for Drummers on Netflix
Valor: Season 1 on Netflix
Charged: The Eduardo Garcia Story on Hulu
Danica on Hulu and Amazon Prime
The 60 Yard Line on Hulu
Only the Brave on DVD
LBJ on DVD
Video Games
Shadow of the Colossus on PS4
February 7
Movies and TV
Imposters: Season 1 on Netflix
Queer Eye: Season 1 on Netflix
A Taxi Driver on Hulu
The Expanse: Season 2 on Amazon Prime
February 8
Movies and TV
6 Days on Netflix
The Emoji Movie on Netflix
Gary Unmarried: Season 1-2 on Hulu
Perception: Season 1-3 on Hulu
The PJ's: Season 1-3 on Hulu
Mother's Day on Amazon Prime
Video Games
Civilization VI: Rise and Fall on PC
Music
Dashboard Confessional - "Crooked Shadows" album
David Duchovny - "Every Third Thought" album
Franz Ferdinand - "Always Ascending" album
MGMT - "Little Dark Age" album
February 9
Movies and TV
Fate/Apocrypha: Part 2 on Netflix
My Next Guest Needs No Introduction with David Letterman: George Clooney on Netflix
Seeing Allred on Netflix
The Ritual on Netflix
The Trader (Sovdagari) on Netflix
When We First Met on Netflix
Brockmire: Season 1 on Hulu
Grand Prix Driver: Season 1 on Amazon Prime
Fifty Shades Freed in theaters
The 15:17 to Paris in theaters
Video Games
Dragon Quest Builders on Switch
The Seven Deadly Sins: Knights of Britannia on PS4
Sports
XXIII Winter Olympics Opening Ceremony on NBC
February 10
Movies and TV
Breathe on Amazon Prime
No Stone Unturned on Amazon Prime
February 11
Movies and TV
Lucky on Hulu
Run the Tide on Hulu and Amazon Prime
Good Time on Amazon Prime
Our Cartoon President: Season 1 Premiere on Showtime
Here and Now: Season 1 Premiere on HBO
WGA Awards
February 12
Movies and TV
Along for the Ride on Hulu
Honeymoon on Hulu
It Happened in LA on Hulu
The Two Faces of January on Hulu
Tom of Finland on Hulu
February 13
Movies and TV
Christmas in the Heartland on Hulu
Drinksgiving on Hulu
The Ballad of Lefty Brown on Amazon Prime
Stinky & Dirty Valentine's Day Special on Amazon Prime
Wonder on DVD
Roman J Israel, Esq. on DVD
Video Games
Dynasty Warriors 9 on PS4, Xbox One and PC
The Fall 2: Unbound on PS4, Xbox One and PC
Kingdom Come: Deliverance on PS4, Xbox One and PC
Owlboy on Switch, PS4 and Xbox one
Radiant Historia: Perfect Chronology on 3DS
Monster Energy Supercross: The Official Videogame on PS4, Xbox One, Switch and PC
The Longest Five Minutes on Switch, Vita and PC
Holiday
February 14
Movies and TV
Greenhouse Academy: Season 2 on Netflix
Lover Per Square Foot on Netflix
National Lampoon Presents Cattle Call on Hulu and Amazon Prime
Star Trek on Hulu and Amazon Prime
Holiday
Ash Wednesday
Valentine's Day
February 15
Movies and TV
Deep Undercover Collection: Collection 2 on Netflix
Re:Mind: Season 1 on Netflix
28 Hotel Rooms on Hulu
An Ideal Husband on Hulu
Birthday Girl on Hulu
The Exploding Girl on Hulu
Fresh on Hulu
Gunnin' For That #1 Spot on Hulu
Monogamy on Hulu
Next on Hulu
Parenthood: The Complete Series on Hulu
Rebirth on Hulu
Video Games
Secret of Mana on PC, PS4 and Vita
February 16
Movies and TV
DreamWorks Dragons: Race to the Edge: Season 6 on Netflix
Evan Almighty on Netflix
Everything Sucks!: Season 1 on Netflix
Irreplaceable You on Netflix
First Team: Juventus: Season 1 on Netflix
Cardinal: Season 2 on Hulu
Human Flow on Amazon Prime
Logan Lucky on Amazon Prime
Mozart in the Jungle: Season 4 on Amazon Prime
Black Panther in theaters
Video Games
Bayonetta 1 + 2 Collection on Switch
Fe on PS4, Xbox One, Switch and PC
Music
Born Ruffians - "Uncle, Duke & The Chief" album
Escape the Fate - "I Am Human" album
Marlon Williams - "Make Way For Love" album
Senses Fail - "If There Is Light, It Will Find You" album
Tyga - "Kyoto" album
Sports
NBA All-Star Weekend beings
Holiday
February 17
Movies and TV
Blood Money on Netflix
The Long Road Home: Season 1 on Hulu
February 18
Movies and TV
The Joel McHale Show with Joel McHale on Netflix
Pocket Listing on Hulu and Amazon Prime
Thanks for Sharing on Hulu and Amazon Prime
BAFTA Awards
Video Games
February 19
Movies and TV
Dismissed on Netflix
FullMetal Alchemist on Netflix
White Bird in a Blizzard on Hulu
Holiday

February 20
Movies and TV
Bates Motel: Season 5 on Netflix
The Frankenstein Chronicles: Season 1 + 2 on Netflix
Above Ground Level: Dubfire on Hulu
Daddy's Home 2 on DVD
The Florida Project on DVD
Video Games
Metal Gear Survive on PS4, Xbox One and PC
Age of Empires: Definitive Edition on PC
February 21
Movies and TV
Forgotten on Netflix
Lincoln on Netflix
The Bachelors on Netflix
Once Upon a Time on Hulu
The Villainess on Hulu
February 22
Movies and TV
Atomic Puppet: Season 1 on Netflix
Video Games
Pac-Man Championship Edition 2 Plus on Switch
February 23
Movies and TV
Marseille: Season 2 on Netflix
Mute on Netflix
Seven Seconds: Season 1 on Netflix
Ugly Delicious: Season 1 on Netflix
Detroit on Hulu
The Tick: Season 1B on Amazon Prime
Thunderbirds are Go!: Season 4 on Amazon Prime
Annihilation in theaters
Game Night in theaters
Beast of Burden in theaters
Video Games
Past Cure on PS4, Xbox One and PC
Yume Nikki: Dream Diary on PC
Music
Black Milk - "FEVER" album
Fever Ray - "Plunge" album
February 24
Movies and TV
Jeepers Creepers 3 on Netflix
February 25
Movies and TV
The Walking Dead: Season 8 Premiere on AMC
February 26
Movies and TV
El Vato: Season 2 on Netflix
Heyday of the Insensitive Bastards on Netflix
People You May Know on Netflix
Sin Senos si Hay Paraiso: Season 2 on Netflix
Winnie on Netflix
Love is Thicker than Water on Hulu
February 27
Movies and TV
Derren Brown: The Push on Netflix
Marlon Wayans: Woke-ish on Netflix
Alien Psychosis on Hulu
Good Girls: Season 1 on Hulu
The Voice: Season 14 on Hulu
Coco on DVD
Murder on the Orient Express on DVD
Darkest Hour on DVD
Three Billboards Outside Ebbing, Missouri on DVD
Video Games
De Blob 2 on PS4 and Xbox One
Payday 2 on Switch
February 28
Movies and TV
The Looming Tower: Season 1 on Hulu
---