From A to Zaful - 6 Places to Buy Multiple Bikinis for Under $100
July 19, 2019 by Angie Long
Considering the fact that swimsuits can easily exceed $100, justifying paying full price for such a small amount of fabric can be difficult. Further complicating matters is that with social media these days, you don't want to be seen in the same swimsuit all summer long when scrolling through Facebook or Instagram.
If you don't want to be limited to wearing the same bikini all summer, consider our list of go-to retailers that let you snag multiple bikinis for less than $100.
Where to Get Multiple Bikinis for Less Than $100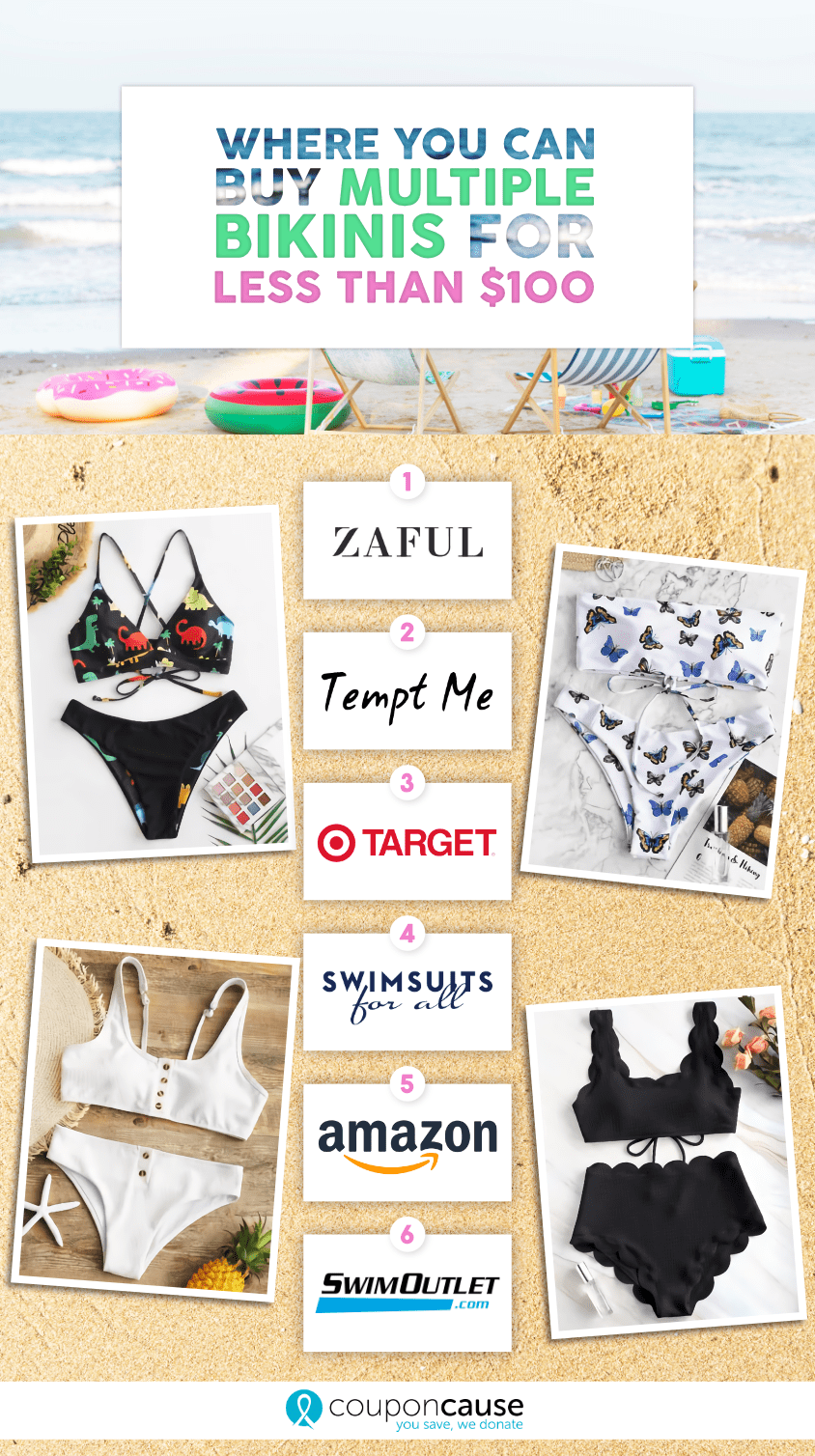 Amazon - You can get anything from Amazon these days, including countless affordable bikini options to choose from. If you have Amazon Prime, you can even get your suit within two days if you're in a rush to get it before the weekend.
Zaful - Zaful makes edgy fashion affordable. They stay up-to-date on the latest trends and even offer customers ideas on how to incorporate their swimwear into everyday summer style. While they offer a wide variety of apparel, there are also countless swimsuits available, whether you're looking for something edgy or more modest. Here are just a few popular bikinis available from Zaful:
ZAFUL Butterfly Print Lace-Up Bandeau Bikini - This lace-up bikini comes in a cute butterfly print and is available in three colors for $14.99. The top is padded and wire-free.
ZAFUL Scalloped Textured High Waisted Bikini Set - This more modest, full-coverage bikini has a lace-up back and a cute scalloped border. Available in five different colors, it costs $12.99 and has great reviews.
Padded Ribbed Texture Buttons Bikini Set - This bikini is a great mix of modest yet sexy, with its rib-knit texture and buttons down the front. The top is a scoop collar with removable padding. The bottom is somewhere between bikini and thong. Available in four colors, it costs $15.24.
ZAFUL Reversible Dinosaur Lace-Up Bikini Swimsuit - A fun conversation piece when you're feeling playful, or a simple, classy bikini when you're not - this reversible bikini is donned with adorable dinosaurs on one side and a solid black on the other. The top is wire-free, has spaghetti straps and laces up in the back. It's available for $16.01.
Our Zaful promo codes are perfect for saving on your new summer looks:
SwimOutlet.com - There are loads of swimsuits to choose from here, and although some cost up to $100, there are plenty for $40 or less. Here are a few SwimOutlet.com coupon codes you might use to help save even more:
Details:
Ongoing Offer
No Promo Code Needed. Click "Get Offer" To Activate This Deal. Exclusions May Apply
Exclusive Savings
Swimsuits for All - These are a bit pricier than some of the other bikinis mentioned here, but you can save significantly with our promo codes. Considering the quality you get and the flattering sizes for any shape, it could be worth the slightly higher cost. Make sure to use a Swimsuits for All discount code with your order to save on that new swimsuit collection:
Verified
Details:
Ongoing Offer
Click "Show Coupon Code" To Activate This Deal. Exclusions May Apply
20% Off Sitewide
Target- While you may have to buy your bikini tops and bottoms separately, the average price is about $17 for each. A lot of women like to mix and match their tops and bottoms, so this makes Target a convenient option considering they're likely shopping for household essentials there anyway.
Tempt Me - Buying a swimsuit can be a daunting, frustrating task. Tempt Me specializes in providing swimsuits that fit a variety of shapes and sizes to help women feel more confident in their bodies. The average price is an affordable $25. Tempt Me coupons will help you save extra on those swimsuits you're most eager to buy:
Details:
Ongoing Offer
No Promo Code Needed. Click "Get Offer" To Activate This Deal. Exclusions May Apply
Up To 20% Off Sale Items
When it comes to buying a bikini, of course price is a factor, but you'll also want to make sure you're comfortable and confident in it. Read the reviews before buying, and check the return policies if you're not 100% certain it will work for you. And always make sure to see what deals are available here at CouponCause! That way, you can ensure you have more than one bikini to choose from when hitting the beach or pool this summer. If you're looking for something a little sexier, try a Meshki swimsuit!
---