CC Month Preview: May Pop Culture Calendar
April 25, 2018 by Eric White
Wow! May is looking quite sunny indeed. There are a ton of great new movies hitting theaters, Netflix, Hulu and more. Plus, the Kentucky Derby, some great albums and a boat load of great new video games release this month. You'll definitely want an Amazon Prime membership this month. Use an Amazon coupon to save.
Here is everything we're most looking forward to coming out this May!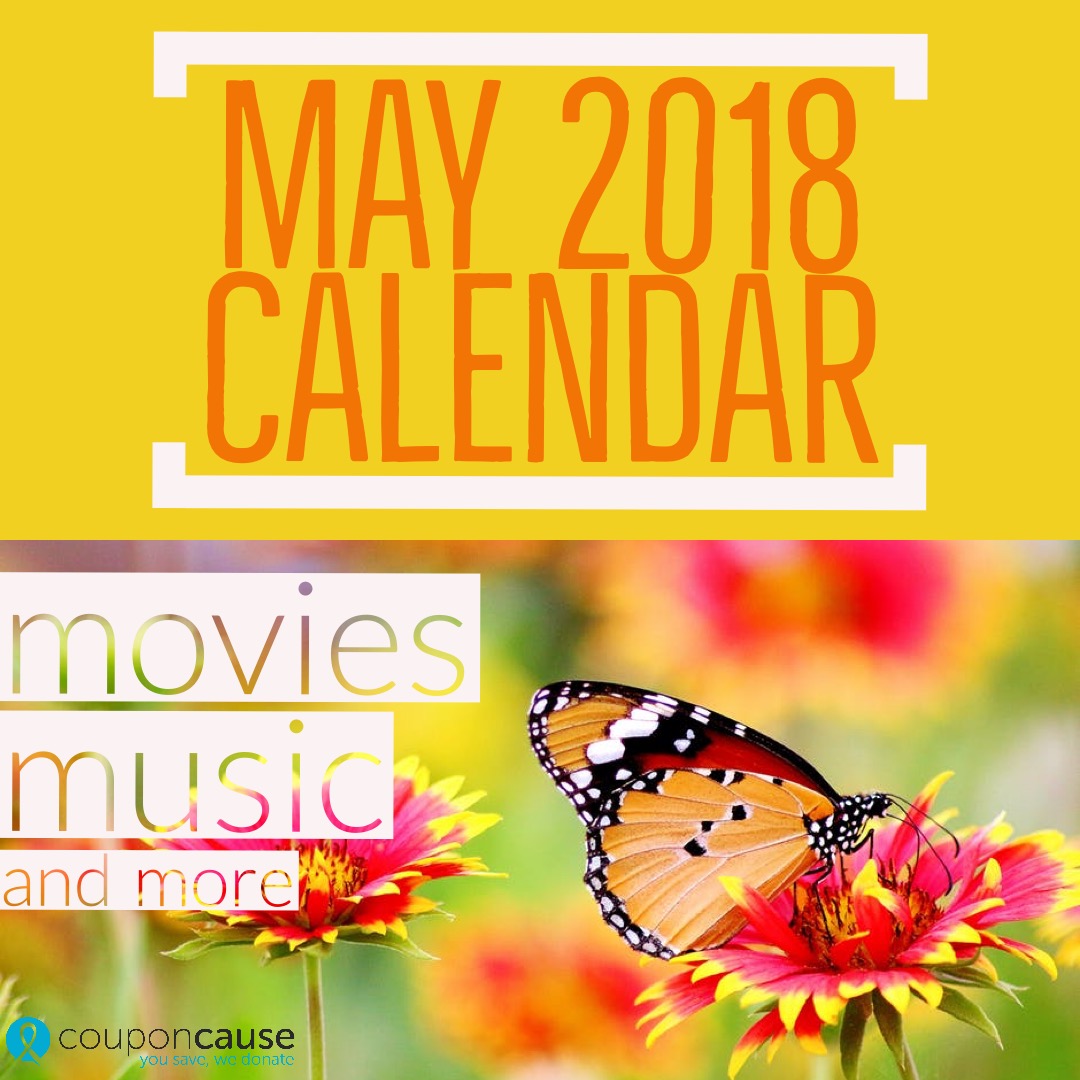 May 2018 Calendar
May 1
Movies and TV
New Netflix releases including:

27: Gone Too Soon
A Life of Its Own: The Truth About Medical Marijuana
Amelie
Barbie Dreamhouse Adventures: Season 1
Beautiful Girls
Darc
God's Own Country
Hachi: A Dog's Tale
Harold & Kumar Escape from Guantanamo Bay
Hellboy II: The Golden Army
High School Musical 3: Senior Year
John Mulaney: Kid Gorgeous Live at Radio City
Mr. Woodcock
My Perfect Romance
Pocoyo & Cars
Pocoyo & The Space Circus
Queens of Comedy: Season 1
Reasonable Doubt
Red Dragon
Scream 2
Shrek
Simon: Season 1
Sliding Doors
Sometimes
The Bourne Ultimatum
The Carter Effect
The Clapper
The Reaping
The Strange Name Movie
Yu-Gi-Oh! Arc-V: Season 2

New Hulu releases including:

Selfie: Complete Season 1
Drop Dead Diva: Complete Seasons 1-6
The Client List: Complete Seasons 1 & 2
Ruff-Ruff, Tweet and Dave: Complete Season 1
Almost Royal: Complete Season 1
Banana: Complete Season 1
Being Erica: Complete Seasons 1-4
Bluestone 42: Complete Season 3
Cucumber: Complete Season 1
DCI Banks: Complete Seasons 1-3
Dead Boss: Complete Season 1
Him & Her: Complete Seasons 1-4
Horrible Histories: Complete Seasons 5 & 6
In the Flesh: Complete Seasons 1 & 2
Jane Eyre: Complete Miniseries
Line of Duty: Complete Season 3
Miranda: Complete Season 4 – The Finale
New Tricks: Complete Season 12
Stella: Complete Season 5
The Passing Bells: Complete Season 1
The Shadow Line: Complete Season 1
Threesome: Complete Seasons 1 & 2
Top Gear USA: Complete Season 4
Uncle: Complete Seasons 1 & 2
Up the Women: Complete Seasons 1 & 2
Chinese Box
Die Another Day
Election
Ghost World
Incident at Loch Ness
Men with Brooms
Mystery Team
Standing in the Shadows of Motown
Airplane II: The Sequel
Airplane!
Benny & Joon
Best Seller
Bitter Moon
Blue State
Body Count (aka Below Utopia)
The Bounty
Bully
Code 46
Coming Soon
Danny Roane: First T ime Director
Diamonds Are Forever
Dream A Little Dream
Dream Lover
Fall Time
A Feast At Midnight
Finder's Fee
A Fistful Of Dynamite
Frankenstein
Goldfinger
Hoodlum
Live and Let Die
The Living Daylights
Man With The Golden Gun
Meet Wally Sparks
Mistress
The Mod Squad
Never Say Never Again
Octopussy
The Red Violin
She's Having a Baby
Slow Burn
Southie
The Spy Who Loved Me
The World is Not Enough
You Only Live Twice

New Amazon Prime releases including:

Aristocrats
Banished
Bleak House
The Buccaneers
Charles II — The Power and The Passion
Daniel Deronda
David Copperfield
Desperate Romantics
The Hitchhiker's Guide to the Galaxy
Ivanhoe
Jane Eyre (1983)
Jane Eyre (2006)
Life in Squares
Little Dorrit
Lorna Doone
The Lost World
Love in A Cold Climate
Mansfield Park
Martin Chuzzlewit
Middlemarch
Moonstone
The Office
Oliver Twist (1985)
Oliver Twist (2007)
Our Mutual Friend
The Pickwick Papers
Pride and Prejudice
Sense and Sensibility (1981)
Sense and Sensibility (2008)
Sinbad
The Tenant of Wildfell Hall
Tess of the D'Ubervilles
The Way We Live Now
Tom Jones
Vanity Fair (1998)

New HBO releases including:

A Sound of Thunder
Avatar
Cleopatra
Dead Calm
Dude, Where's My Car?
Eurotrip (Unrated Version)
Garden State
In the Cut (Director's Cut)
Kill the Messenger
Maps to the Stars
The Newton Boys
Seabiscuit
Secretary
Star Trek: Nemesis
You've Got Mail
Wolves at the Door

Overboard in theaters
Tully in theaters
Video Games
Super Mega Baseball (PS4, Xbox One, PC)
Battlezone Gold Edition (PS4, Xbox One, PC)
Killing Floor: Incursion (PSVR)
Save on these great titles with a Target coupon!
May 2
Movies and TV
Jailbreak on Netflix
A Little Help with Carol Burnett on Netflix
Anon on Netflix
Busted!: Season 1 on Netflix
Dear White People: Volume 2 on Netflix
End Game on Netflix
Forgive Us Our Debts on Netflix
Kong: King of the Apes: Season 2 on Netflix
Lo más sencillo es complicarlo todo on Netflix
Manhunt on Netflix
My Next Guest Needs No Introduction With David Letterman: Tina Fey on Netflix
No Estoy Loca on Netflix
The Rain: Season 1 on Netflix
Being Serena, Documentary Series Premiere on HBO
Gay For Play Game Show: Series Premiere on Hulu
Video Games
May 3
Movies and TV
Houdini and Doyle: Series Premiere on Hulu
Not Safe with Nikki Glaser: Season 1 Finale on Hulu
Yago: Series Premiere on Hulu
Lady Macbeth on HBO
Video Games
Total War Saga: Thrones of Britannia (PC)
May 4
Movies and TV
Suspect: Season 1 Finale on Hulu
Music
"Book of Ryan" by Royce da 5'9
Video Games
City of Brass (PS4, Xbox One, PC)
Donkey Kong Country: Tropical Freeze (Switch)
Holidays
May 5
Movies and TV
Faces Places on Netflix
Garbage Time with Katie Nolan: Season 3 Premiere on Hulu
The Dude Perfect Show: Series Premiere on Hulu
Diablo Guardian (Season 1) on Amazon Prime
2018 Rock and Roll Hall of Fame Induction Ceremony on HBO
The Lego Ninjago Movie on HBO
Sports
Holidays
Cinco de May Fake Holiday
May 6
Movies and TV
May 7

Movies and TV
Angie Tribeca: Complete Season 1 on Hulu
A Dangerous Son on HBO
May 8
Movies and TV
Desolation on Netflix
Hari Kondabolu: Warn Your Relatives on Netflix
Murder in the First: Complete Season 2 on Hulu
Atlantis: Complete Season 2 on Hulu
Video Games
Conan Exiles (PS4, Xbox One, PC)
Destiny 2: Warmind (PS4, Xbox One, PC)
Last Encounter (PC)
Pillars of Eternity 2: Deadfire (PC)
Raging Justice (PS4, Xbox One, Switch, PC)
Tacoma (PS4)
May 9
Movies and TV
Video Games
Subaeria (PS4, Xbox One, PC)
Holidays
May 10
Video Games
Immortal Redneck (Switch)
May 11
Movies and TV
Life of the Party in theaters
Breaking In in theaters
Beast in theaters
Dark Crimes in theaters
Bill Nye Saves the World: Season 3 on Netflix
Evil Genius: The True Story of America's Most Diabolical Bank Heist on Netflix
Spirit Riding Free: Season 5 on Netflix
The Kissing Booth on Netflix
The Who Was? Show: Season 1 on Netflix
Grandfathered: Season 1 Finale on Hulu
The Grinder: Season 1 Finale on Hulu
New Girl: Season 5 Finale on Hulu
Broad City: Season 3 Finale on Hulu
Rocky & Bullwinkle (Season 1) on Amazon Prime
Music
"Tranquility Base Hotel & Casino" by the Arctic Monkeys
"Cosmic Wink" by Jess Williamson
Video Games
One Piece: Pirate Warriors 3 (Switch)
Warhammer 40,000: Inquisitor – Martyr (PS4, Xbox One, PC)
May 12
Movies and TV
Inside Amy Schumer: Season 4 Premiere on Hulu
Orphan Black (Season 5) on Amazon Prime
Dunkirk on HBO
May 13
Movies and TV
Ali Wong: Hard Knock Wife on Netflix
The Last Ship: Complete Season 2 on Hulu
Scandal: Season 5 Finale on Hulu
The Vampire Diaries: Season 7 Finale on Hulu
Like Someone in Love on Hulu
Silicon Valley, Season 5 Finale on HBO
Barry, Season 1 Finale on HBO
Holidays
May 14
Movies and TV
The Phantom of the Opera on Netflix
May 15
Movies and TV
Girlfriends' Guide to Divorce: Season 4 on Netflix
Grand Designs: Seasons 13–14 on Netflix
Only God Forgives on Netflix
The Game 365: Seasons 15–16 on Netflix
Video Games
Battle Chasers Nightwar (Switch)
Dragon's Crown Pro (PS4)
Horizon Chase Turbo (PS4, PC)
Little Witch Academia: Chamber of Time (PC, PS4)
Omensight (PS4, PC)
Shin Megami Tensei: Strange Journey Redux (3DS)
Use a Best Buy coupon to save!
May 16
Movies and TV
89 on Netflix
Mamma Mia! on Netflix
The 40-Year-Old Virgin on Netflix
The Kingdom on Netflix
Wanted on Netflix
The Last Man on Earth: Season 2 Finale on Hulu
Once Upon a Time: Season 5 Finale on Hulu
The Family: Season 1 Finale on Hulu
Quantico: Season 1 Finale on Hulu
Where Hope Grows on Hulu
May 17
Movies and TV
Gotham: Season 2 Finale on Hulu
Castle: Season 8 Finale on Hulu
Jane the Virgin: Season 2 Finale on Hulu
Video Games
Far: Lone Sails (PC)
Fox N Forest (PS4, Xbox One, Switch, PC)
Worlds Adrift (PC)
May 18
Movies and TV
Deadpool 2 in theaters
Book Club in theaters
Show Dogs in theaters
Cargo on Netflix
Catching Feelings on Netflix
Inspector Gadget: Season 4 on Netflix
Chicago Med: Season 1 Finale on Hulu
Chicago Fire: Season 4 Finale on Hulu
Hotel Hell: Season 3 Premiere on Hulu
Coupled: Series Premiere on Hulu
Port Protection: Season 2 Premiere on Hulu
Catfish: Midseason Finale on Hulu
Marvel's Agents of Shield: Season 2 Finale on Hulu
You Are Wanted (Season 2) on Amazon Prime
Video Games
Hyrule Warriors: Definitive Edition (Switch)
Little Nightmares: Complete Edition (Switch)
State of Decay 2 (Xbox One, PC)
May 19
Movies and TV
Bridge to Terabithia on Netflix
Scandal: Season 7 on Netflix
Small Town Crime on Netflix
Empire: Season 2 Finale on Hulu
The Middle: Season 7 Finale on Hulu
The Goldbergs: Season 3 Finale on Hulu
Modern Family: Season 7 Finale on Hulu
Black-ish: Season 2 Finale on Hulu
Fahrenheit 451 on HBO
May 20
Movies and TV
Some Kind of Beautiful on Netflix
Grey's Anatomy: Season 12 Finale on Hulu
The Catch: Season 1 Finale on Hulu
DC's Legends of Tomorrow: Season 1 Finale on Hulu
The 100: Season 3 Finale on Hulu
Southern Justice: Season 3 Premiere on Hulu
May 21
Movies and TV
Senora Acero: Season 4 on Netflix
Shark Tank: Season 7 Finale on Hulu
The Originals: Season 3 Finale on Hulu
Keeping Up with the Kardashians: Complete Season 11 on Hulu
The Real Housewives of Orange County: Complete Season 10 on Hulu
The Final Year on HBO
May 22
Movies and TV
Mob Psycho 100: Season 1 on Netflix
Shooter: Season 2 on Netflix
Terrace House: Opening New Doors: Part 2 on Netflix
Tig Notaro: Happy To Be Here on Netflix
Party Over Here: Season 1 Finale on Hulu
Dino Dana (Season 2) on Amazon Prime
Video Games
Ancestors Legacy (Xbox One, PC)
Mega Man Legacy Collection (Switch)
Runner 3 (Switch, PC)
Space Hulk: Deathwing – Enhanced Edition (PS4, PC)
Tennis World Tour (PS4, Xbox One, Switch, PC)
May 23
Movies and TV
Explained on Netflix
2016 Billboard Music Awards on Hulu
Bob's Burgers: Season 6 Finale on Hulu
Family Guy: Season 14 Finale on Hulu
The Simpsons: Season 27 Finale on Hulu
Bordertown: Season 1 Finale on Hulu
America's Funniest Home Videos: Season 26 Finale on Hulu
May 24
Movies and TV
Fauda: Season 2 on Netflix
Survivors Guide to Prison on Netflix
The Bachelorette: Season 12 Premiere on Hulu
Blindspot: Season 1 Finale on Hulu
Tres Veces Ana: Series Premiere on Hulu
Cooper Barrett's Guide to Surviving Life: Season 1 Finale on Hulu
Video Games
Dillon's Dead-Heat Breakers (3DS)
May 25
Movies and TV
Solo: A Star Wars Story in theaters
How to Talk to Girls at Parties in theaters
Ibiza on Netflix
Steve Martin and Martin Short: An Evening You Will Forget for the Rest of Your Life on Netflix
The Toys That Made Us: Season 2 on Netflix
Trollhunters: Part 3 on Netflix
The Path: Season 1 Finale – Complete Season 1 Now Streaming (Hulu Original)
The Voice: Season 10 Finale on Hulu
The Challenge: Rivals III: Season 28 Premiere on Hulu
Fresh Off The Boat: Season 2 Finale on Hulu
The Real O'Neals: Season 1 Finale on Hulu
Dancing with the Stars: Season 22 Finale on Hulu
The Flash: Season 2 Finale on Hulu
Picnic at Hanging Rock (Season 1) on Amazon Prime
Music
"Push Pull" by Hoobastank
"Wildness" by Snow Patrol
Video Games
Dark Souls Remastered (PS4, Xbox One, Switch, PC)
Detroit: Become Human (PS4)
May 26
Movies and TV
Sara's Notebook on Netflix
Wayward Pines: Season 2 Premiere on Hulu
Rosewood: Season 1 Finale on Hulu
Nashville: Season 4 Finale on Hulu
Law & Order: SVU: Season 17 Finale on Hulu
Chicago P.D.: Season 3 Finale on Hulu
Arrow: Season 4 Finale on Hulu
Supernatural: Season 11 Finale on Hulu
Patti Cake$ on HBO
The Tale on HBO
May 27
Movies and TV
The Break with Michelle Wolf on Netflix
Clarence: Complete Season 1 on Hulu
Agent X: Complete Season 1 on Hulu
Age Of Adaline on Hulu
Run & Jump on Hulu
Fist Fight on HBO
May 28
Holidays
May 29
Movies and TV
Coco on Netflix
Howards End (Season 1) on Amazon Prime
Video Games
Agony (PS4, Xbox One, PC)
Everspace (PS4)
Legend of Kay Anniversary (Switch)
Moonlighter (PS4, Xbox One, Switch, PC, Mac)
Sega Mega Drive Classics (PS4, Xbox One)
Street Fighter 30th Anniversary Collection (PS4, Xbox One, Switch, PC)
May 30
Movies and TV
Unbreakable Kimmy Schmidt: Season 4 on Netflix
Missing Dial: Series Premiere on Hulu
Being Serena, Documentary Series Finale on HBO
May 31
Movies and TV
Bombshell: The Hedy Lamarr Story on Netflix
My Next Guest Needs No Introduction With David Letterman: Howard Stern on Netflix
So You Think You Can Dance: Season 13 Premiere on Hulu
Mygrations: Series Premiere on Hulu
---