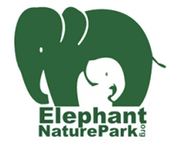 Some of our planets largest creatures are also among the most defenseless. The Elephant Nature Park, located in the Chiang Mai province of northern Thailand, has made it their mission to protecting elephants and the local environment. The Elephant Nature Park is a sanctuary and safe zone for elephants and other animals and a place for visitors to learn more about nature and volunteer!
In addition to helping elephants and local animals including cats, dogs, buffalo and more, the Elephant Nature Park conserves local cultures and traditions by recruiting locals to oversee park progress and buying local products. They never partner with political groups or organizations that don't align with the mission of the park.
Visitors to the park in Thailand can actively volunteer their time to helping out these elephants and learning more about the environment and traditions of the region. Or, you can donate to the foundation!