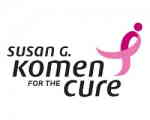 October is Breast Cancer Awareness Month, which is an annual campaign to increase awareness of the disease. While most people are aware of Breast Cancer many forget to take the necessary steps to have a plan and detect the disease in its early stages. Creating an early detection plan is easy and studies show that when breast cancer is detected early, in the localized stage, the 5-year survival rate is 98%*.
Through their efforts of research, treatment, screening and education there have been more than 3 million survivors of the disease.
About the Susan G. Komen Organization:
"In 1980, Nancy G. Brinker promised her dying sister, Susan, that she would do everything in her power to end breast cancer forever. In 1982, that promise became the Susan G. Komen® organization and the beginning of a global movement. What was started with $200 and a shoebox full of potential donor names has now grown into the world's largest nonprofit source of funding for the fight against breast cancer. To date, we've invested more than $2.5 billion in groundbreaking research, community health outreach, advocacy and programs in more than 30 countries. And we won't stop until our promise is fulfilled." – Komen.org
This disease has affected all of us in some way so if you feel like making a donation yourself please follow this link below:
Remember that every time you make a purchase with one of our coupons or deals we will make a donation to this organization!
*National Cancer Institute
If there is a cause, charity or organization you would like to see featured at CouponCause.com? If so please email causes@couponcause.com and tell us your story!