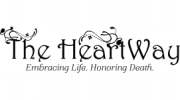 The HeartWay is a conscientious organization driven not by profit but by compassion. Their primary focus is to provide an integrative and comprehensive care plan that strives to strengthen the bodies and hearts of those during life transitions. The HeartWay's unique approach is devoted to enhancing quality of life by utilizing resources, education, and personalized care.
The HeartWay is devoted to be an invaluable resource to the communities they serve by guiding those in end-of-life transitions, as well as offering support to their caregivers and loved ones. Through continual education, training, and advocacy The HeartWay provides a platform in hopes of inspiring an understanding of death that allows for an awakening in life. The HeartWay presents resources and tools to expand approaches in honoring death.
And remember when you make a purchase using a discount or promo code from CouponCause.com we will donate a portion of our profits to this featured cause.