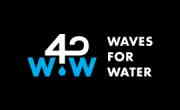 Waves For Water is an organization started by Jon Rose which focuses on getting clean, drinkable water to everyone in the world in need. Everyday impoverished areas lack an easy source for drinkable water. Waves For Water has a goal to get existing solutions in the form of portable water filters into countries that need them. This is a cheap and easy solution to the current problem. We have the luxury to travel all over the world and if we just packed a few of these filters in our suitcase during our travels entire villages could be saved with newly available clean drinking water. Waves 4 Water has teamed up with surf company Hurley International to develop a DIY volunteer program called Clean Water Couriers, in which surfers searching for waves in third-world countries carry filters with them in their luggage. Pack a few filters in your suitcase and either connect with local non-profits in that area or personally travel to villages to set them up yourself.
CouponCause.com has chosen Waves For Water as it's Featured Cause this spring and will be donating a % of every sale our users make until May 31, 2014. We have set up the official CouponCause.com fundraiser page so if you feel like joining the cause or learning more click the link and see what is possible!
And remember when you make a purchase using a discount or promo code from CouponCause.com we will donate a portion of our profits to this featured cause.
If there is a cause, charity or organization you would like to see featured at CouponCause.com? If so please email causes@couponcause.com and tell us your story!