You put your best time and energy into your business, so it deserves just as much care when it comes to the technology you're using. You can't settle for anything less than the best fitting devices and setups if you want to bring out your most productive side.
With HP Business Solutions, you can make sure your business has the perfect lineup of the best devices it needs to truly get things done. Make sure you check out HP's weekly business deals for a great opportunity to get what you need at the best possible prices.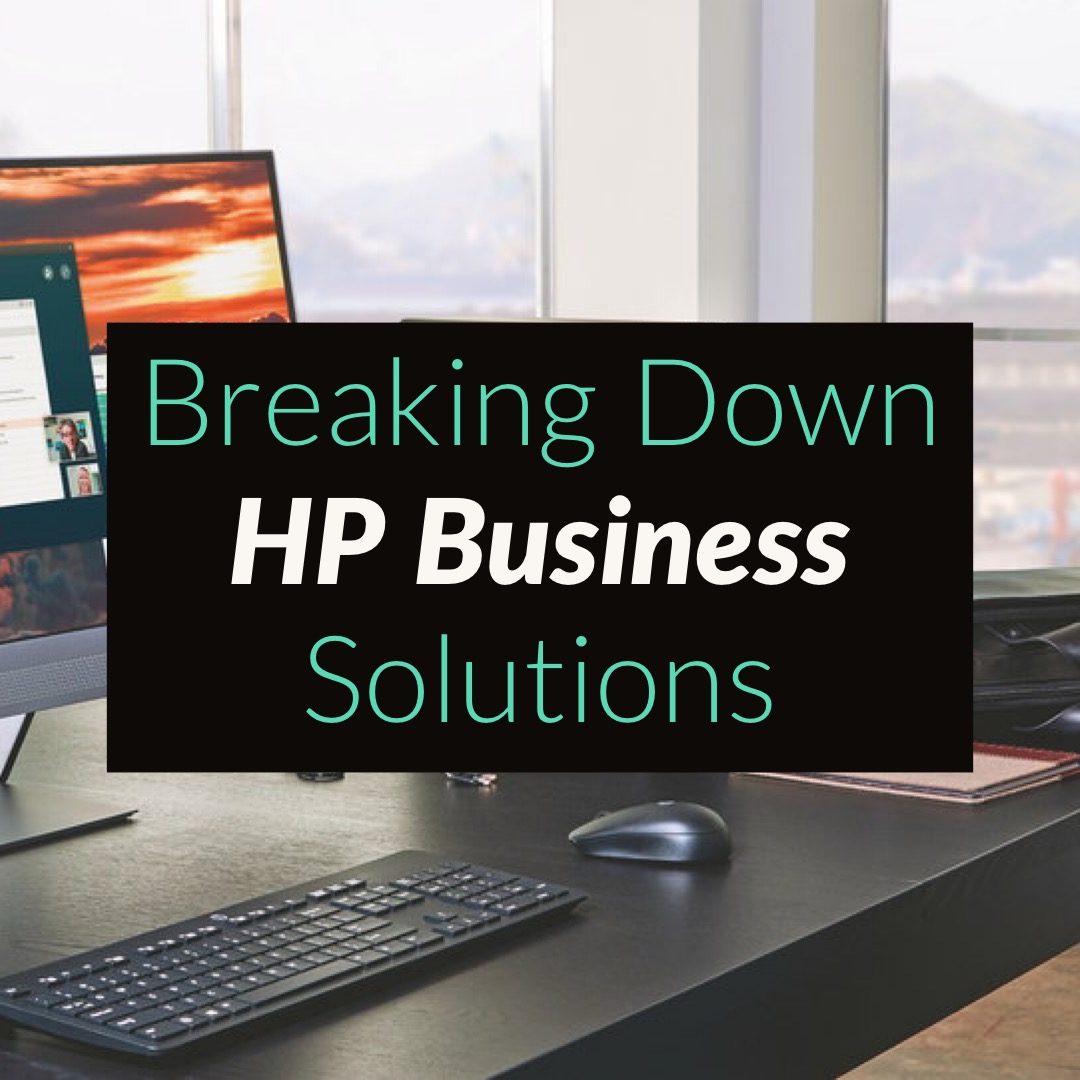 Recommending HP Business Solutions
If you're looking for the best power and performance at a great size and an affordable price, the HP workstation is the machine your business needs. Whatever project you're working on, you want to have a computer capable of tackling each challenge. For a great tower workstation, try the HP Z240 workstation, which comes with great graphics, high memory, and a powerful processor.
If your business requires both spending time at a workplace and getting things done on the go, then a powerful laptop is a must have. With the right laptop, you can set up your work where you need to be and start getting things done instead of worrying about the logistics of how and where. Equip yourself with a power laptop—such as the HP EliteBook x360 1030 with 15 hours of battery, 8 GB of memory, and a touch display—to start maximizing your efficiency.
The best desktop is your power, your anchor, and your most capable machine. Strong graphics, multiply display support, and top of the line security are must-haves for your leading device. Work smarter with a top of the line desktop that facilitates your heaviest needs. The HP EliteDesk 800 Tower brings the best in graphics and processing to the table, while the HP EliteOne 1000 All-in-One comes already with an HD or 4K display.

In the ever-evolving landscape of technology and business, you need to stay on top of the newest and best steps toward productivity. 3-in-1 Tablets bring you just that as the perfect system for balancing mobility, stability, and productivity. Whether you have a single preferred setup that works for you or like to adapt to the situation as needed, these devices—like the HP Pro x2 612—allow you to get the most out of any workspace without sacrificing power or displays.
Business means papers, files, and forms, and that means printing. Most people might skip past printing when thinking about office technology, but you can't afford to overlook the importance of having a powerful, capable, and reliable printing setup for your business. The perfect printer is simple, easy to use, and able to meet all of your potential needs: the HP LaserJet Pro Multi-function does just that, with its ability to print, copy, scan, and fax all while using toner with JetIntelligence.
Whether your business is a small enterprise, scaling up, or already booming, you need to be able to find the right server to fit your needs—something easy to maintain that still delivers peak performance and reliability at a reasonable cost. For a smaller business or a remote office, the HP ProLiant ML30's simplicity and ease makes it a great option, while the HP ProLiant DL360 G9 might be a better fit for those needing high-performance computing.
Round out your workstation with whatever you need to make it the productive environment perfect for your work. Whether that's a great monitor with adjustable display and easy connectivity like the HP EliteDisplay or the perfect docking station that takes care of your USB ports and cables to turn your workstation into a clean, efficient, and powerful space, these finishing touches can mean the difference between peak productivity or struggles, so make sure you have the setup you deserve.
With a backing of HP's Business Solution machines, your business will be right at home in the technology world. Most importantly, you'll be at your most productive, powerful, and competitive as a business, thanks to a lineup of devices that bring out your best. And don't forget, to save even more on your business upgrade, the HP weekly business deals are always slashing prices on the machines you need.