Your workstation is, in many ways, your lifeline. It's where you spend huge amounts of time and have to buckle down on your work. For some people, it needs to be small, for others easily converted to remote work. Whatever you're looking for, you need your workstation to be top of the line, so you can stay at the top of your game. Look no further than HP!
The HP Premium family of laptops offers just that. If you're on the fence about whether or not to upgrade your workstation to its full potential, here are some reasons you should consider it.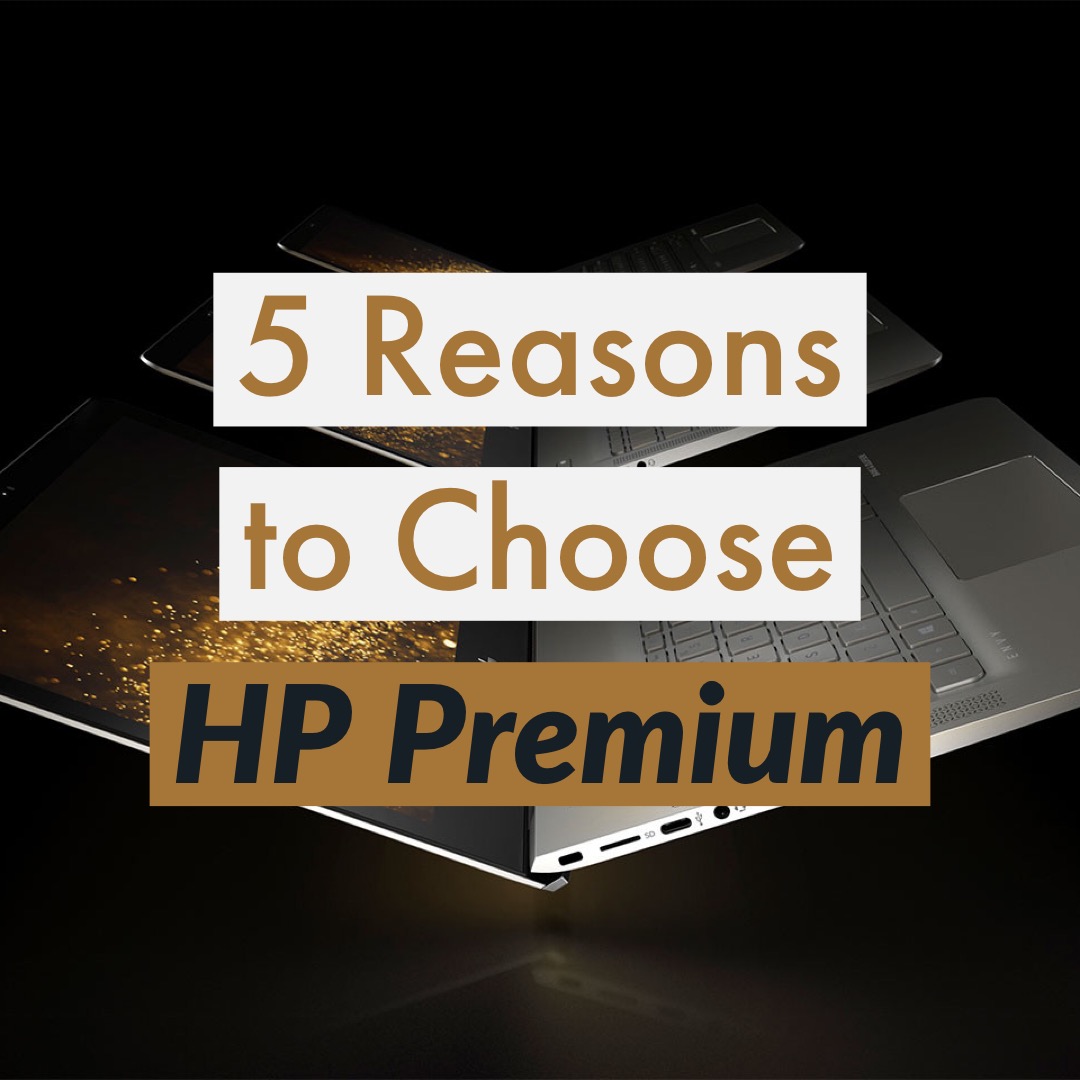 5 Reasons to Choose HP Premium
5. Longer Battery Life
For anyone who needs to take their work on the go or even just wants to work out of the coffee shop for a change, battery life is a must have. With the HP Premium family of laptops, you can get a full day's work out of a single charge, so you can leave that charger behind and keep working unencumbered and on the go. These are the laptops that go the distance and last through the workday, what every remote or traveling workstation needs. For optimal battery life, check out the HP 13.3" Spectre x360 laptop with up to 16 hours and 45 minutes of battery charge.
4. Fast Charging
In addition to an already formidable untethered battery charge, the HP Premium family laptops have fast charging capabilities to bring them back up to speed with speed. Everyone knows what it's like to have that half-hour in which to charge your laptop before heading off or have just returned with a nearly dead computer which needs to be up and running as soon as possible. With fast charging, you can power down your device and go from 0% to 50% charged in just thirty minutes. For a powerful machine that takes advantage of fast charging to keep you going, check out the HP EliteBook 1050.
3. Slim Design
Sometimes you're looking for a light, easy to carry laptop with a slim design that's aesthetically fitting but still delivers a great performance. The slim design of the HP Premium family keeps these laptops sleek and good looking without sacrificing their processors, graphics, or battery. Keep your workstation looking fit while furbishing it with a both powerful and flexible machine. For the most versatile machine that can fit your every need, check out the HP ENVY x360, which features the laptop, tent, tablet, and stand modes.
2. Great Connectivity
Do you need to be connected wherever you go? If staying online is an absolute must, the HP Premium family has the laptops you need to keep you in touch. With the HP EliteBook x360 and HP Elite x2 1013 G3 options, you can get a device that supports 4G LTE. Stay connected, productive, and powerful with the entire world always just a click away.
1. Latest in Privacy
Improvements in device privacy continue to emerge, and the HP Premium family is on top of them. These laptops feature the latest in privacy measures, designed to ensure that you're device remains only yours. If you're ready to take the next precautionary measures, bring HP Premium's privacy steps to your workstation. Your workstation can never be too safe, and these machines see to it that you have better safeguards in place. For a physically secure device, check out the HP EliteBook 105, which includes the HP Sure View optional integrated privacy screen and HP Privacy Camera that blocks the lens of your camera.
Whatever you're looking for to give your workstation that extra push, the HP Premium laptop family is waiting for you. From battery innovations to the newest design trends to the securest hardware, these devices have your needs covered. So now is the perfect time to get that productive and powerful workstation you've always dreamed about.