Digital photography makes it so easy to capture those spontaneous moments in life, but even the best technology is useless without an understanding of how to use it. Udemy offers a wide variety of highly respected courses for people who want to learn how to more easily navigate their camera settings and line up that perfect picture.
Whether you're looking for a beginner course or something more advanced, here are some of the most popular photography courses offered by Udemy.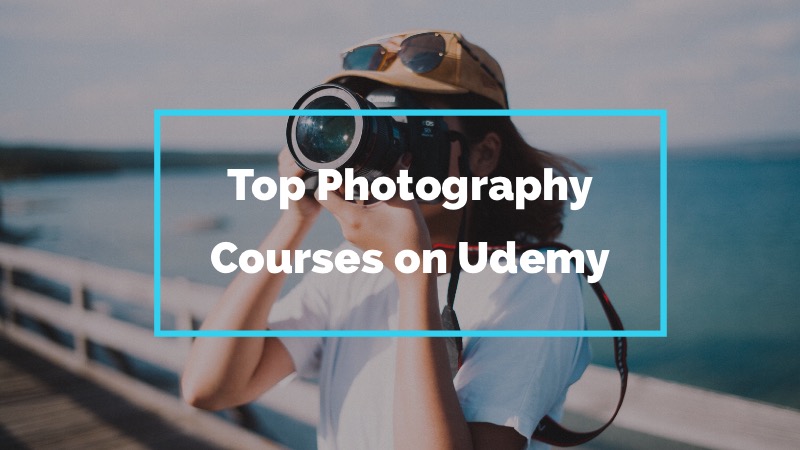 10 Best Photography Courses on Udemy
This online photography Udemy course instructs you how to get the most out of your DSLR camera and improve your photography at a reasonable rate. The teacher explains the important photography settings you must know and how to change them in any given situation — from dim lit rooms to bright days.

Target Audience
Anyone who is overwhelmed by the settings on their DSLR camera and wants to get better at photograph
Requirements
A DSLR camera with interchangeable lenses. Bridge cameras also work with all the lessons, apart from the single week lesson on DSLR lenses
---
This novice Udemy digital photography course teaches many practical exercises and is essential for beginners. Upon competion of this course, you'll be able to fully operate your camera in manual or aperture priority modes. You'll also be able to wittingly change between the depth of field (blurry background) so you can use the right camera settings for the right situation.
Target Audience
This entry-level photography course on Udemy is ideal for budding photography enthusiasts
Requirements
Access to a digital photography camera with an M (Manual) and Av or A (Aperture Priority) mode
---
This online Udemy photography course will teach you all you need to know to become a professional digital photographer with a simple iPhone.

Target Audience
This course is for anyone with an iPhone and an interest in photography!
Requirements
Access to an iPhone with a camera or other high quality smartphone camera
---
In addition to teaching the essentials of photography, this Udemy course also covers many composition techniques, the process of building a workflow and more! Use a Udemy coupon to save on this course.
Target Audience
Anyone who wants to further discover photography and take it to the next level!
Requirements
A DSLR or mirrorless camera
Access to photo editing software
---
This course teaches students all that's needed to know to be a successful wedding photographer, including pricing to actually earn a living, marketing, building a network and much more. The Udemy course will also go over the three different types of insurance you must have in order to shoot your first wedding.

Target Audience
Photographers who would like to start down the path of a wedding photographer
Requirements
An ever-present willingness to learn! And a camera of course
---
This Udemy course teaches easy to learn compositional techniques that work for all cameras, including smartphones and iPhones, to DSLRS and yes, even large format cameras.

Target Audience
Anyone interested in taking more engaging photos
Requirements
---
This great Udemy course teaches how to capture the most emotional moments of a typical wedding day. You'll learn how to get natural looking posed photos and even how to relax the couple and families for expressions that look more natural.

Target Audience
People who have shot weddings or extensively used a camera before
Requirements
A DSLR or mirrorless camera
---
This online Udemy course will teach you how to those awesome looking shoot long exposure photos with a standard digital camera. The course goes over the gear, settings and provides tips to shoot beautiful long exposure pictures.

Target Audience
Aspiring long exposure photographers
Requirements
A camera and Adobe Lightroom
---
This course teaches students how to use parallel thinking, composition, lighting and filters to shoot impressive looking landscape photos.

Target Audience
People interested in landscape photography
Requirements
Understanding of how to use a camera in manual modes
---
This Udemy onilne photography course was designed as a follow-up intermediate digital photography course to "Digital Photography for Beginners with DSLR Cameras," another course aspiring photographers can take. If you understand your camera though, you will succeed learning these topics:
-How to upgrade gear properly.
-Ensuring perfect exposures through camera settings.
-Using a hot shoe flash.
-Adobe Lightroom

Target Audience
For people who have completed "Digital Photography for Beginners with DSLR Cameras," or understand using a camera
Requirements
A Nikon or Canon DSLR
Knowledge of camera settings and basic principles
Ability to shoot outside of automatic modes
The classes mentioned above are just 10 of over 300 photography courses offered by Udemy, many that can be completed in under two hours. If you're not satisfied with any of the courses, Udemy offers a 30-day money-back guarantee, making it a great option for someone who wants to learn more about photography or take their photography skills to the next level.