You don't need to be a web designer to build a fantastic website. All you need is WordPress! In fact, nearly 75 million websites use WordPress in some capacity because of its user-friendly interface. Udemy offers a wide variety of highly respected courses for people who want to learn more about WordPress, whether they're beginners or more advanced.
Here we've listed some of the most popular WordPress courses offered by Udemy online! Be sure to check out our collection of Udemy coupons and deals to help save on your purchase.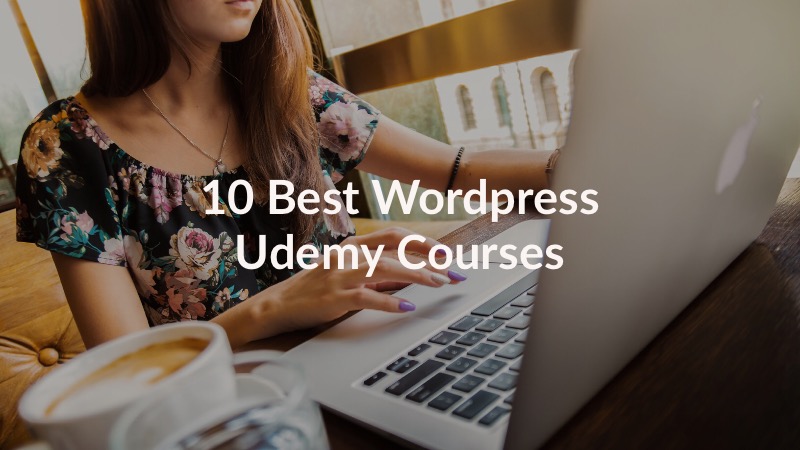 Best Online Udemy Courses on Wordpress
This course covers every single step involved in creating a website or blog using the powerful platform WordPress. This Udemy course covers how to install WordPress on your own computer for free, so you don't have to pay for a domain name or hosting fees while you complete this course.
Target Audience
Anyone who wants to build a professional looking website
Requirements
Basic familiarity with PCs
A working computer and a web browser connected to the internet
---
Throughout this online Udemy course on Wordpress, you'll work towards building a custom-made website using customizable Bootstrap framework.
Target Audience
Anyone who wants to start a web development business, whether full-time or on the side
Requirements
A basic understanding of HTML, CSS and PHP (which are all courses offered by the same instructor)
Access to a code editor
An Internet connection
Bootstrap and WordPress
MAMP (or alternatives – covered in this course)
---
This Udemy course explains the most basic features of WordPress, as well as more advanced web design concepts. By the end of this course, you'll have more than enough knowledge to build and launch a professional WordPress website.

There are seven projects included in this course:
-A personal website
-A business website
-A blog
-An e-commerce website
-A lead page
-A hotel booking and rent-a-car website
-A classified website

Target Audience
Anyone who wants to create an e-commerce website using WordPress
Requirements
A working Laptop/computer, either Windows or Mac
Internet access
---
This online course on Wordpress will teach you how to use Amazon and Wordpress to build a successful affiliate marketing business. It covers enough detail to allow you to make a little bit of extra money on the side without any prior knowledge of WordPress or any technical skills.

Target Audience
Anyone who wants to learn the huge benefits of affiliate marketing
Requirements
A willingness to learn and a desire to make money
---
This fantastic Udemy course teaches how to plan, code and publish WordPress plug-ins.

Target Audience
Web Designers
WordPress Developers
PHP Programmers
Requirements
Basic HTML, JavaScript, and PHP knowledge
Basic familiarity with the WordPress platform
WordPress Install
---
This course will teach you how to create responsive WordPress websites, with no coding or prior WordPress experience required at all — all within just 1 hour.

Target Audience
Anyone who wants to create WordPress websites on their own
Requirements
---
This course from Udemy on Wordpress teaches you how to:
-Build a custom WordPress theme using only HTML, CSS and PHP
-Download completed theme code samples

Target Audience
Freelance designers interested in offering totally custom WordPress services to their clients
Business owners looking to build their own blogs from scratch
Requirements
Basic knowledge of HTML & CSS
Basic knowledge of the WordPress admin panel
---
This course available online at Udemy teaches you how to create a responsive business website using WordPress, without any prior experience needed.

Target Audience
Business owners who want to create a new website or redesign an existing website
Requirements

A computer and an internet connection
---
This course from Udemy is for more experienced WordPress users who want to learn more about the software. You'll learn how to:
-Create WordPress plug-ins
-Develop more advanced and complex WordPress sites
-Use taxonomies, metaboxes and custom post types
-Use Shortcode API, WP Ajax, with practical examples
-Use the WP REST API and WP Ajax

Target Audience
Anyone with prior experience with WordPress and who knows where themes and plugins are stored in WordPress
Requirements
A local WordPress installation
A text editor (The instructor uses Atom, but others are acceptable)