If you're learning piano, you might want to check out Udemy. Users can publish courses on Udemy and teach you how to do virtually anything. There are especially some great piano lessons available.
Take a look at the 10 best piano courses from Udemy and don't forget to use a Udemy coupon to help save on your next lesson.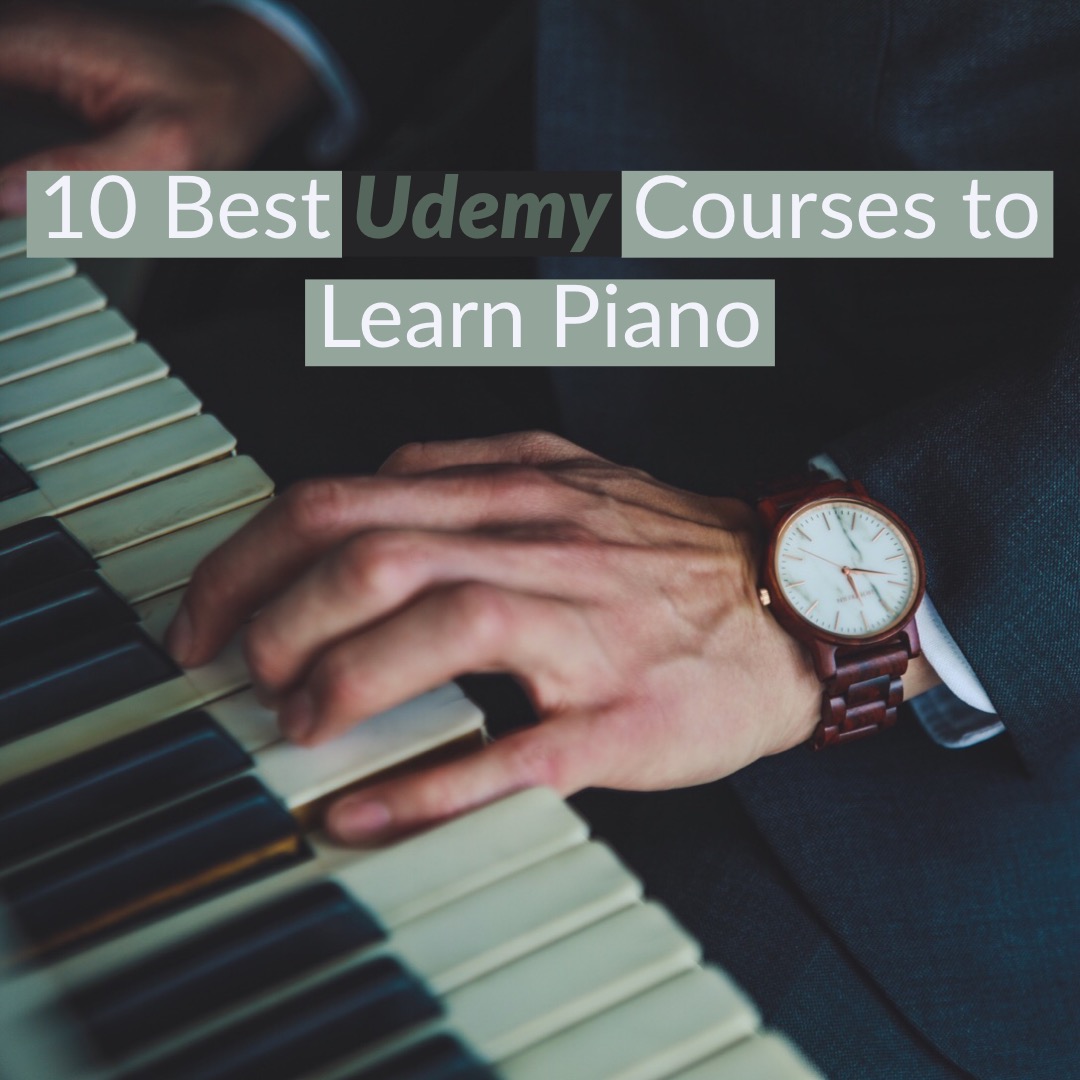 Best 10 Piano Courses on Udemy
1. Piano Boot Camp – Master the Basics of Beginning Piano
This Udemy course is perfect for beginners! It only requires 10 minutes per day, which is totally doable for most folks. You'll learn how to read and play music throughout the course. It's an excellent choice for anyone who has recently decided to jump back into piano again!
2. Beginner Piano
Another fantastic beginner piano Udemy course is Beginner Piano. This course covers a lot of information, but it's presented in a non-overwhelming manner. You'll learn about hand coordination and chords. You will also learn a handful of important vocabulary terms. You will even be able to play a few recognizable songs by the end of the course!
3. The Complete Piano Course – Master the Piano
Maybe you've got some holes to fill in your piano knowledge or maybe you're just getting started. If either of these apply to you, you should give this course a try! You will learn key signatures, music theory, and more. It's great for beginners and musicians with a solid foundation they'd like to build on.
4. Learn Piano with Beethoven
Maybe you want to try learning how to play piano by using one of the most recognizable songs in the world. With this Udemy piano course, there's a specific focus on Für Elise by Beethoven. You will definitely learn a few handy tips and tricks along the way!
5. Piano SPEED LEARNING: Play Your Favorite Song in 1 Hour
This Udemy piano course was created for anyone who doesn't want to wait to learn how to play their favorite song on piano. With this course, you can learn how to play a song in about an hour. You'll also learn about chords, notes, and all of the other piano basics. This powerful learning technique is useful for pianists of all skill levels!
6. #1 Play Piano Trick: Rosa's Easy 4T6 Handshape Color Tones
If you already have some background knowledge, you're ready for Rosa's course. In this course, she teaches intermediate and expert pianists a trick to learn 4T6 and how to play chords. Her techniques are effective and applicable to a variety of songs. Be sure to check out her other Udemy courses for more advanced piano learning.
7. Piano Chords
Piano chords can be a challenge for some pianists to master. This piano course on Udemy incorporates visual teaching techniques to assist intermediate students in learning and mastering chords. This real-life approach is very beneficial and can make a world of a difference in your success with playing the piano!
8. Learn Piano for Beatmakers and Producers
If you're attempting to steer away from classical music and explore other genres, this course should be useful. Keep in mind that it's geared toward intermediate musicians. If you're wanting to learn how to produce beats on the piano, you should give this Udemy online course a try!
9. Piano Lessons for Beginners: Learn Piano Quickly and Easily
This Udemy piano course focuses on all of the basics that you'll need in order to play piano. All you need is a piano, so it's okay if you're starting from the very beginning. You'll learn about reading music, playing songs, scales, and chords. You know, the basics!
10. The Complete Piano & Music Theory Beginners Course
Though all of the other course listed are going to help you with playing piano, you will need to learn music theory as well. This beginner Udemy music theory course focuses on the essential pieces of music theory. If you've been playing piano and haven't learned theory yet, you will definitely find this course useful!
Udemy is a great place to begin learning about playing the piano and reading music. This is a unique way to learn since you can learn on your own time. There are even more piano Udemy courses available for you to explore once you finish these!