Affordable and chic going out and occasion dresses are one of the best things about SHEIN – and we're definitely hooked! Versatile yet trendy styles, rich, gorgeous hues and flattering silhouettes are part of the recent collections, designed for every type of occasion from formal cocktails to anniversaries, holidays, parties and more. Check out our favorite looks of the season.
If you're interested in buying a SHEIN outfit listed here, check out our SHEIN clothing deals to save on your purchase!
Trendy Clothing from SHEIN
1. The Embroidered Rose Applique off Shoulder Ruffle Dress
The off-the-shoulder trend shows no signs of slowing down and we're loving everything about a good flouncy ruffle dress, especially one that comes in a figure-hugging silhouette. Lush floral embroideries complete the look from SHEIN, ideal for a romantic date night out with your special someone.
2. The Colorful Sequin Cami Dress
The trend of the moment, aka unicorns, are now available under the shape of a dress... a sequined, sparkle extravaganza party dress, that is. Meet the sequin dress reinvented from SHEIN, in mesmerizing unicorn/rainbow hues that range from turquoise to purple and pink.
3. The Tied One Shoulder Ruffle Embellished Jumpsuit
Rich and sophisticated jewel tones are big this season and that's part of the reason why this ruffle-embellished SHEIN jumpsuit is on our list. Timelessly chic yet bold at the same time, this number makes a great one-piece to rock during the festive winter holidays this year.
4. The Double Breasted Sequin Blazer Romper
Blazer-type dresses were some of the hottest fashion crazes of the year, but this sequin-adorned number takes the trend to the next level. Meet the blazer romper, aka the edgier, more playful version of the blazer dress. Significantly less formal and ten times more party-ready, this eclectic SHEIN clothing is a modern fashionista's best substitute for a little black dress.
5. The Plus Contrast Lace Sleeve Dress
Here is a universally flattering silhouette that can't miss from your closet, the classic fit and flare dress, aka the ultimate versatile pick for the widest range of occasions. Wear this dress from SHEIN for cocktails to openings and from office parties to date nights. But this little plus contrast frock is not your basic dress, as it comes with statement lace sleeves, perfectly complementing the 1950s-inspired cut of the garment.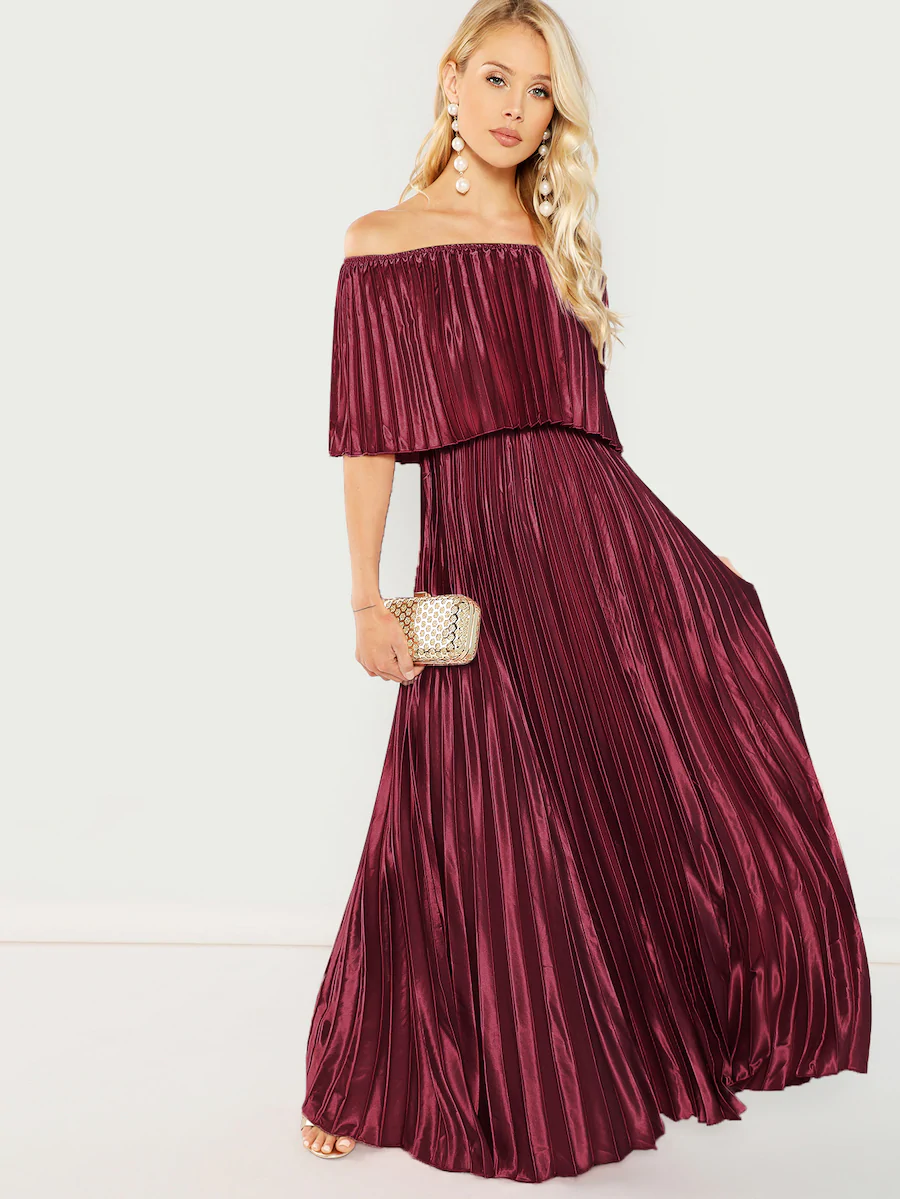 6. The Flounce Foldover Front off Shoulder Pleated Dress
Jewel tones strike again – and this time, it's ruby's time to take the lead. This maxi gown has it all: from mesmerizing movement to a femme cut, perfect for weddings and other dressy occasions.
7. The One Shoulder Solid Sequin Dress
Sequins galore in this one shoulder solid dress from SHEIN, in a flirty asymmetric design. Whether you're headed to a party, a celebration of any sort or simply on a mission to shine on the next girls' night out on the town, this rich blue number is a perfect pick.
8. The Flutter Sleeve Eyelash Lace Dress
Romantic to the max, feminine and delicate, all in one – meet the flutter sleeve eyelash dress in the softest shade of blush pink, perfect for any type of romantic occasion, be it a wedding, an anniversary or a special date night. Pair it up with slim heels and white or silver tone jewelry pieces for a look that's quintessentially feminine.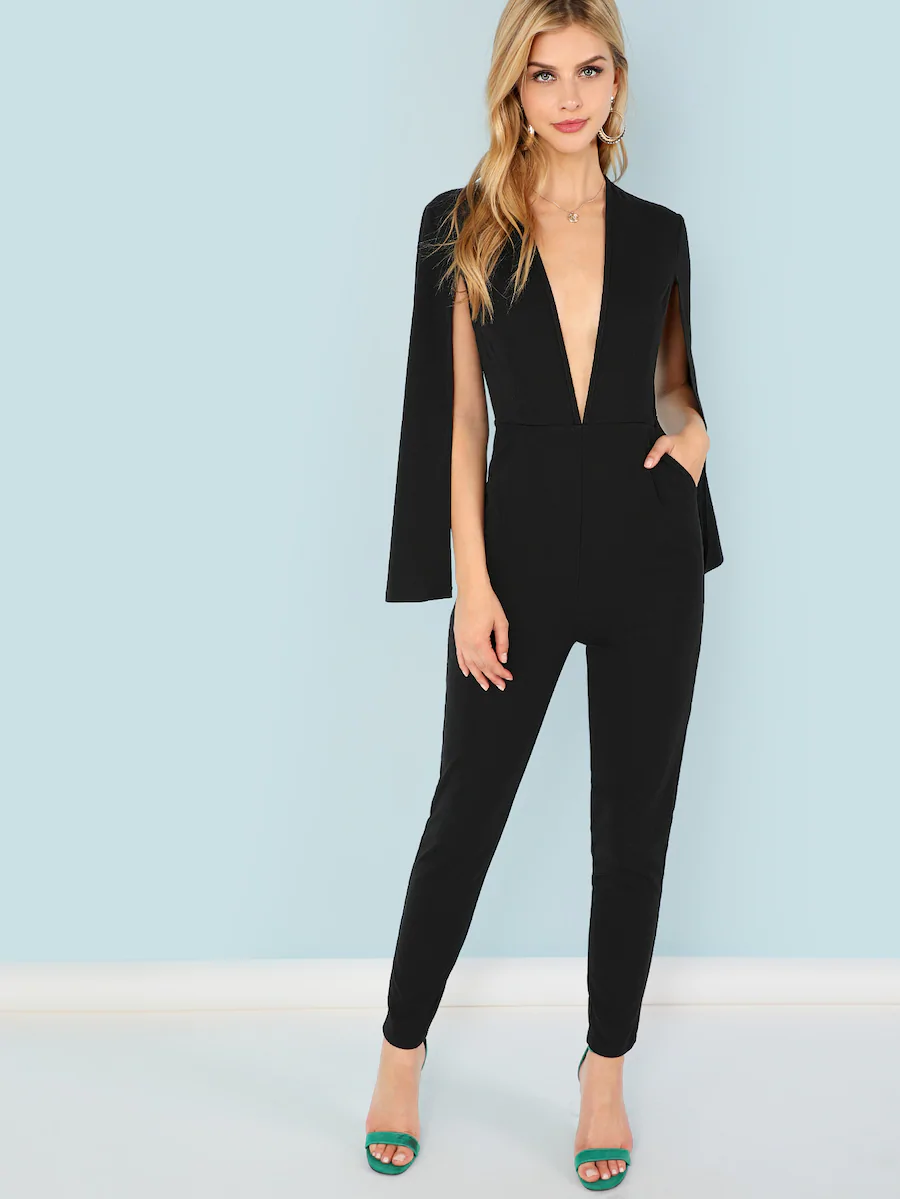 9. The Plunging Neck Cloak Sleeve Jumpsuit
The power suit has been replaced – and we are definitely in love with the alternative. Meet the ultra-low-cut jumpsuit in solid black by SHEIN, featuring on-trend cloak sleeves. Pair it up with layered necklaces and black or gold heels for a look that conveys confidence and sex-appeal at all times.
10. The Plus Belted Deep V Neck Jumpsuit
Electric blue for the win with this gorgeous and universally flattering jumpsuit, designed for the plus-size beauties out there. A belted waist and a V neckline enhance your hourglass silhouette, for a look that merges timeless chicness with a contemporary twist.
When on the lookout for your next shiny, sparkly or glam party dress, SHEIN is one of the best shopping destinations out there. With their dresses, jumpsuits and rompers that range from formal to timeless and from festive to party-ready, you can count on finding your dream going-out look while browsing through the trendy selection of styles.