Alo Yoga and Alo Gives: Teaching Children Mindfulness
January 17, 2019 by Aubrey Meister
Alo Yoga is known for selling yoga clothes, but they do a lot more than that. They are also working to promote mindfulness in schools through their nonprofit foundation called Alo Gives. This foundation has worked with schoolchildren and others in underserved places around the world. Here is some more information about the Alo Gives foundation!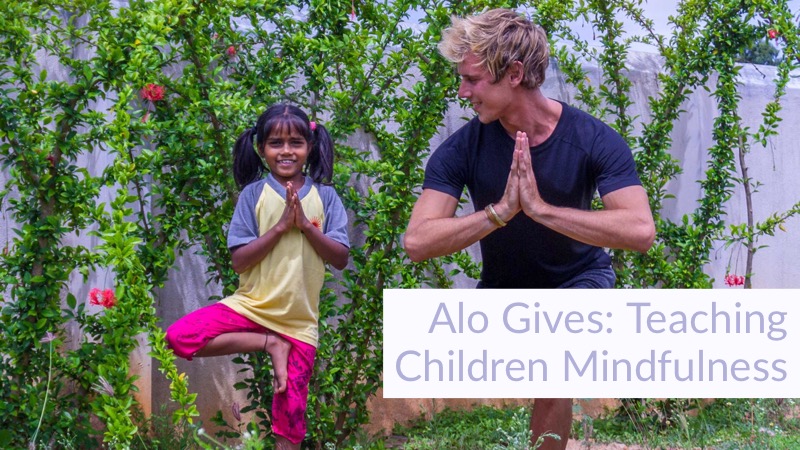 More Info on Alo Gives from Alo Yoga
The therapeutic benefits of yoga and meditation are totally applicable to everyday elementary or high school classrooms. These practices increase focus, encourage positive thinking, and improve overall behavior. This is useful for both the teachers in these classrooms and their students. When meditation is practiced, students need less discipline, which leads to fewer interruptions during the school day.
Alo Gives understands the challenges and pressures that students face every day. Mental illness is a common issue due to young people being exposed to social media and other potentially harmful content. Meditation is a powerful tool in managing the effects of mental illness, which is why it's a great skill to instill in young students.

One of the specific foundations that Alo Gives has partnered with is Urban Yogis. This is a foundation based in Queens, New York. Urban Yogis has a similar goal to Alo Yoga. They want to bring meditation and yoga to underprivileged youth. They want to inspire a generation of students. Alo Gives hopes to work with 10 million students over the next five years. They have started by promoting meditation to students from 3rd to 5th grade and are planning to expand to all grades in the near future.

Alo Gives Around the World
In addition to working in the United States, Alo Gives has benefited girls at the Baale Home in Bangalore, India. The young girls who live at the Baale Home are girls who have been rescued from dangerous situations. Some of these include domestic violence and child labor. Some of these girls come from homelessness as well.

When Alo Gives found out about the Baale Home and the girls' love for yoga, they wanted to help. The foundation recognized that the young girls in this home needed more space to practice yoga. Alo Gives helped to make sure that these girls received a new place to practice yoga and helped to create better living spaces for the girls.
The foundation's goal is to reach 2 million schoolchildren this year through movement and mindfulness. Alo Gives has been working with Water.org as well, to provide drinking water to those who need it. Much of the donated water is given to families in developing countries.
A percentage of every sale from Alo Yoga goes to the Alo Gives nonprofit. Alo Yoga also published a book, Mindful Movement. All of the proceeds from the book go to the nonprofit as well. Altogether, these funds go toward inspiring youth around the world and improving their overall mental health state.

At Alo Gives, they are working to share the benefits of yoga and meditation. They have found places where students need the most support and have taught them how to practice meditation. The positive effects of yoga and meditation can now be seen in the lives of young people across the globe and in classrooms in the United States! If you're interested in purchasing items from Alo Yoga, visit our Alo Yoga page to find the latest deals that will help you save money.

---