New Year, New You: 5 Tools for Self-Improvement in 2019
December 17, 2018 by Eric White
The impending New Year is a great time to look in the mirror and ask: "how can I be a little better next year?" Whether your wish is to learn a new language, get more fit or just operate at a higher level, there are plenty of tools available to help you achieve!
In today's post, we'll take a look at 5 tools (and coupons for each) that will help you become a better version of yourself in 2019. Here are 5 tools for self-improvement in 2019.
5 Self-Improvement Tools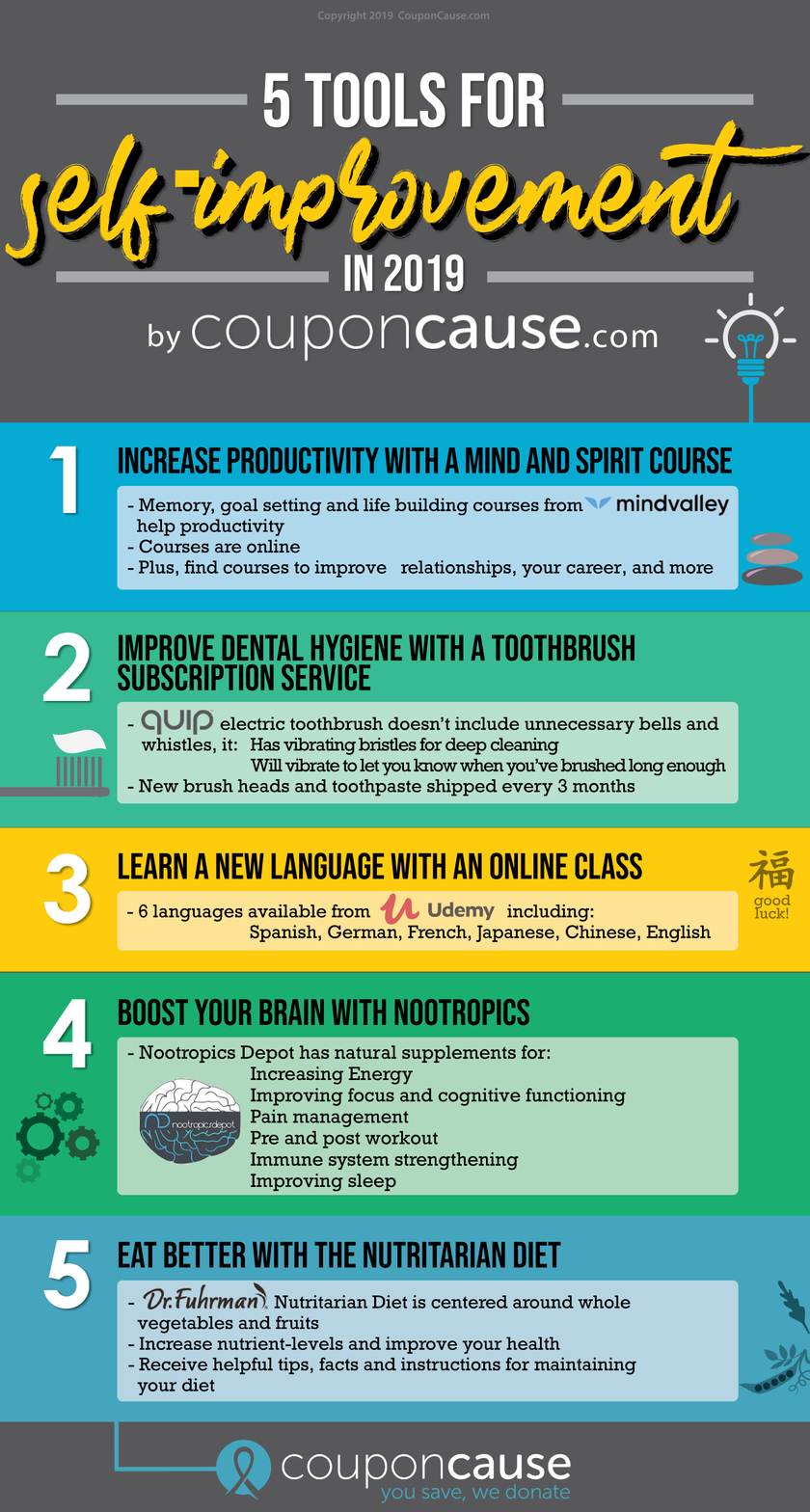 ---
1. Improve your lifestyle and ramp up your productivity with Mindvalley University. Mindvalley is an online resource for people looking to improve the functioning of mind and spirit. Courses can be taken online, allowing anyone to tap into the knowledge accumulated by the expert staff of instructors. Here are some of the courses available to improve productivity:
"Unleash Your Brain from All Limitations and Develop a Super Memory"
"Design Your Ultimate Life in 2019 with Lifebook Online"
"Learn the Difference Between Means Goals and End Goals"
Self-improvement courses are available through Mindvalley for more than productivity as well. If your goal in 2019 is to, say, find love or improve the quality of the relationships in your life, Mindvalley can also help you there. From love to careers and beyond, Mindvalley could be the help you need to take things to the next level in 2019.
If improving the quality of your mind and spirit sounds like something you'd like to undertake next year, visit our Mindvalley section to find a deal that will help you save on your selected courses. Here are some of the Mindvalley deals we offer now:
---
2. Step up your dental hygiene with a quip subscription. If you haven't heard of quip yet, please keep reading. If you have heard of quip and haven't signed up yet, please ask yourself: "what am I doing?" quip is the easiest way to improve your dental hygiene. Sign up for a quip subscription and you'll receive an electric toothbrush that is stripped of all the bells and whistles. It performs a singular function: vibrate the bristle heads while you brush. It also vibrates to let you know when you've brushed an appropriate amount of time.
As part of your quip subscription, you'll also be mailed new brush heads and toothpaste every 3 months. This helps to ensure you aren't using the same gnarly bristles for way too long. For travelers, quip also comes with a protective case that doubles as a toothbrush holder that can be used in any hotel bathroom.
If you'd like to improve your smile in 2019, visit our quip page to find a selection of offers that you can pair with your purchase today. Try these two deals out first:
---
3. Learn a new language with a Udemy online class. Udemy is a well-known resource to learn skills ranging from coding to design. There are over 80,000 courses that anyone can sign up for at Udemy to learn something new.
Perhaps you'd like to pick up a new language in 2019. Udemy offers courses to help you learn the following languages:
Spanish
German
French
Japanese
Chinese
English
Having the ability to speak a second or even a third language is highly desirable among employers, especially if they have business in a region that speaks your alternate language. Additionally, there is evidence that learning a new language actually helps improve brain functioning and healthy growth.
Visit our Udemy section to find an offer that will help you learn a new language and increase the size of your brain in 2019. Here are a couple Udemy deals we have right now:
---
4. Make nootropic brain boosters a part of your daily regimen with Nootropics Depot. Another great way to improve yourself in 2019 is to begin taking natural nootropics from a brand like Nootropics Depot. Nootropics include things like fish oil and mushroom extracts, racetam and more. Nootropics can also be a great way to improve energy and focus. Here are some other things nootropics can be used for:
Pain management
Pre-workout
Post-workout
Immune system strengthening
Sleep
and more!
Supplements from Nootropics Depot can be solid addition to a regimen already developed around self-improvement. Before trying out your chosen nootropic, try finding an offer available at our Nootropics Depot page. Here are two that you can currently use:
---
5. Commit to a better diet with Dr. Fuhrman. No new year self-improvement blog would be complete without an option to help you improve diet and/or lose weight. The Dr. Fuhrman Nutritarian Diet is built around taking in nutrients from natural sources with high nutrient-levels, mainly fresh whole vegetables and fruits.
Utilizing the Dr. Fuhrman diet is a well-reviewed and natural way to improve health. Being centered around a naturally healthy diet and coming with tips, instructions and backing information, the Dr. Fuhrman diet is for those who are truly committed to better health in 2019.
Our Dr. Fuhrman section at CouponCause will help you save on your orders for 2019. Try these two coupons before you purchase:
---