Why MLK Jr. Day is More Important in 2021 Than Ever Before
January 15, 2021 by Angie Long
Every year, on the third Monday of January, Americans devote a day to the teachings and beliefs of Martin Luther King, Jr. This year, that day falls on Monday, January 18th. Martin Luther King Jr. Day is the only federal holiday that is designated as a national day of service — a day for Americans to come together and do something to improve their communities.
However, the day symbolizes different things for different people. And for some, the day may come and go without much thought. But this year, Martin Luther King Jr. Day is more important than ever. It only takes a few moments to remind ourselves why, but the impact of recognizing this day can last a lifetime.
The Importance of Martin Luther King Jr. Day 2021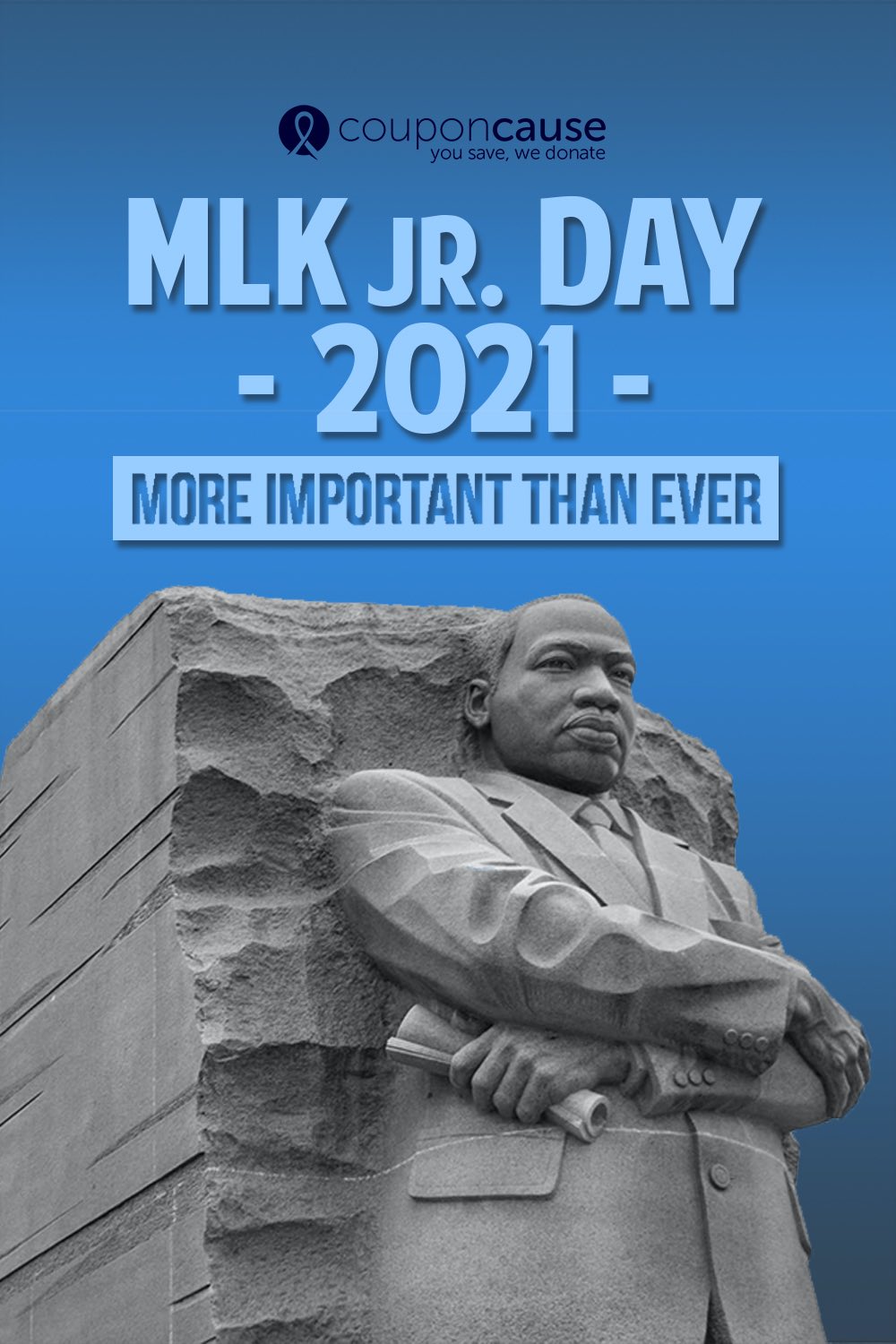 King's Beliefs
Dr. Martin Luther King's vision was for all inhabitants of the United States to avoid being judged by their skin color, and instead, be judged by their personal qualities. He spread this message by adhering to Mahatma Gandhi's philosophy to incite change without the use of violence. In fact, King won the Nobel Peace Prize in 1964 at the age of 35, making him the youngest person ever to receive the prestigious award. His nonviolent protests and boycotts were highly effective, which is something everyone should remember this Martin Luther King Jr. Day.
Learn more interesting facts about Martin Luther King, Jr.
King Was an Advocate for Peace
Between 1957 and 1968, Dr. King addressed not just injustice in America, but injustice around the world. His travels took him over 6 million miles and afforded him the opportunity to conduct over 2,500 public speeches. If that wasn't enough, he also wrote five books during that time. Keep in mind that these events were during a time of civil unrest, but that didn't deter him. And his efforts eventually paid off in a variety of ways.
One significant effort paid off when, in 1963, he gave his famous "I Have a Dream" speech to over 250,000 demonstrators in front of the Lincoln Memorial. His speech was heard around the world, and people took notice. This included President Lyndon B. Johnson, who passed a law prohibiting all racial discrimination when he was sworn into office the following year.
King Was a Relentless Fighter
Now more than ever, we need to be resilient. And a little motivation can certainly help. Dr. King was a prime example of that resilience. Any obstacles in his way were seen as an opportunity to learn and incite change. And learning was something he prioritized at an early age, even enrolling for college courses at the age of 15.
In 1955, Dr. King began the arduous task of persuading the U.S. government to declare racial discrimination in the southern states unlawful. Over the next 13 years, Dr. King, his family and those who supported his beliefs were met with racist violence. But Dr. King didn't back down. He continued to do what was right instead of succumbing to threats from his opponents.
And Dr. King's opponents were powerful. J. Edgar Hoover, head of the FBI at the time, labeled Dr. King as a communist and placed him under surveillance. Dr. King's struggles were too numerous to mention, but he kept on fighting until his life was lost on April 4, 1968.
How to Connect MLK Day to Current Events
The past year has been a testament to the strength of every single person on the planet. Within the United States, the stress from the pandemic was magnified by political and social uprisings. With a country that's so divided, it's more important than ever to remember the messages of love and compassion that Dr. Martin Luther King, Jr. preached. By forming a united front, regardless of which side of the political line we stand on, we can move forward and get through 2021 with much-needed positivity and compassion.
If you're feeling generous this MLK, Jr Day and would like to give back, consider making a donation to one of these excellent nonprofit organizations.
---
---