10 Facts to Remember About Martin Luther King, Jr on His 90th Birthday
January 14, 2019 by Eric White
Martin Luther King Day will be celebrated on Monday, January 21st this year and will actually be Dr. King's 90th birthday. In honor of his nonviolent legacy, in this post we are taking a minute to reflect on some key moments from his life. These 10 Martin Luther King facts may not be as well known today, but they are certainly worth remembering and learning from.
While Dr. King's birthday is actually on January 15, Americans celebrate the holiday on the third Monday of January every year. Here are 10 important facts we should remember on Martin Luther King Day 2019.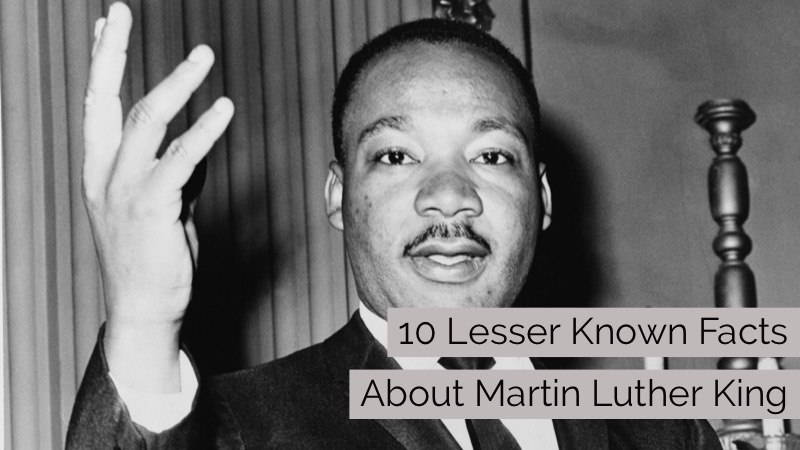 10 Important Martin Luther King, Jr. Facts
Dr. King showed high levels of intelligence early in his life. By the age of 15 in 1944, he was already enrolled for classes at Morehouse College.
Martin Luther King, Jr. was a third generation college graduate. Like his father and grandfather, King graduated from Morehouse College in Atlanta, Georgia. He went on to graduate from Crozer Theological Summary in 1951 and then earned his doctorate from Boston University in 1955.
When MLK was chosen to be leader of the legendary 382-day bus boycott in 1955, he was only 26 years old. The boycott resulted in segregated bus laws being declared unconstitutional by the United States Supreme Court in 1956.
Between the years of 1957-1968, Martin Luther King addressed injustice around the world, traveling in excess of 6 million miles and speaking over 2,500 times. That's 545,400+ miles and 225+ speaking appearances every year for 11 years.
As if the travel, speaking and appearances weren't enough, King also authored 5 books during this time.
The 1963 March on Washington was attended by 200,000-300,000 people and is regarded as a major turning point in the civil rights movement. It was at the end of this march that Dr. King delivered his historic "I Have a Dream" speech on the steps on the Lincoln Memorial. The following year, the Civil Rights Act of 1964 was passed.
In 1964, Martin Luther King, Jr. was awarded the prestigious Nobel Peace Price, becoming the youngest recipient ever at the time (35). The year before, He was named the Time Man of the Year for 1963.
The Voting Rights Act of 1965 is the result of years of incredibly difficult work from a wide range of activists, but can be reasonably attributed to the march from Selma to Montgomery, Alabama earlier in 1965. The march was led by none other than Dr. King.
Martin Luther King Day is a holiday from the 80s and the presidency of Reagan. It was celebrated for the first time in 1986, 18 years after King's assassination. It is the only national holiday designated on an American's birthday, aside from George Washington.
His 1968 death was actually not the first attempt on his life. In 1958, King was stabbed in the chest with a 7-inch letter opener by a woman named Izola Ware Curry. During this hospital stay, King perfectly exemplified his belief in nonviolence by issuing a statement declaring he harbored no ill will toward Curry for her vicious attack.
Facts for this article were found at the following sources: NobelPrize.org, The King Center, and The History Channel (other link).
You can find a selection of deals specific to current holidays right here at CouponCause!
---