From bodycon minis to flouncy rompers adorned with ruffles, Hello Molly has everything your heart might desire, in the hottest color palettes of the moment. Whether you're shopping for a future event or simply upgrading your spring wardrobe, the brand's latest collections are definitely on point.
From the flirty and playful to the timelessly elegant, check out our top 10 favorite dresses and 10 hottest rompers from Hello Molly! If you see something you love, try one of our new 2019 Hello Molly coupon codes to save on your order.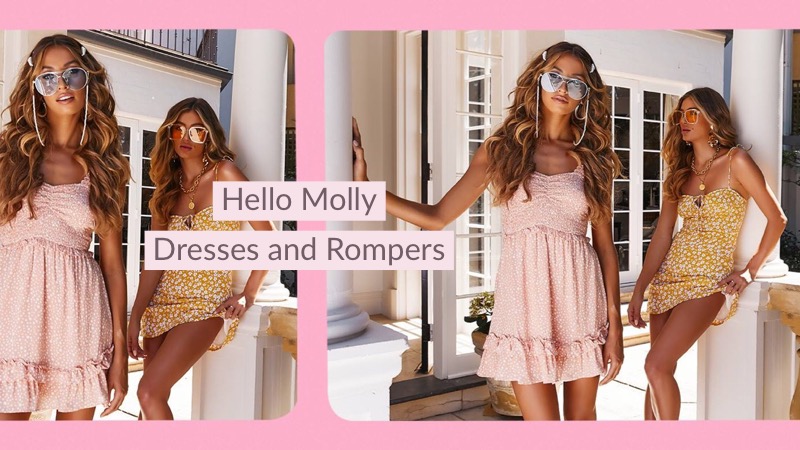 Top Dresses and Rompers from Hello Molly
1. The Trinity Midi Dress in Blue
Pinstripes are here to stay in 2019, which is why this retro-inspired fit and flare maxi dress in cerulean blue has our heart.
2. The Some Like It Hot Maxi Dress in Jade
Jewel shades are a timeless classic and if you are looking for a refined gown to wear to a wedding, this jade maxi in a satin finish is definitely a sophisticated choice.
3. The Waiting Forever Dress in Mustard
Playful and flirty, all with a hot boost of color: bright and bold mustard! Pair this little ruffled frock with your chunky heels for a retro-gone-modern look you can wear at lunch, at a garden party or on a daytime date.
4. The Embrace You Dress in White
The beach-ready dress that's easy, breezy and chic: meet this A-line white number, perfect for layering over your arsenal or cute bikinis this summer.
5. The Steps Forward Dress in Sunset
Tropical flavors aplenty with this greenery print little mini in a sunset yellow hue, perfect for just that: a romantic walk with your love, watching the sunset.
6. The Wild Mind Midi Dress in Cobalt
This cobalt blue frock definitely brings on the drama, with its statement frontal bow and intense, captivating shade. Style tip: pair it up with sleek black heeled sandals and wear it at the next office party.
7. The Made In Michigan Midi Dress in Black
A staple black dress simply can't go wrong, whether you wear it to a cocktail or at a first date – and this bodycon pick by Hello Molly ticks all the right boxes.
8. The Beauty Behind the Madness Midi Dress in Pink
Make a very pink style statement with this hot candy-hued number with a ruffled shoulder, perfect for a baby shower or a bachelorette party.
The sparkly mood on with this flouncy low-cut number by Hello Molly, perfect for a night out with the girls.
10. The Belle Meade Midi Dress in Beige
Meet his parents in this classy yet modern little polka dot dress that masterfully merges a conservative cut with retro flair and contemporary appeal.
11. The Push And Pull Playsuit in Tan
The look of a dress, with the convenience and practicality of a romper – meet the Push and Pull number in a trending beige shade.
12. The Good By Nature Playsuit in Blue
Express your feminine side and embrace the spring in the air with this flouncy little romper by Hello Molly in a darling shade of blue, complete with the loveliest floral print.
13. The Walk The Wire Playsuit in Black & White
Make a head-turning appearance at brunch next Sunday in this striped romper that channels the chicness of retro silhouettes.
14. The Hotline Fling Playsuit in Mauve
Embrace the very on-trend shade of mauve with this little romper that brings on the movement, with its ruffled details on the hips.
15. The We Are Dancers Playsuit
Bring on all the tropical vibes in this floral print romper featuring a halter neckline that shows off those gorgeous shoulders. Perfect for wearing at a garden party or on a weekend getaway!
16. The MOSSMAN Take Me Away Playsuit in Navy
This MOSSMAN number proves once and for all that rompers can carry the same elegance as dresses, with its eyelet design in a sophisticated navy shade.
17. The Pacific Grove Playsuit in White
Opt for a little more coverage with this butterfly sleeve romper in a darling flower print, perfect for a sunny day spent creating memories.
18. The Hotel Havana Playsuit in Navy
Enjoy your holiday to the max while relaxing by the pool in this tropical-inspired Havana playsuit, complete with spaghetti straps and a peek-a-boo design.
19. The Different Place Playsuit in Mustard
Your go-to slip-on romper in a sunny shade of gold, perfect for a late night dinner with your special someone.
20. The Look Of You Playsuit in Mauve
The perfect blend between the flounce appeal of a dress and the comfort of a romper – check out the Look of You playsuit in a gorgeous shade of soft mauve.
If you're on a mission to give a chic boost to your spring and summer wardrobe, Hello Molly is a great place to start your shopping spree. Browse through their dress and romper collections, find your next go-to frock and wear it on repeat all season long!