You're planning your next family vacation and finding all sorts of VRBO vacation rental options and then you realize: this family vacation simply must include your fur baby. No need to panic! You may be wondering: do VRBO rentals even allow pets? How do I find pet-friendly VRBO properties? Is there an exception for service animals and emotional support animals?
As a property owner or property manager, you might be wondering whether or not you have to allow pets at your vacation rentals or whether you can add a rule on VRBO that only allows certain kinds of pets of a certain weight or breed. If you want to refuse all pets you might be wondering whether you can legally refuse service dogs at your VRBO properties and whether or not the VRBO deposit covers pet damages if you cannot.
All are very valid questions from both sides of the VRBO booking, so let's get into the answers!
Is VRBO pet friendly?
Yes! And…no. VRBO gives property owners the right to decide whether or not they want to allow pets on their properties. So while some vacation rentals do not allow pets, there are many pet friendly VRBO vacation rentals throughout the site. This means you definitely can bring your dog, cat or other specified animal friends along for your family vacation.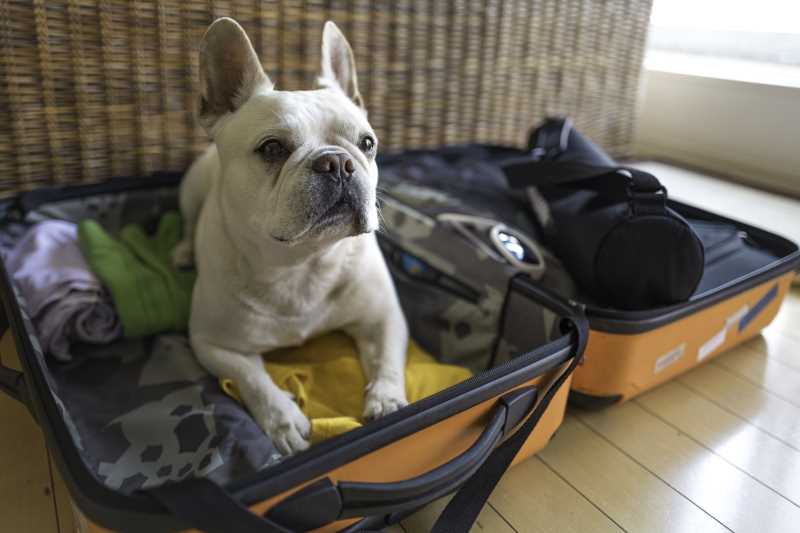 How do you filter pet friendly on VRBO?
Luckily, VRBO makes it easy to find pet friendly vacation rentals on their site with a handy-dandy "Pets Allowed" search filter. Just make sure you check that box before you start wading through results and you'll be served a whole feast of tasty pet-friendly vacation rental options.
How do you add a rule on VRBO?
If you're a property owner or property manager on VRBO and you want to add certain specifications for your property regarding pets or anything else, just follow these easy steps:
Log in to your account.

Select the listing or listings you want to edit.

Head to Rules & Policies where you'll find the House Rules tab.

Make your desired changes.

Hit Save and you're good to go.
How do you add a pet fee in VRBO?
For property owners who decide to allow pets, adding a pet fee in VRBO is easy!
Log in to your account.

Select the listing you want to edit.

Select Calendar.

Go to Settings, then Fees.

Under Standard Fees, you can choose up to 3 fee types.

Select Pet Fee.

Enter amount.

You can also add up to 3 custom fees if you like.

Once you've made all your changes, hit Save.
How do I specify to VRBO that I have a service dog?
If you have a service dog that you must bring with you on your vacation, you can specify to VRBO that it is a service dog as opposed to a casual pet by opening communications with your host so they can make the appropriate accommodations for the animal in a timely manner. However, it is not required that you disclose the presence of or provide documentation for a service dog because all VRBO vacation rentals are required to accommodate guests who bring their service animals, regardless of normal house rules.
Can I bring an emotional support animal to a VRBO?
If your VRBO vacation rental allows pets, then yes you can bring an emotional support animal. However, because emotional support animals do not have specific task training related to a disability they are exempt from the service animal policy that requires all VRBO properties to allow service dogs.
Can any animal be an emotional support animal?
In theory, any domesticated animal can be considered an emotional support animal (ESA) and they can be of any age. This means your hamster, your favorite chicken, your mom's aging llama, and your little brother's tiny box turtle. The one caveat is that an emotional support animal must be able to be easily managed in public without creating a nuisance. So maybe not that lovely boa constrictor you bought in your Britney phase.
Can VRBO owners refuse service dogs?
VRBO owners are required by US law to provide accommodation to service dogs regardless of their standing house rules. If you feel you have been refused a booking because of your service animal, you should immediately contact VRBO customer support and get help setting it right.
Does the VRBO deposit cover pet damage?
The VRBO deposit does cover pet damage, as well as damaged furniture, broken glass or appliances, and any additional cleaning that might result from undeclared pets or guests.
Final thoughts
So if you're bringing your pet along on your family vacation, remember to search VRBO for pet-friendly vacation rentals first and foremost. Service dogs can stay at all VRBO properties regardless of standing house rules, but it's still wise to choose a property that can accommodate you and your fur babies best without having to worry about paying any penalties or losing your deposit over damages from an undisclosed animal. Emotional support animals are not considered service animals due to their lack of task-specific training with disability and, therefore, should only be taken to rental properties that have chosen to allow pets.