10 Eco-Friendly Ways to Cool Your Home this Year
April 6, 2019 by Kelly Gunderman
When summer hits and the temperatures rise, looking for unique ways to cool your home is an essential part of the season. However, items like regular air conditioners can cause a spike in your electricity bills, as well as harm the environment due to the emissions it creates. So why not look for some Eco-friendly ways to keep your home cool this year?
Protecting the environment and making sure you stay comfortable can go hand-in-hand with some of these Eco-friendly ways to stay cool this year.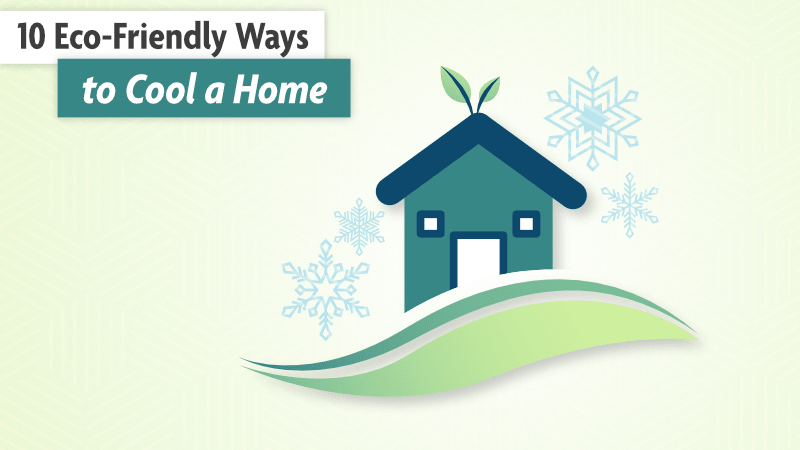 Eco-Friendly Methods for Cooling Homes
Install ceiling fans - Believe it or not, ceiling fans can do a lot to circulate the air and make a cool and comfortable breeze with minimal energy usage compared to an air conditioning unit. When purchasing ceiling fans, you even have the option to purchase fans that are also lights, so you don't have to worry about replacing your ceiling light and also having a fan.
Hang up blinds or shades - Window blinds or window shades can help block out some of the sunlight and the heat, allowing your house to remain cooler with more shaded areas. An example of a great way to keep the sun out is the Bali Solar Roller Shades from Blinds Express. These shades block out harmful UV rays as well as keep your home cool and free from glares. Try these 2019 Blinds Express coupons to save on your purchase:
Plant trees - Yes, planting trees around your home is a great idea, and not just for the environment. The shade from the trees you plant, if planted strategically, can offer a bit of a cooling effect as well. If you're looking for something unique for your patio or deck, try the Jay Scotts Fiberglass Mid Rectangle Planters from ePlanters. Our new ePlanters.com coupon section has plenty of offers your can use to save:
Verified
Details:
Ongoing Offer
Click "Show Coupon Code" To Activate This Deal. Exclusions May Apply
10% Off Sitewide Coupon
Use reflective films on windows - If you have any windows in your home that are facing the south, applying a special UV-reflecting film coating to them can make a lot of difference. These reflect some of the sun's rays away from your window, thus helping to keep it cool inside your home.
Verified
Details:
Expires Dec 31st
*Note Free Shipping is on Orders of $50 or more. Ends 12/31/2020 11:59 PM EST. Excludes in-home delivery products. Discount is taken off sale price excluding taxes, shipping, gift wrapping, and engraving. Only valid for new orders on kitchenaid.com. Offer subject to change. No cash value. Cannot be combined with other offers or rebates. While supplies last.
10% Off All Orders + Free Shipping
COUPONCAUSE2020
Show Code
Paint your home and roof a lighter color - A lighter color, such as Valspar Duramax Exterior Paint and Primer from Lowes can really help to reflect the light instead of absorbing it, which is what happens when you have a darker color for your exterior. Choose white or a lighter color, such as yellow or baby blue, to keep your home from holding in too much heat from the sun's rays. These 2019 Lowe's discount codes will help you save on your spring upgrades:
Details:
Ongoing Offer
No Promo Code Needed. Click "Get Offer" To Activate This Deal. Exclusions May Apply
Residential Air Filters
Details:
Ongoing Offer
No Promo Code Needed. Click "Get Offer" To Activate This Deal. Exclusions May Apply
Low Prices on Tools
Install an Eco-Friendly thermostat - A Smart Home thermostat, such as this Ecobee 4 Smart Thermostat, can help cut down on heating and cooling costs by automating temperature control in your home.
Install Insulation - Many people know that installing insulation in your home, especially your attic, can help keep it warm during the cool months. However, installing insulation can also keep your home cool in the summer, too.
Choose an Eco-Friendly air conditioner - If you do want to use an air conditioner, stop using the older models that take up a lot of energy and create harmful emissions into the environment. Replace your old air conditioner with a new Eco-Friendly model.
Replace your light bulbs - If you have traditional light bulbs installed in your lights at home, switch to an LED or CFL bulb. These bulbs produce only a fraction of the heat that traditional bulbs do, keeping your home cooler.
There are a lot of ways to help cool down your home in the summer, from installing planters outside to switching up your thermostat. Don't sweat the heat this summer when there are plenty of ways to keep your home cooler and much more comfortable! CouponCause is the perfect place to help you find what you need to help cool your home, and also save money!

---