Make a Fashion Statement with the Top Trendy Watch Brands
October 31, 2018 by Angie Long
Just as you wouldn't wear a pair of running shoes with a suit and tie, you wouldn't wear your sweaty rubber fitness tracker to a job interview. What you wear on your wrist not only says that you're punctual, but also that you're stylish. Style trends come and go, not only with clothing, but also with watches.
And while it is great to have some timeless timepieces in your collection, you need something that matches the occasion, and a bit of variety never hurts. Here are just some of the best trendy watches people are wearing right now!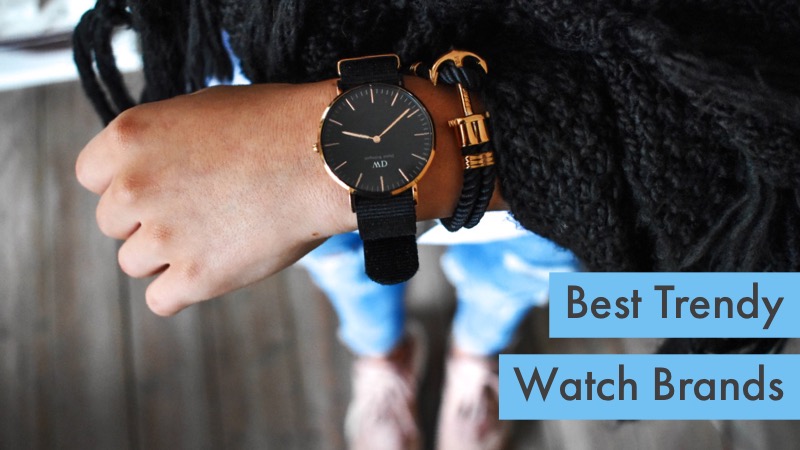 Our Favorite Trendy Watch Stores
Watch Gang
This brilliant idea allows you to receive a trendy new watch in the mail every month without even having to think about the design. All you do is go to the website, answer a few questions about your preferred style and then choose from three subscriptions: $29/watch for watches worth up to $150, $99/watch for watches worth up to $500 and $299/watch for watches up to $1,500 in value. You can skip a month if you like, or simply enjoy receiving a new watch to add to your collection every month. Try using a Watch Gang online promo code to help you save on your order:
Pass The Watch
This company has been selling designer watches for over six years. Each watch comes in its own original packaging with its serial number, so you know it is genuine. They offer an in-house, two-year warranty as well. If you find a watch you love, use one of these Pass The Watch new coupons to help you save:
Momentum Watches
Momentum specializes in high-quality sports watches with straightforward designs and unparalleled waterproof performance. Whether you want a cloth band, leather or metal, you're sure to find something to suit your lifestyle. Save some extra cash on your order with new deals from Momentum Watches like these:
Luxer Watches
What originated from a luxury boutique in Montreal, Canada, is now a thriving online business selling brand-name watches at competitive prices. In fact, Luxer will match Canadian competitors' prices if you contact them within 48 hours of your purchase. If you order from Luxer, you'll benefit from a 60-day money-back guaranty and free shipping to anywhere in the U.S. Save a little extra with Luxer Watches online deals like these:
Flex Watches
This company makes you proud to do business with them, and you don't even need to spend a lot of money to get a quality timepiece. Two friends started this watch company that donates 10 percent of its proceeds to whichever cause your watch represents, such as breast cancer, autism and the military. You'll receive a two-year warranty and free shipping to anywhere in the U.S. These regularly updated Flex Watches deals are sure to help you save extra:
MVMT Watches
The founders of MVMT started the brand in 2013 to combat the outdated and overpriced watch models of the time. They're now a global organization delivering "premium, on-trend" watches designed in Los Angeles. They offer a two-year warranty on all their products and free shipping worldwide. You can find some great MVMT Watches watch deals available at Coupon Cause to help you save:
UNDONE
A fairly new watch label, UNDONE was founded by a team of industry veterans in 2014. their goal is to make it realistic for everyone to design their own unique watch at a great value. That means each watch is made-to-order, making it a truly unique buying experience. UNDONE offers a one-year warranty and free standard shipping, as well as a selection of other UNDONE watch deals to help you save like these:
The idea of going to your local mall to shop for a watch is an outdated one. Although it may suit some people, it can be stressful if you're put under pressure to settle on a purchase. Plus, you may not get a warranty. Being able to do your research online is a huge benefit to buyers, whether watch aficionados or just casual shoppers looking to add some variety to their collection. If you're considering putting something new on your wrist, the above recommendations should help you find some of the best trendy watches available online.
---