Celebrate National Coffee Day with Freebies and Deals!
September 21, 2018 by Eric White
National Coffee Day is coming in hot (and delicious)! Get your taste buds ready for Saturday, November 29th and the special National Coffee Day deals that can be counted on every year.

Here are the top National Coffee Day freebies you can find plus some deals that will get you in the java spirit!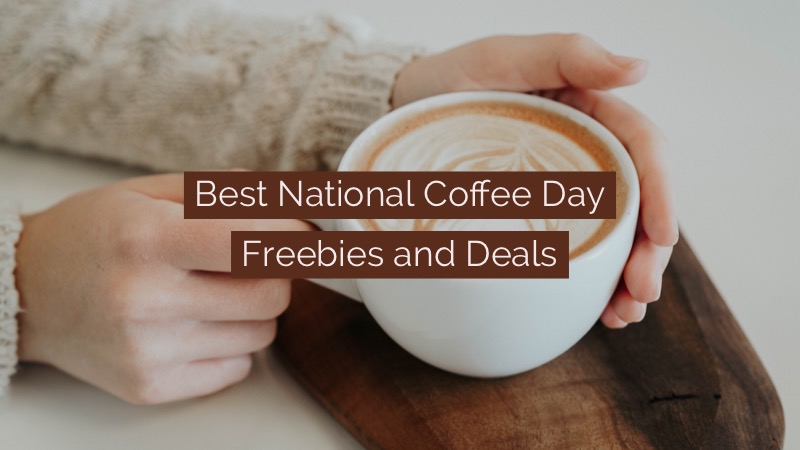 Best National Coffee Day Deals
Dunkin Donuts: Purchase a Dunkin' Donuts hot coffee on National Coffee Day, September29, and receive another a free hot coffee. The Dunkin Donuts Shop is another place worthy of patronage on National Coffee Day. Try out one of these best Dunkin Donuts Shop deals this September 29:
Krispy Kreme: No purchase is necessary for this National Coffee Day freebie from Krisy Kreme! All visitors are offered a free coffee of any size or flavor on Saturday, September 29. Additionally, Krispy Kreme is launching two brand new flavors leading up to National Coffee Day sure to grab people's attention: Original Glazed Coffee and Coffee Glazed Doughnut.
Art Naturals: Use the Art Naturals National Coffee Day coupon code "BATH&BODY20" to save 20% off coffee scented body scrubs.
Walt Disney World: Even mice love coffee, apparently! If you happen to be at Walt Disney World on Saturday, September 29, mention National Coffee Day at Disney Springs Joffrey's. Receive a hot or iced coffee for just a buck.
Volcanica Coffee: Celebrate java day with a Volcanica Coffee promo code "BLENDS918" for 14% off any coffee blend. Here are a selection of Volcanica Coffee coupons which are updated throughout the year:
PJ's Coffee: Visit PJ's Coffee on Saturday, September 29 and receive a completely free Ruby Roast. That's 12-ounces of free java, baby!
Keurig Canada: Save 15% on coffee and pods from Keurig Canada this National Coffee Day (and all month) with this special deal. Keurig Canada coffee code "COFFEEM18" saves you the 15% and gets you restocked with coffee and ready to go.
BeanGenius: Sign up for a specialty coffee subscription this National Coffee Day! Use BeanGenius Coffee Day code "GIMMECOFFEE" for 10% off any subscription. Here are a few BeanGenius deals that are regularly updated throughout the entire year:

There are plenty of great National Coffee Day freebies and coffee deals to help you get a tasty (and cheap) fresh cup of java this Saturday, September 29. Follow Coupon Cause across social media to stay updated on the best coupons and deals 365 days a year!
---