CouponCause $15,000 Donation Match Campaign with AdoptAClassroom.org
April 26, 2021 by Eric White
'Giving Back' is a core philosophy here at CouponCause. To date, we've donated over $500,000 to charities around the world. In honor of Teacher Appreciation Week 2021 from May 3- May 7, CouponCause is proud to announce a donation matching partnership with one of our favorite education-focused charities in the United States, AdoptAClassroom.org.

You may remember this nonprofit organization from our partnership with AdoptAClassroom.org for Giving Tuesday 2020.
Before we explain the details of this upcoming donation matching event, read below to learn the problem AdoptAClassroom.org addresses through their work and what they are doing to improve education in the US.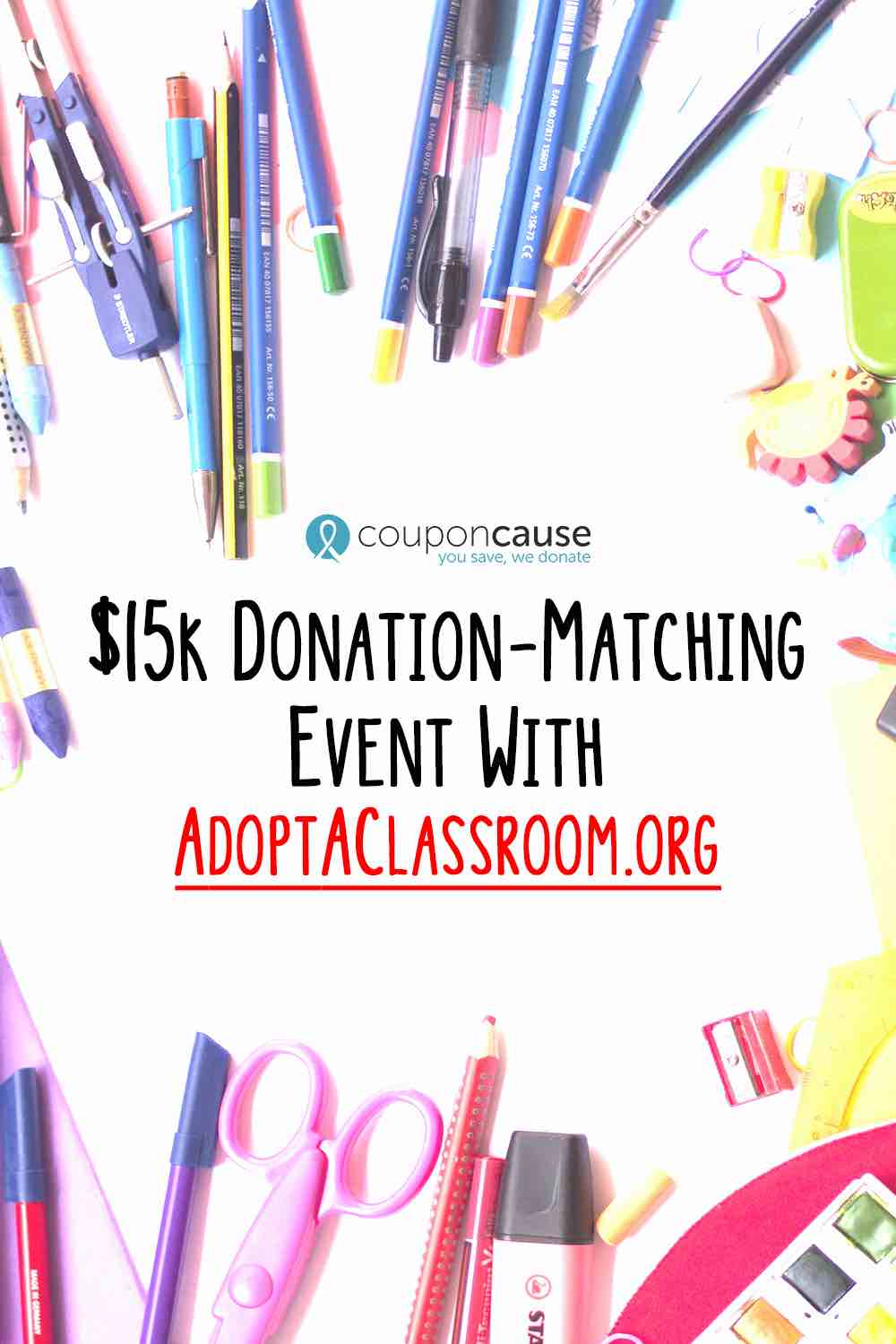 Teacher Appreciation Week and AdoptAClassroom.org Donation Match
One Problem with Education in the United States
One of the greatest shortcomings of education in the United States is how teachers in public education systems are treated, especially in impoverished regions. According to AdoptAClassroom.org, 92% of teachers in the US have students in their classroom whose families can not afford to purchase school supplies. This leaves many teachers having to burden the cost of additional school supplies.
In fact, AdoptAClassroom.org states that 96% of teachers have to purchase supplies for their classroom out of their own pockets. You can learn more about the difficult situation teachers in America must navigate by viewing the below infographic.

How AdoptAClassroom.org Supports Education
AdoptAClassroom.org is a platform designed to help teachers ensure they have the supplies they need in the classroom. A simple way to think about AdoptAClassroom.org is by referencing other crowdfunding sites like Go Fund Me or Kickstarter.
Teachers sign up for an account at AdoptAClassroom.org and their own personal profile page is then created. Teachers can use this page to collect donations from a variety of sources, including their local community, professional networks and corporate sponsors.
Once a teacher's page has been funded, teachers can use their donations to order the school supplies they need directly from the AdoptAClassroom.org website. These supplies are provided to AdoptAClassroom.org by partnered office and school supply vendors.
When a teacher uses funds from their account to make a school supply purchase, that amount is deducted from their profile. Additionally, those who contributed a donation to that teacher receive a list of everything that was purchased using that donation, ensuring a high level of transparency.
Next, we'll share everything you need to know about our donation match event for Teacher Appreciation Week 2021.
CouponCause and AdoptAClassroom.org Donation Match Event
Teacher Appreciation Week 2021 runs from May 3 - May 7, and for two days, people who make a donation to a teacher, school or general fund on AdoptAClassroom.org will have their donation matched by CouponCause.
Starting at 7 AM CST on Tuesday, May 4, 2021, and ending at 5pm CST on May 5, 2021, donations up to $50 will be DOUBLED. This offer is good until we reach our targeted contribution of $15,000.
Here are the ways in which you can participate if you'd like to:
We'll provide more updates once the donation match event has finished up! Thanks in advance for your continued support.
---
---