Each year, the Tuesday after Thanksgiving is when we celebrate Giving Tuesday. Giving Tuesday is a holiday dedicated to charity. Since 2012, businesses and individuals have used this yearly holiday to provide support to causes or nonprofit organizations in communities around the world.
For Giving Tuesday 2020, the team at CouponCause is partnering with a handful of nonprofits that work to address major issues facing communities in the United States. One such cause is education. Specifically, the need for school supplies in schools where budgets for necessary school items aren't enough to cover the costs. AdoptAClassroom.org is a nonprofit organization that provides the most flexible and accountable funding for teachers and schools through their proprietary, easy-to-use education fundraising platform. CouponCause will be donating $5,000 to AdoptAClassroom.org this year to assist in their work to better equip America's students.
Read below for more information about the problem that AdoptAClassroom.org works to address, how they are making a difference and how the CouponCause donation for Giving Tuesday will be used to help. Also as part of the Giving Tuesday donation, we have paired AdoptAClassroom.org with one of our popular merchants for which we feature coupons. Partnering with AdoptAClassroom.org is the brand The Great Courses Plus. At the bottom of this article, we've provided information on The Great Courses Plus and why we thought they were a good brand to pair with AdoptAClassroom.org.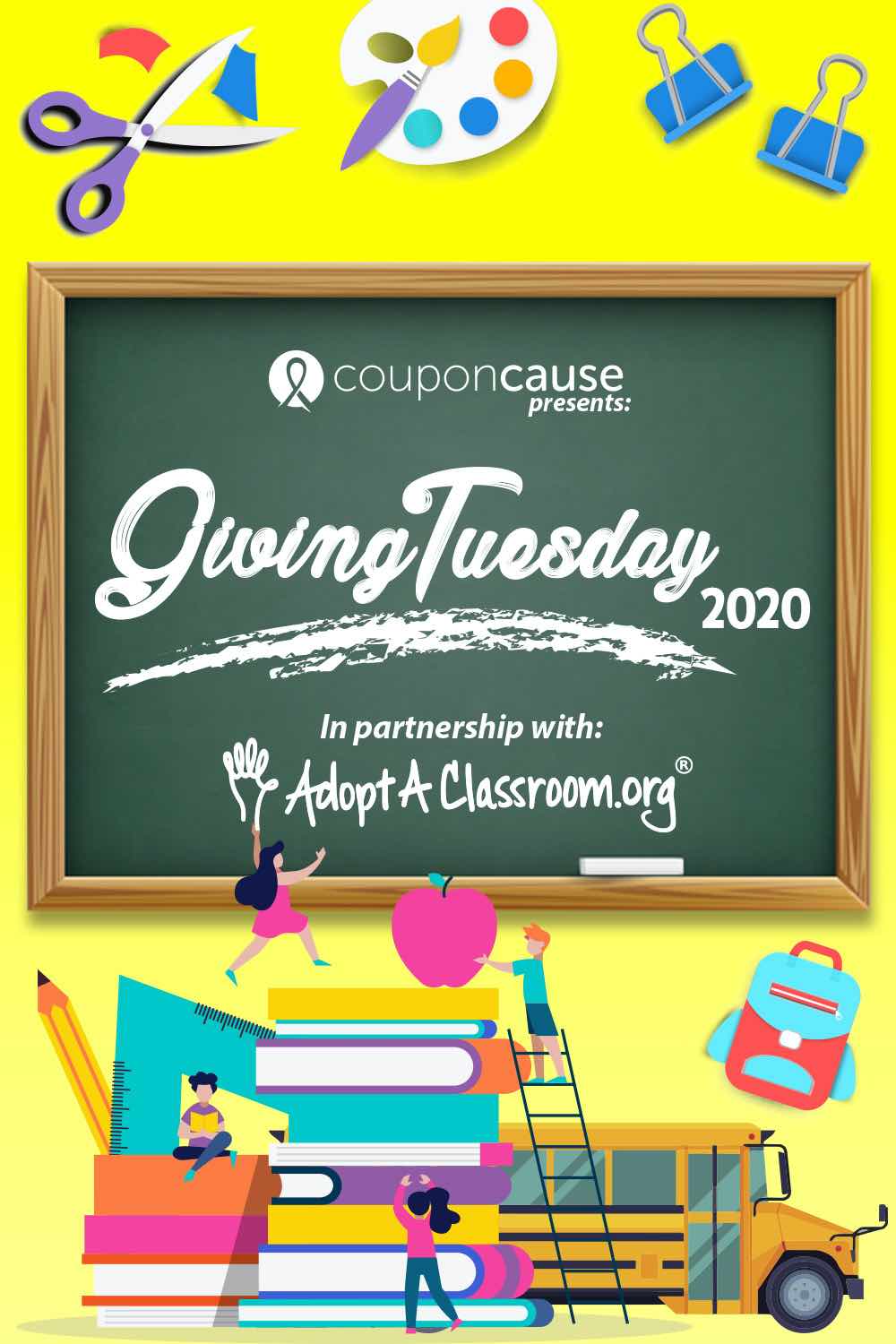 Equipping Students with Supplies for School
It's an unfortunate truth that in the United States, a difficult burden is placed on teachers to provide for their classrooms. Budgets are often tightened and the responsibility to provide necessary supplies for students falls onto our educators. This is especially true in impoverished areas where students' families may have less extra money to use for purchasing the items they need for class.
In fact, according to AdoptAClassroom.org, two-thirds of school supplies across the country are actually purchased by teachers, with the average teacher spending about $745 out of their own pocket each year. It's in everyone's best interest to ensure that teachers can focus on curriculum and not having to worry about their classrooms being well stocked.
Check out this infographic about this problem to learn more information and to see what AdoptAClassroom.org is doing to help. Then, continue reading to learn specifics about the organization and why we decided to pair them with the popular education platform, The Great Courses Plus.

About AdoptAClassroom.org
AdoptAClassroom.org makes it possible for teachers and schools to tap into the power of the internet and create profile pages that can be used for raising funds. Essentially, AdoptAClassroom.org is like 'Kickstarter' but for classrooms.
Educators who would like to utilize AdoptAClassroom.org to help them purchase supplies for their classroom follow a few simple steps.
First, teachers log in to AdoptAClassroom.org and publish a profile page. The page features photos and includes info for visitors about that teacher's teaching philosophy, projects, lessons and needs.

Once the page is published, teachers can begin to receive funds. Money can be raised in a number of ways including within their own community and network, through corporate sponsors or from an "AdoptAClassroom.org Spotlight Fund" grant.

After the teacher has received funding, the teacher is notified and the money becomes available to them. However, they are not able to actually withdraw the money directly. Instead, they can use the funds in their account to make school supply purchases directly from 30 education and office supply vendors that partner with AdoptAClassroom.org. The teacher makes the purchases they need and the amount spent is deducted from their account. Donors receive a list of everything the teacher purchased with their gift.

Finally, the items are delivered directly to the school where the teacher works.
The process is a simple and innovative way to help teachers make sure their students have the items they deserve for their education.
AdoptAClassroom.org and The Great Courses Plus
As mentioned previously, for this Giving Tuesday we have elected to pair AdoptAClassroom.org with the online education platform The Great Courses Plus. The Great Courses Plus is an educational resource that is available to anyone eager to continue their learning. This is a perfect match for AdoptAClassroom.org which, like The Great Courses Plus, is all about the goal of improving education. Courses available from The Great Courses Plus cover a wide range of topics including:
Literature & Language
Mathematics
History
Hobby & leisure
Science
Travel
Philosophy & Religion
And Many More
If AdoptAClassroom.org sounds like an organization you would like to learn more about or to make a donation, visit their website here. Another way of contributing to charitable donations to a wide variety of organizations is by utilizing promo codes found here at CouponCause, including The Great Courses Plus coupon codes. Every year, CouponCause donates a portion of the revenue raised through purchases our users make. When users come to CouponCause and use our coupons to make online purchases, we make a commission and it is because of these commissions that we are able to partner with our selection of featured charities. To learn more about our Giving Tuesday program, visit our blog!