DevaFresh Scalp and Curl Revitalizer: Review
July 26, 2019 by Victoria Brier
If you're anything like me, you are probably always on the lookout for hair products that keep your hair looking clean and smelling fresh in between washes. I try to exercise 3-4 times a week, but I'm also wary of washing my hair after each workout session as to not dry it out and ultimately cause frizz and breakage. I've used a multitude of different products, from dry shampoos to various kinds of hair refreshers.
Although I'm not a regular DevaCurl customer (mostly because my hair has a slight wave and is by no means considered "curly"), I was curious to try out their new product; the DevaFresh Scalp and Curl Revitalizer. Here is my hands-on review!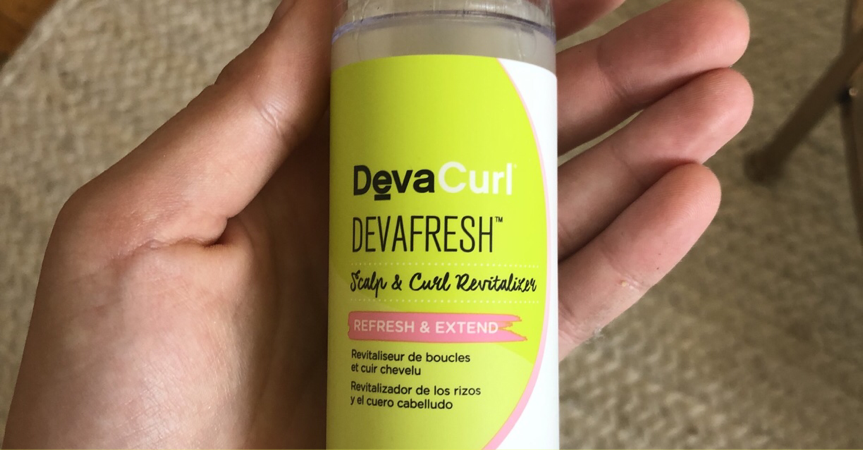 Review of DevaFresh Scalp and Curl Revitalizer
The DevaCurl DevaFresh Scalp and Curl Revitalizer is a dry shampoo and hair and scalp refresher all wrapped in one bottle! This revitalizer freshens unwashed hair for 24 hours, fights odor and helps soothe the scalp, all while moisturizing and fighting frizz. It's infused with kombucha which is known to help enhance moisture, volume, and shine and control frizz, plus it contains prickly pear which is known to help moisturize and soothe a dry scalp.
Is It For You?
Despite being part of the DevaCurl brand, you can use this product on any hair type. Although it most likely benefits those with thick, curly hair the most, it can also benefit wavy (like mine!), fine and straight hair because it's not only focused on moisturizing and revitalizing curls, but also nurturing the scalp.
Before purchasing anything from DevaCurl, be sure to check out our new 2019 DevaCurl coupon codes to help you save on your order:
Details:
Ongoing Offer
Click "Show Coupon Code" To Activate This Deal. Exclusions May Apply
25% Off Sale
What's In It?
All DevaCurl products are 100% sulfate, paraben and silicone-free which is good news for ladies who get their hair professionally straightened or who, like me, have keratin-treated hair. This product won't strip your treatment. Its fragrance is kombucha and sparkling champagne-inspired and is meant to smell light and refreshing. I must say, the scent of kombucha and prickly pear is STRONG, and may not be for everyone.
How Do You Use it?
The directions on the bottle say to "part dry hair and lightly mist at the root area to help refresh the scalp. Continue on mid-lengths and ends, scrunching to encourage curls." However, since I don't have curls in need of "scrunching," I mostly focused this product on my roots and scalp. A little bit goes a long way, so if you don't have thick curly hair, I would especially recommend using only a small amount as to not leave your roots looking greasy.
DevaFresh Scalp and Curl Revitalizer Pros and Cons
-PROS-
Moisturizes scalp
Allows you to skip wash days
Masks any odors
-CONS-
Strong scent that may not be for everyone
If you use too much product on fine or straight hair it may leave it looking greasy
DevaFresh Scalp and Curl Revitalizer Overall Rating- 4.5/5
The DevaFresh Scalp and Curl Revitalizer by DevaCurl overall is a great product if you're looking for something that will help keep your hair looking fresh and smelling clean in between washes. I would have to say if you have thick and/or curly hair then this product is a no-brainer. It will keep your curls looking freshly washed and moisturized. I like that it works for all different hair types, you may just have to use it differently depending on the texture of your hair.

As I mentioned, the fragrance is definitely a strong one, and some people may think it's a tad too strong, but that's based on your own individual preference. With all of that being said, I would definitely recommend this product if you're looking to switch up your hair care routine especially if you've found that your usual dry shampoo just isn't cutting it anymore. The DevaFresh Scalp and Curl Revitalizer won't weigh your hair down and will leave it looking and smelling fresh from day 2 and beyond without washing!
---