How to Totally Own Budget Spring Cleaning
April 3, 2019 by Aubrey Meister
It's time for spring cleaning once again. Unfortunately, it's easy to spend a lot of money as you buy all the different cleaning supplies you need. There's no need to worry because we have gathered some money-saving tips for spring cleaning.
Here are some ways to stick to your budget as you spring clean! You can also check out our section of Spring Savings to find applicable deals.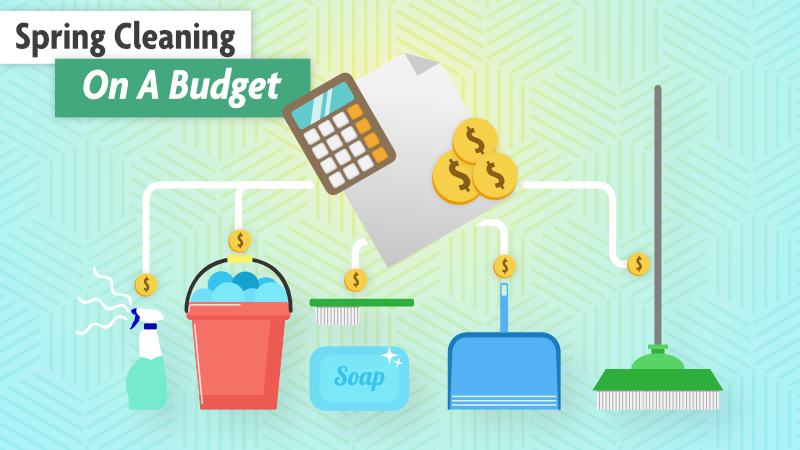 Spring Cleaning on a Budget
Make your own cleaning products: Some cleaning agents can be very expensive, but there are ways to make great alternatives at home. You might even have all of the ingredients on hand already. Most dollar stores carry spray bottles, which come in handy when making your own cleaning products. Here are a few DIY cleaning products to try:




Dusting spray: In a spray bottle, mix 1 cup of water, 1/2 cup of vinegar, 2 tablespoons of olive oil, a few drops of cedarwood essential oil, and a few drops of lemon essential oil.
Tile floor cleaner: In a bucket, mix 1 gallon of water, 1/4 cup of white vinegar, and a small amount of dish soap.
All-purpose bathroom cleaner: In a spray bottle, mix 2 cups of water, 1 tablespoon of baking soda, 2 tablespoons of castile soap, and 30 drops of tea tree oil.
Invest in a good vacuum: A reliable vacuum can make a big difference in how clean your home is. They can be expensive so it's important to look for a good deal while still getting a vacuum that will last. Bissell offers a variety of quality vacuums including cordless, handheld, upright, and more. You can even find ones that are lightweight or made for pet hair. 2019 Bissell deals like these can help you save extra:
Fight against mold and mildew: Mold and mildew can rack up a lot of money in damage so it's a good idea to work on preventing them in the first place. By using Homebiotic, you can increase the healthy bacteria in your home and prevent mold and mildew growth. This spray also helps with musty odors. Using this spray is much more affordable than fixing mold and mildew damage. Try out these new 2019 Homebiotic coupons to save:
Reuse old t-shirts instead of paper towels: The cost of paper towels can add up, especially if you're doing a deep clean of your entire home. To be kinder to the environment and your wallet, use old t-shirts instead. These work well as dust rags and on other surfaces too. If you're crafty, you can cut a t-shirt into square pieces and sew three together in a stack. This can then be used as a dish rag.
Use cold water: As you run loads of laundry while cleaning, stick to cold water. It does the job while lowering the water bills. If you're washing linens after someone has been sick, you can use hot water. The rest of the time, cold water does the job, is gentler on your clothes, and saves you money.
As you can see, there are ways to save money as you do your spring cleaning. Try a combination of these suggestions to help you to stick to your budget as much as possible. Your home will be in great shape in no time. By using these guidelines, you can save money along the way.

---