National Pretzel Day Facts, Freebies and Recipe
April 24, 2019 by Aubrey Meister
National Pretzel Day 2019 is on Friday, April 26, which means it's right around the corner! What are you doing on this special day? We've found a few freebies so you can celebrate National Pretzel Day with a tasty snack. For those of you who want to make your own soft pretzels at home, we have included a recipe to help you out.

National Pretzel Day Facts, Freebies and Recipe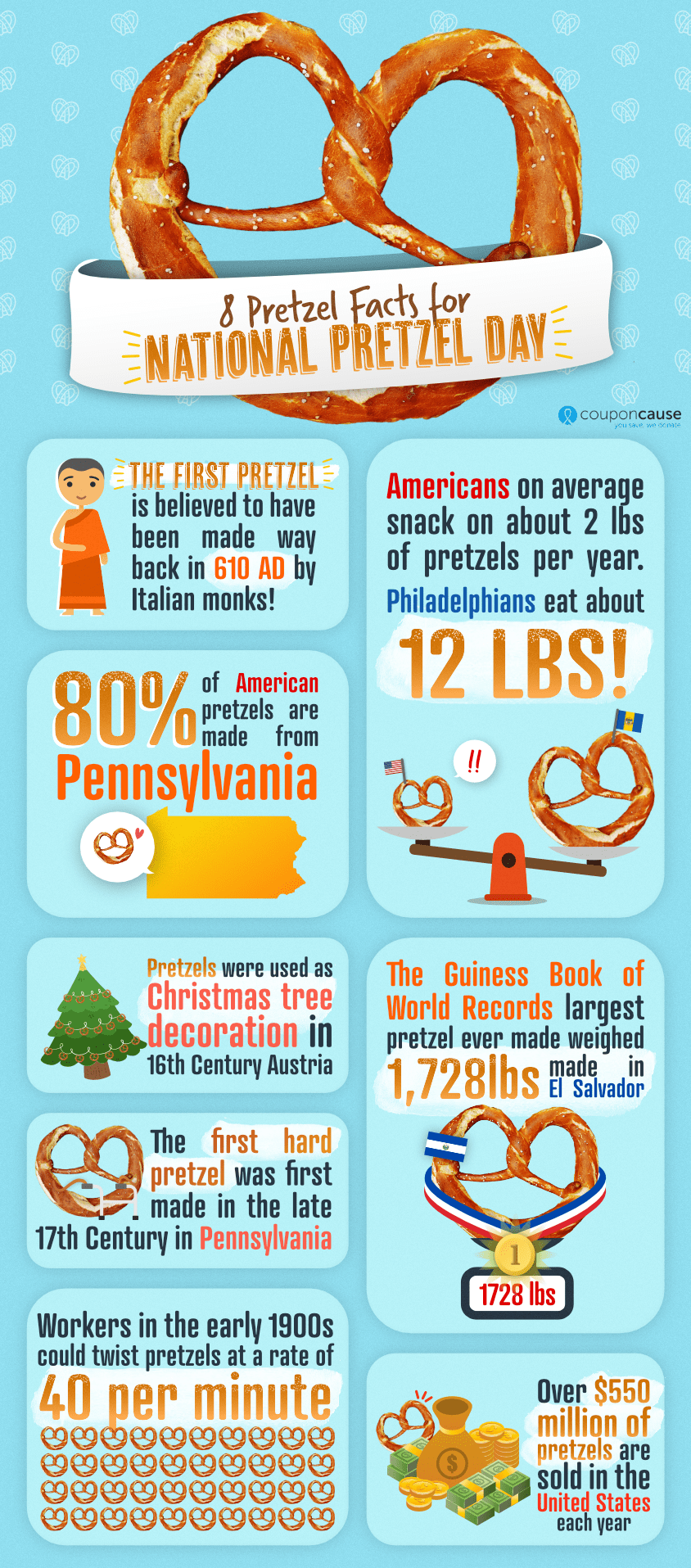 PretzelMaker - At PretzelMaker, you can get a free salted or unsalted pretzel on National Pretzel Day! All you need to do is download their app and become a member of their rewards program. It's that easy to enjoy a free pretzel. You can see all of PretzelMaker's locations here and find the one closest to you.
Ben's Soft Pretzels - Pretzels at Ben's Soft Pretzels aren't completely free on National Pretzel Day, but this is still a great deal. All you have to do is donate one dollar to the Intrepid Fallen Heroes Fund. One dollar is a steal for a delicious pretzel. Plus, your entire donation goes straight to the organization. Find your nearest Ben's Soft Pretzels location.
Wetzel's Pretzels - On National Pretzel Day or National Wetzel Day as Wetzel's Pretzels calls it, you can get a free pretzel. You don't need to make a purchase to get a free original pretzel. Simply visit your nearest Wetzel's Pretzels location and enjoy!
Auntie Anne's - Auntie Anne's is offering a buy one, get one free deal on National Pretzel Day. All you have to do is use this QR code at the register. You can get a free original or cinnamon sugar pretzel with the purchase of a pretzel. You can also access the deal if you use the Auntie Anne's Pretzel Perks app. This deal is good from Friday, April 26 to Sunday, April 28.
If you want to make pretzels at home instead, it's pretty easy to do so. You can experiment with different toppings or flavors. Make classic soft pretzels with butter and salt or add a sweet cinnamon sugar mixture on top. It's fun for the whole family. Here is a recipe to help you get started! If you need to purchase ingredients, try our online grocery coupons section or use a new 2019 Vons.com discount code like these:

Soft Pretzels with Butter Recipe
Ingredients:
4 tablespoons active yeast
1/2 cup and 1 teaspoon white sugar (keep separate)
1 1/4 cups warm water
5 cups all-purpose flour
1 tablespoon vegetable oil
4 cups hot water
1/2 cup baking soda
1/4 cup and 1 1/2 teaspoons salt (keep separate)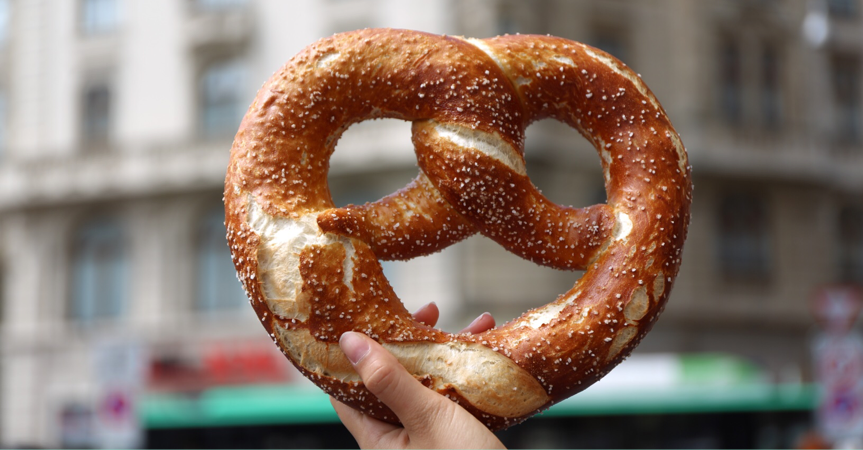 1. Dissolve the yeast and 1 teaspoon of sugar in 1 1/4 cups of water. Let stand for about 10 minutes.

2. In a large bowl, mix flour, 1/2 cup sugar, and 1 1/2 teaspoons salt. Create a well in the center of the dough and add oil and the yeast mixture. Mix until it becomes smooth and doughy.

3. Oil a large bowl and add the dough. Turn the dough so that it is coated in oil. Cover it with plastic wrap and let it rise for one hour. Be sure to keep it in a warm place.

4. Dissolve baking soda in hot water. Place dough onto a floured surface and separate into 12 pieces. Create a rope out of each equal piece and form into a pretzel shape. Dip each pretzel in the baking soda water. Place them on a greased baking sheet and sprinkle salt on top.

5. Cook at 450 degrees for 8-10 minutes or until browned. Enjoy!

With all of these tasty pretzel freebies, you're sure to have a great National Pretzel Day. If you want to make your own pretzels, use the simple recipe above. Don't forget that National Pretzel Day is on Friday, April 26. Where will you be getting a free pretzel this year?

---