Bring style into your kitchen with Samsung Bespoke Refrigerators
October 5, 2023 by Dannie Phan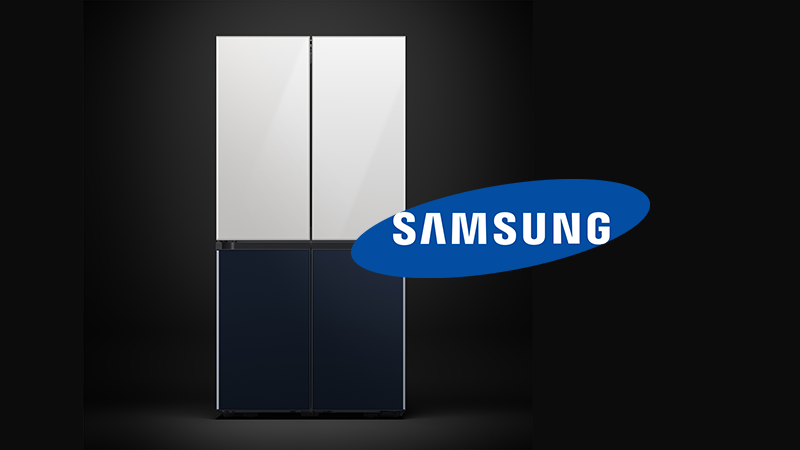 When it comes to kitchen appliances, Samsung has been a prominent player known for innovation and design. The Samsung Bespoke refrigerator series is no exception. These refrigerators stand out for their remarkable features and aesthetics. Samsung offers everything from bright colors and customization to efficiency and sustainability, maintenance, warranty, and customer service. Amidst all these options, it might be hard to choose the perfect fridge, so we'll guide you in selecting a suitable fridge for your lifestyle.
Style and Customization
Samsung Bespoke refrigerators redefine the concept of style and customization in kitchen appliances. These refrigerators are genuinely tailor-made for your kitchen. The standout feature of the Bespoke series is the ability to mix and match various modules to create a fridge that suits your individual style and storage needs. Whether you want a minimalist, monochromatic look or a vibrant, multi-colored refrigerator, the Bespoke series offers a spectrum of options.
The sleek finish, minimalist design, and unobtrusively integrated handles seamlessly blend to impart a contemporary aesthetic to any kitchen. This design extends to different configurations, offering single and double-door choices that snugly fit your kitchen dimensions.
The interior of these refrigerators is ingeniously crafted to optimize space utilization. Adjustable shelves and compartments provide you with the flexibility to tailor your storage requirements, and the use of premium materials underscores the appliance's quality and sophistication.
Trademarks and Smart Features
The Samsung refrigerators serve as a testament to technological innovation. Laden with an assortment of smart features, they have been designed to make your life effortless. The SmartThings app, a cornerstone of this innovation, allows you to exercise remote control and real-time refrigerator monitoring. You can conveniently calibrate the temperature settings, receive timely alerts if the refrigerator door is left ajar, and even get notifications for the periodic replacement of the water filter.
One of the quintessential features that define the Bespoke refrigerators is the Family Board. This innovative attribute metamorphoses your refrigerator into a digital bulletin board, allowing you to share cherished memories and showcase your favorite artwork. It is a splendid way to foster familial organization and entertainment.
Another noteworthy feature is the FlexZone, which allows you to switch a section of your refrigerator from a freezer to a refrigerator or vice versa. Perfect for adjusting for holiday dinners or optimizing your everyday grocery organization.
Efficiency and Sustainability
The Samsung Bespoke series rises in an era where energy efficiency and ecological sustainability take precedence. These refrigerators have an energy-efficient inverter compressor, which intuitively modulates cooling power according to your usage patterns. A function that preserves the freshness of your food but also minimizes energy consumption. The LED lighting within these refrigerators is energy-efficient and illuminates your food items brilliantly, obviating the need to keep the door ajar for extended periods.
Moreover, Bespoke refrigerators incorporate water and ice dispensers. Samsung's commitment to sustainability is evident in the easily replaceable water filter, curbing single-use plastic water bottles, and promoting environmental consciousness.
The refrigerator's design, with multiple temperature zones and customizable storage options, aids in organizing your food items and, in turn, reduces food wastage, aligning perfectly with sustainability goals.
Maintenance and Care
Caring for your Samsung Bespoke refrigerator is effortless. The stainless steel exterior lends itself to straightforward cleaning, maintaining its pristine facade with routine wiping. The interior shelves and compartments are conveniently detachable and washable, simplifying hygiene. Replacing the water and ice filter is a straightforward task, one that can be undertaken without the need for professional assistance.
The Bespoke refrigerator further boasts a self-diagnostic function, capable of promptly notifying you of potential issues, thus ensuring that maintenance is prompt and significant malfunctions are averted. The user manual, comprehensive and easy to comprehend, facilitates the convenient troubleshooting of minor issues.
Warranty, Reliability, and Customer Service
In an investment as significant as a high-end appliance like the Samsung Bespoke refrigerator, the aspects of warranty and reliability bear considerable weight. Samsung's legacy of delivering reliable products endures in the Bespoke series. These refrigerators are engineered to withstand the test of time and are constructed from top-tier materials.
In the event of unexpected hiccups, the Bespoke refrigerators come equipped with a standard manufacturer's warranty, which typically encompasses parts and labor for a predefined duration. It is advisable to meticulously review the specific warranty provisions tailored to the model of your choice.
Samsung's customer service garners acclaim and their comprehensive support infrastructure ensures that assistance is a phone call away. For those seeking an added layer of reassurance, Samsung offers the option of purchasing extended warranties.
The time couldn't be more suitable for those contemplating an investment in a Samsung Bespoke refrigerator. Samsung is presently running an exclusive promotion where shoppers can avail themselves of significant discounts of up to $1,300 on select Bespoke refrigerators from 10/2 to 10/22. This exceptional offer presents a great opportunity to welcome a high-quality, customizable, and elegant refrigerator into your home without straining your budget.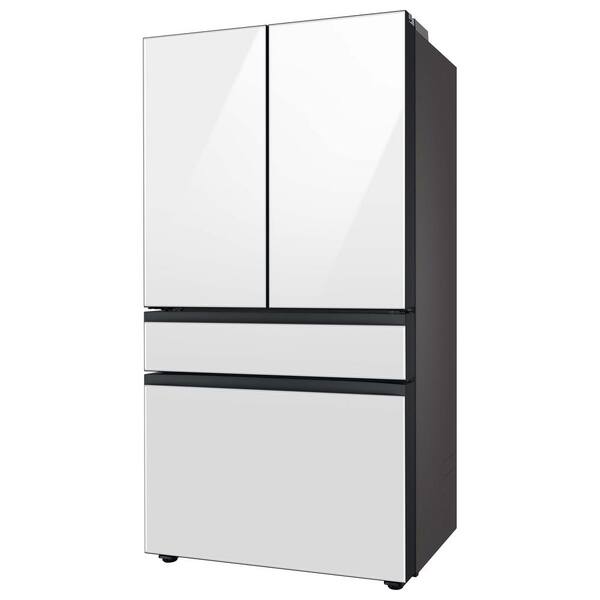 Choosing the Right Fridge for Your Lifestyle
Selecting the most suitable refrigerator for your lifestyle is a pivotal decision. To guide you in this regard, take into consideration the following parameters:
Size and Space: Methodically measure your kitchen space, ensuring your chosen refrigerator fits seamlessly. Make sure to consider the width and depth, as this can affect how the doors open and your kitchen traffic flow.

Configuration: Think about your storage needs.Whether you require an expansive freezer section or prioritize refrigerator space, the Bespoke series offers a variety of single and double-door configurations to cater to your needs.

Customization: If aesthetics are paramount, explore the customization options available. The Bespoke series shines in this arena, allowing you to select colors and configurations that resonate with your kitchen's ambiance.

Smart Features: Evaluate the smart features, aligning them with your preferences. If you revel in technology and seamless connectivity, the Bespoke series has convenient attributes designed to simplify your daily routine.

Budget: Of course, budget plays a role in your decision. The Samsung Bespoke series is in the premium category, but consider the potential energy savings and long-term reliability.



Samsung Bespoke refrigerators established a new style, customization, and innovation paradigm. Laden with intelligent features, marked by energy efficiency, and committed to sustainability, these refrigerators are impeccably aligned with the needs of the modern homeowner. Maintenance is straightforward, and the reliability and customer service offered by Samsung provide peace of mind.
When selecting the ideal refrigerator for your lifestyle, meticulously consider your space, storage requirements, customization preferences, budget, and the availability of smart features. With the ongoing promotion, the time is ripe to introduce a long-lasting and stylish addition to your kitchen in the form of a Samsung Bespoke refrigerator.
---
---