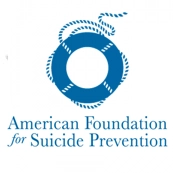 According to the National Institute of Mental Health, 47,000 people took their own lives in 2017, making suicide the 10th leading cause of death across the US that year. In fact, there were more than twice as many suicides (47,173) as homicides (19,510) in 2017. Suicide is a problem that has affected families of every gender, race, income and location, and the numbers are currently growing. It is currently the 3rd leading cause of death among Americans ages 15 to 24.
The American Foundation for Suicide Prevention was founded in 1987 as a private resource for suicide education and research, support and prevention. At the time of the founding of the AFSP, the rate of suicide among young people was growing at an alarming rate and spurred the founders into action. Today, the AFSP is headquartered in New York with an office in Washington, DC and chapters in every United State. They continue to fund research, provide support for families and survivors, advocate for progressive policies and educate the public.
If you would like to make a donation to the AFSP, please click here.