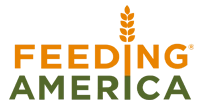 Hunger is a surprisingly prevalent issue in the United States, with 1 in 8 Americans struggling with hunger every single day. Operating 200 food banks in the US, Feeding America is the country's largest organization fighting hunger. Among the people helped by Feeding America each year includes 7 million seniors and 12 million children. Every year, Feeding America helps feed over 46 million Americans.
Feeding America uses food banks and partnerships to help them meet their goals. Partners like Bank of America, United and CouponCause are just a few of the corporations who have committed to helping Feeding America.
If you'd like to get involved with Feeding America, we recommend making a donation here.