Thanks to the wonders of technology, now anyone can jumpstart their career and fine-tune skills through the aid of an online learning tool. 360training.com is one such tool that helps students discover new careers after just a few online courses.
Are you interested in certifying your organization in food handling or alcohol sales? 360training.com has all of the courses you need. Want to dive into the real estate world? 360training has licensing programs and educational programs that can get you moving in the right direction.
Whether you're looking to begin a brand new career or enhance your current one, 360training.com has what you need. Check out this list of 10 careers you can begin with certificates from 360training and get ready to level up!

10 360Training.com Career Paths
1. HVAC Technician. Average Yearly Salary - $46,267
Careers in the trade industry are gaining popularity because of the great need for these jobs and also the respectable pay they often come with. You can master your skills and knowledge on 360training to launch a career as an HVAC Technician. The HVAC Fundamentals class is a solid place to start gaining a broader understanding of HVAC systems and possible lines of work you can specialize in.
2. Bartender. Average Yearly Salary - $35,501
Becoming a bartender is a great option for someone who desires flexibility in their schedule and potential for a lot of take-home pay. Entering into this industry requires extensive knowledge and understanding of regulation laws, liability, and safety of the consumer. You can gain excellent knowledge and become certified as a bartender through the 360training Seller Server Training On-Premises course.
3. Real Estate Agent. Average Yearly Salary - $47,774
People will always need homes. So if you desire to tap into this market of home and property selling, now is as good a time as any. Making time to complete pre-license education hours which are required for the real estate license examination is made easy through 360training's programs. You can begin the journey to becoming an agent through their Real Estate Pre License course.
4. Food Safety Manager. Average Yearly Salary - $67,109
Becoming a food safety manager is a great way to secure an essential role in the food industry. Food safety managers are responsible for understanding and upholding safety measures, regulations, and techniques. You can get the necessary training through the Learn2Serve Food Safety Manager Principles Training course on 360training.com. Here are some 360Training.com coupon codes you can use to save on your education:
Verified
Details:
Ongoing Offer
Click "Show Coupon Code" To Activate This Deal. Exclusions May Apply
10% Off Sitewide
5. Human Resources. Average Yearly Salary - $59,000
Every major company needs a qualified and knowledgeable HR representative. Why? HR reps wear multiple hats including administrative work, resolving workplace conflict, and providing benefit information to employees. You can learn all things HR and become certified through 360training courses. One of their most popular courses you can check out is the HR Compliance course.
6. Insurance Agent. Average Yearly Salary - $39,456
If you're all about people and working with them to meet their needs, being an insurance agent is a fantastic career to enter. Insurance agents can work in a variety of industries including car, property, and life insurance, just to name a few. You can get the proper training to become an insurance agent through 360training's Insurance Insurance Prelicensing courses.
7. Mechanical Engineer. Average Yearly Salary - $78,956
Mechanical engineering is an extremely in-demand job field which makes it a wonderful career to consider. Mechanical engineers bring ease to our everyday lives through their work in creating power-producing machines, from your home refrigerator to your office elevator. 360training offers a variety of courses that will help you become acquainted and qualified in this field. The Testing and Commissioning of Protective Schemes course is a great training course with which to begin.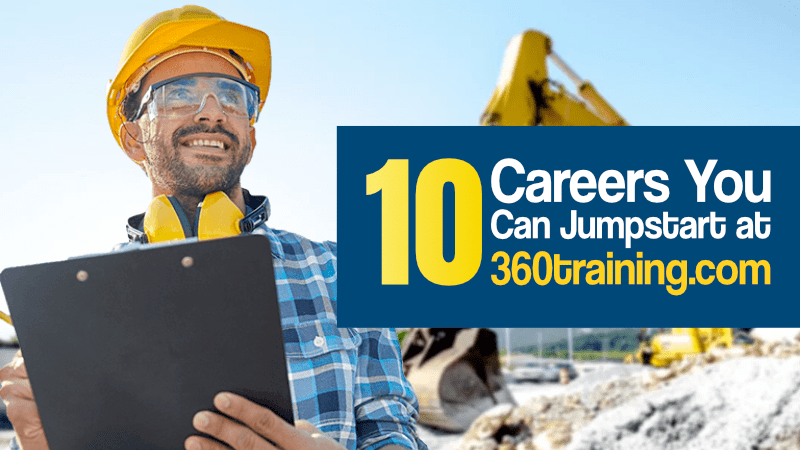 8. Electrician. Average Yearly Salary - $56,321

Another in-demand job that comes with a lot of job security is being an electrician. Electricians install, maintain, and repair electrical systems and follow proper electricity regulations. You can learn more about this industry and enter into it with confidence by taking 360training's Standard for Electrical Safety in the Workplace course.
9. Convenience Store Manager. Average Yearly Salary - $38,911
Being a manager is a superb choice if you have a talent for leading people and being able to adjust quickly to change. As a convenience store manager, you are responsible for keeping track of profit and loss, setting schedules, and filling in when need-be. Through 360training's Convenience Store Management courses you can get all the necessary training you need.
10. Project Manager. Average Yearly Salary - $73,654
As a project manager, you can work in basically any field you have an interest in. It helps if you are extremely organized and are talented in leading people and teams. These types of managers monitor the progress of projects to make sure they are done in a timely and financially stable manner. You can gain reputable training to become a project manager through 360training's Project Management: Project Planning course.
360training.com makes it a breeze to obtain all of the training necessary to enter into popular industries from food safety to management roles. Whatever trade you are interested in, 360training's courses will help you prepare for the new challenges of a new career.