One major variable to consider when purchasing a CBD oil is the concentration of CBD present in the formula. For users looking for maximum potency, a high concentration CBD oil may be the best option. High concentration CBD oils have more milligrams of CBD per serving (above 35 milligrams) than lower dosage products.

There are countless brands offering high concentration CBD tinctures online. But which is the best? Our pick for 2020's best high concentration CBD tincture is the CBDistillery Full Spectrum CBD Oil Tincture 2500mg - 30ml. In this post, we'll cover why CBDistillery is our top pick of the year and compare their high concentration CBD tincture against four competitors.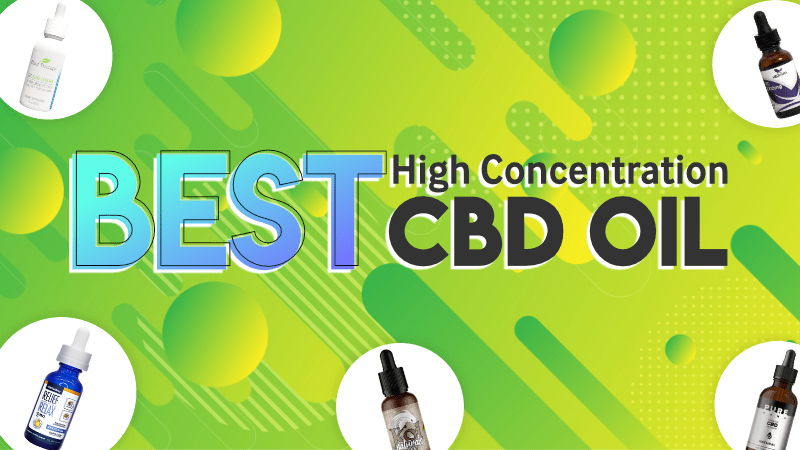 Best High Concentration CBD Oil
Flavors: Unflavored
Price: $130
Ingredients: Full Spectrum CBD Hemp Extract (Aerial Parts), Fractionated Coconut Oil (MCT)
Lab Results: Third-party lab tested by Pro Verde Laboratories, ACS Laboratory, and others; 83mg CBD per 1ml; ratio of CBD to THC = 40.6:1
Shipping & Availability: Free shipping on domestic orders over $75
CBDistillery's 2500mg Full Spectrum CBD tincture is a great product to choose to get your daily dose of highly concentrated CBD and is our pick for best high concentration CBD oil. This oil is classified as full spectrum, which means it contains up to 0.3% THC and other cannabinoids as opposed to a strictly CBD isolate oil. Full spectrum products are popular because users benefit from "the entourage effect". The entourage effect happens when multiple different cannabinoids are present in a formula. This increases the overall effect.

One of the factors that makes CBDistillery high concentration CBD oil stand out from competitors is the simplicity of the product. CBDistillery CBD oil tinctures combine the power of CBD oil with other naturally occurring plant proteins, minerals, and more. CBDistillery utilizes natural farming practices, non-GMO hemp oil, and is very transparent with their laboratory results, which are conducted by third-party labs. Their 2500mg Full Spectrum Oil has only two ingredients and is unflavored.

What are customers saying?
Outside of the facts, what are customers saying about CBDistillery high concentration CBD? Customers across the board have found this oil to work the way they had hoped. According to reviews easily found online, the majority of customers agree CBDistillery high concentration CBD is worth the price. Many include in their reviews that they will be ordering another bottle ASAP. Additionally, customer reviews were found online complimenting the CBDistillery customer service process and the transparency of the company.
Considering purchasing CBDistillery products? Here are a couple CBDistillery coupons currently available:
Verified
Details:
Ongoing Offer
Click "Show Coupon Code" To Activate This Deal. Exclusions May Apply
15% Off All Orders
CBDistillery's commitment to simple formulas, quality ingredients and openness about their process gives them the edge in the high concentration CBD oil industry. For those looking to start with a high concentration oil, we recommend choosing the CBDistillery Full Spectrum 2500mg CBD Tincture. This product provides high potency and still leaves room for users to move up to the CBDistillery 5000mg CBD tincture if more potency is later needed. There is also a lower strength CBD oil from CBDistillery if interested.
Or, if this is too much potency, try one of our best standard potency CBD oils.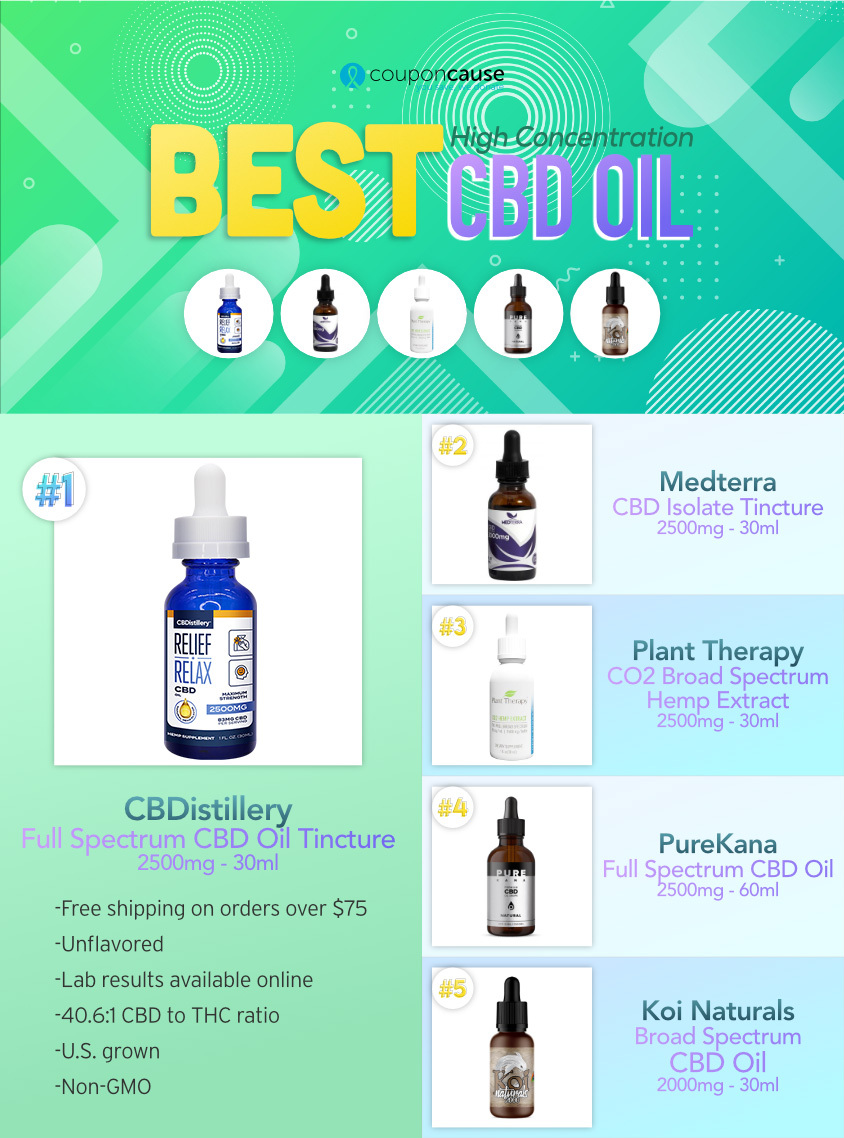 Other Popular High Concentration CBD Tinctures

Flavors: Unflavored
Price: $132.99
Ingredients: 99%+ CBD, Medium-Chain Triglyceride MCT Oil (Coconut derived)
Lab Results: Third-party lab-tested by Green Scientific Labs; 100mg CBD per 1ml
Shipping & Availability: Free shipping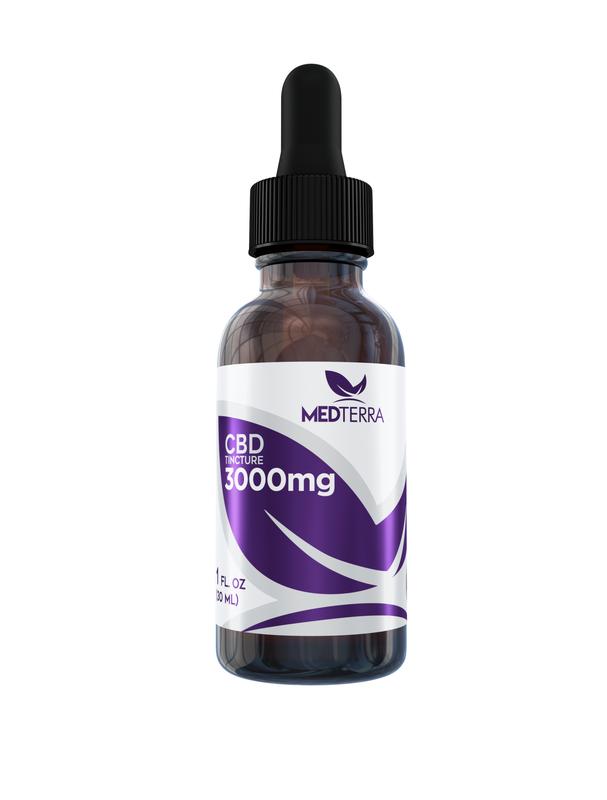 Medterra CBD oil is another high quality CBD oil and a popular choice for high concentrations. Medterra products are CBD isolate, meaning there is no THC (or entourage effect). This oil has a very short and simple ingredient list and has a whopping 100mg of CBD per serving. The Medterra CBD oil is backed by a 30-day money back guarantee.

Flavors: Unflavored, Pina Colada, Cinnamint
Price: $99.95
Ingredients: Broad Spectrum CO2 Hemp Extract (aerial parts), MCT Oil (Coconut), Natural Flavor
Lab Results: Lab-tested by Botanica Testing Inc.; 83mg CBD per 1ml; 0% THC
Shipping & Availability: Free standard shipping, shipping available in the U.S. only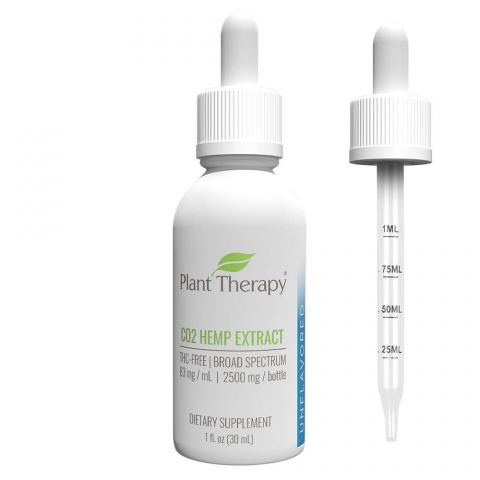 The Plant Therapy tincture of CBD oil is a broad spectrum CBD which means it contains 0% THC, but still enough other cannabinoids to experience the entourage effect. It has just two main ingredients and comes in three different flavor choices: unflavored, cinnamint, and pina colada. This high concentration oil from Plant Therapy is cheaper than many others and includes an exhaustive lab report.

Flavors: Unflavored
Price: $249
Ingredients: Full Spectrum Hemp Oil Extract, MCT oil, Terpenes
Lab Results: Third-party lab-tested by Ace Analytical Laboratory; 41.6mg CBD per 1ml; > 0.3% THC
Shipping & Availability: Free shipping on all orders in the U.S. Not available in Idaho, Wyoming and South Dakota.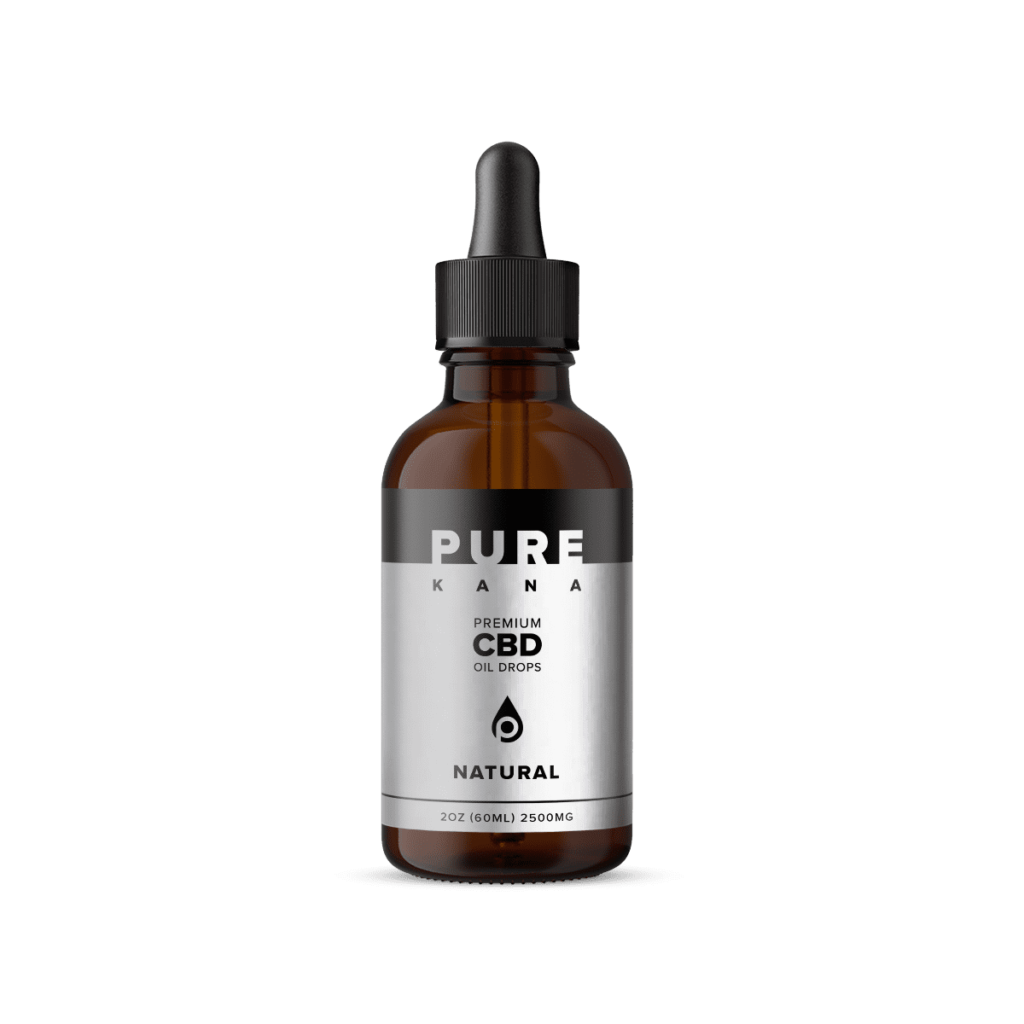 PureKana's CBD oil is another popular option for higher concentrated oil. This oil comes in a 60ml bottle, which means it is actually half as potent as 2500mg 30ml bottles. PureKana oil is non-GMO and has an earthly flavor that is barely noticeable and easy to consume. This flavor is common to many flavorless CBD oil tinctures.

Flavors: Strawberry, Spearmint, Lemon-Lime, Orange, Natural Flavor, Peppermint
Price: $169.99
Ingredients: Koi PRIZM™ Broad Spectrum Hemp Extract, MCT Oil (derived from coconut), Flavor Oil (natural flavor), Organic Coconut Oil
Lab Results: Third-party lab-tested by Green Scientific Labs; 66.7mg CBD per 1ml; <0.001% THC
Shipping & Availability: Free shipping and all flavors currently available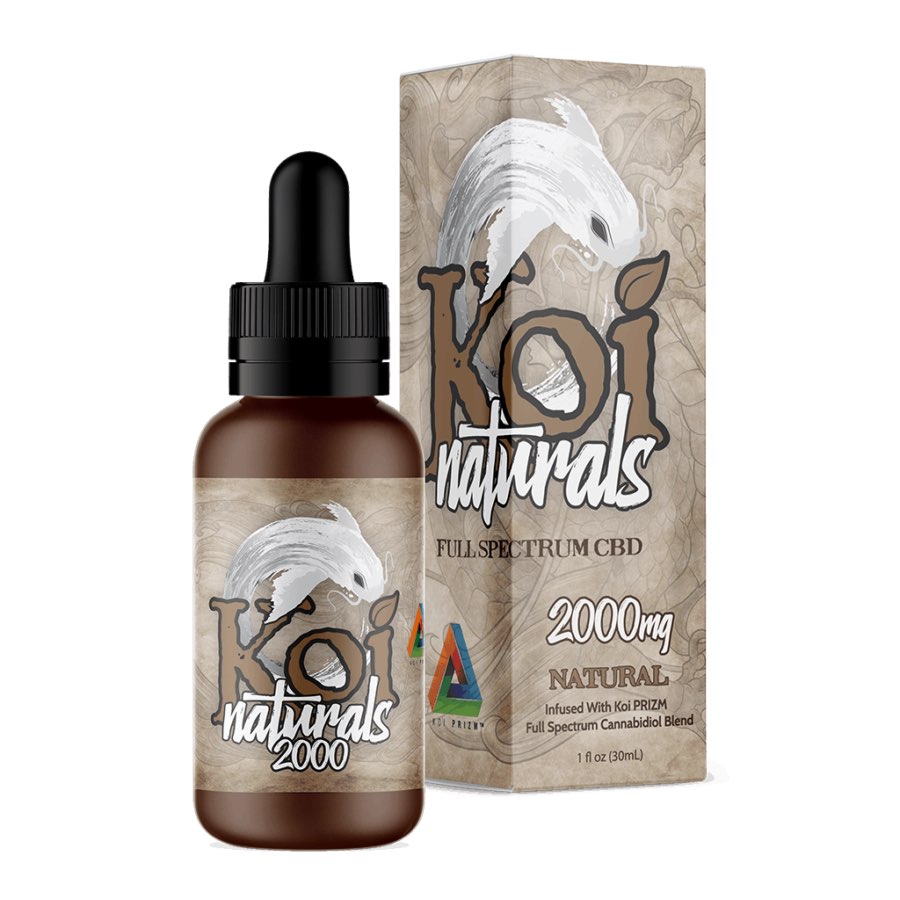 This CBD oil from Koi Naturals comes in 6 different flavor options. Koi Naturals broad-spectrum oil contains a variety of cannabinoids and just trace amounts of THC, less than 0.001%. This oil has also been 3rd-party tested and analyzed for potency and purity.

High Concentration CBD Tinctures in Review
When considering a high concentration CBD oil to start supplementing with, there are many factors worth considering. Where and how the hemp is grown, third-party lab testing and cost are three of the major factors we recommend weighing before making a purchase. Flavored CBD oils are available for those who have picky tastes and the best oils available use as little added ingredients as possible.
Out of the high concentration oil brands available, we recommend CBDistillery tinctures. Their product is affordable, high quality and highly reviewed. Opt for the 2500mg tinctures first and move on to the 5000mg CBD tinctures if you desire more potency.

Although still not federally regulated, many customers have reported positive health outcomes as a result of using CBD, but this varies from person to person. Please be aware before purchasing any CBD products that the FDA has not yet approved any of these products. However, CBD oils continue to grow in popularity. Whether you are a seasoned CBD user or are looking to start supplementing, highly concentrated CBD oils are worth consideration.