Cannabidiol (CBD) is just one of the cannabinoids found in industrial hemp, and it has been getting a lot of attention over the past few years due to its potential wellness benefits. There are different ways to use CBD, whether by ingestion (swallowing), sublingual (placed under the tongue), inhalation (breathing into the lungs) or topical (applied to the skin).
There are also many different brands and producers of CBD, leaving consumers to do their due diligence by researching the products on their own before purchasing. Since CBD isn't regulated by the Food and Drug Administration, this is a very important step for consumers. As such, cbdMD was founded as a brand targeted toward consumers who value the quality and trustworthiness that only a domestic CBD brand can offer.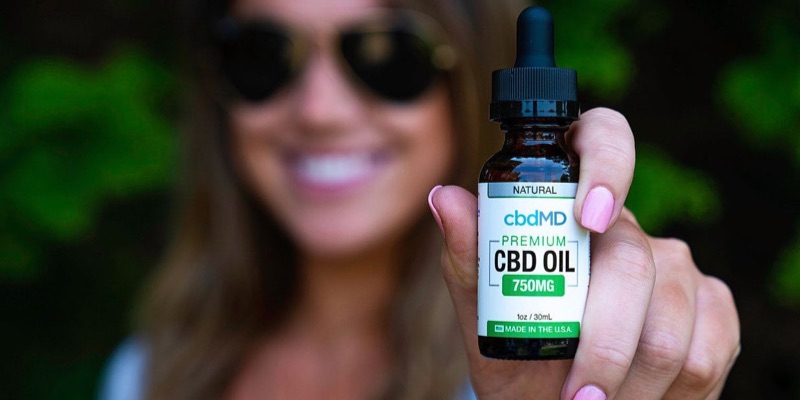 First-Timers' Guide to Shopping at cbdMD
The mission of cbdMD is to produce the highest-quality CBD in the country by using state-of-the-art manufacturing methods. The founders of cbdMD visited three continents, 14 countries and eight states to find the best climate and soil for hemp to grow. They ended up choosing the United States, where there are not only ideal conditions but also strict growing standards.
When manufacturing CBD from hemp, there are various processes available. But cbdMD chooses to use a process that, despite being expensive, is the best way to preserve all the good qualities of hemp while getting rid of the THC. It then goes through strict testing protocols not only internally but also by third-party vendors who also ensure the CBD is free of synthetic additives. While many companies avoid this extra step, cbdMD sees this as an important way to ensure their products' quality is consistent with the brand's high standards.
-How to Find the Right Type of CBD Product-

The different methods of taking CBD affect its bioavailability, which is how readily available the CBD is for bodily use. When choosing the best method for your needs, you'll want to evaluate how quickly you want it to take effect, as some people prefer a more prolonged effect while others want more instant results.
One of the more instant methods is sublingual. A CBD tincture placed under the tongue has the most bioavailability when compared to the other methods of usage. For their tinctures, cbdMD offers different concentrations, ranging from 300 mg of CBD to 7,500 mg per serving. There are also different flavors, including natural, berry, orange and mint. If just starting, start small with a 300 mg tincture and go up from there.
cbdMD also sells CBD products that can be ingested or applied topically. Since ingestibles have to pass through the digestive system, they're not as bioavailable as tinctures. However, some consumers find them to be more convenient and portable than a tincture. cbdMD sells CBD in capsules with a choice of 450 mg through 3,000 mg.
We carry a selection of cbdMD discount codes that can be used to save on orders of all sizes. Here are the codes we currently have:
Topical CBD products are great choices for people suffering from skin conditions. cbdMD offers topical creams, lotions and gel roll-ons that offer pain relief, inflammation reduction and hydration. Their Freeze Rollers offer a cool sensation from menthol and pain reduction properties of CBD in 300, 750 and 1,500 mg concentrations.
cbdMD even offers products for pets so they too can benefit from pain relief. They're made in different flavors and textures specifically for pets as well, like CBD Peanut Butter.
-Is There Anything to Know About Purchasing CBD? -
CBD is perfectly legal, but as mentioned before, the FDA doesn't regulate CBD. Companies that manufacture it are not bound by any laws, meaning consumers have to be educated on the different products and dosage recommendations before they take it. They also need to watch out for certain red flags. For example, some companies offer free trial bottles and then charge you for a subscription you didn't know you were signing up for. Keep in mind that a high-quality product will never be free. Be sure to also watch out for companies who don't provide third-party lab results. These can say a lot about a product considering the third party doesn't have any vested interest in the company they're testing and are more likely to offer honest testing results.
You have to be 18 years old to buy CBD products from cbdMD. Customers of cbdMD can pay with Visa, Mastercard, American Express or Discover. Standard shipping is free. There's also the option for UPS Ground for $4.95 and UPS Select for $7.95.
In addition to the trustworthiness of cbdMD's manufacturing processes, their products are also non-genetically modified, so you can rest assured that you are only getting pure CBD oil without any synthetic additives. They also offer a 30-day money-back guarantee. Visit CouponCause for 20% off your purchase and free shipping.