We expect daily products to be capable of handling more than one simple duty, no-doubt inspired by our swiss-army-smartphones. Wallets too, like many lifestyle items, have evolved to serve multiple uses. Innovations in the industry have traveled in two distinct directions, toward tech and away from it. Many new models are built-in to phone cases, some are conversely made for practical versatility.
With more than ten designs available in a variety of different colors and arrangements, the Dango Products line of rugged tactile wallets is considered one of the best available.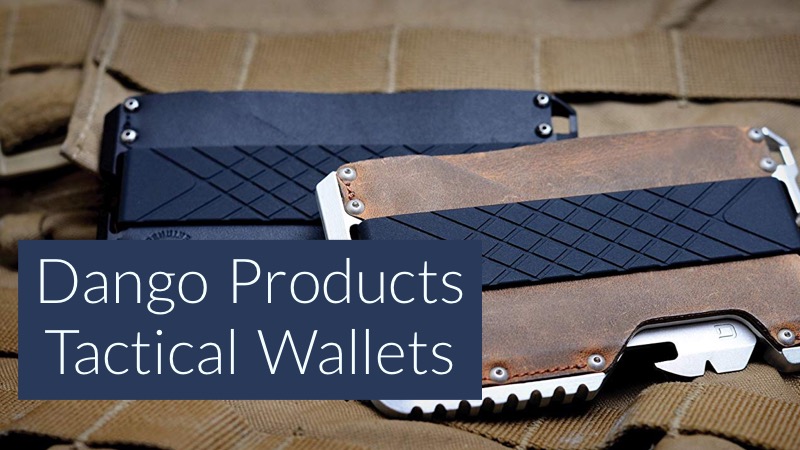 Dango Products Tactical Wallets
Each model is slightly different in build and made in America with durable materials, including high carbon stainless steel, leather, and silicon. Although colors don't impact usability, these are also tough-looking products, available in schemes to match both heavy machinery and mother nature.
The wallets themselves are minimal in design and function, meant to stow a reduced number of cards, cash, and paper items. In place of the extra storage space, some products come bundled with complimentary items, including a pen and notebook, medication capsule and Dango's crown jewel, the multi-tool.
Dango's multi-tools are really what sets them apart in terms of tactile usability. Any wallet can store folded bills and a few credit cards. With the multi-tool, a Dango wallet becomes much more. It comes in three sophisticated designs, each made to fit snuggly into specific wallet models. All three include at least ten functions; some survivalist, some not so much, like nice-to-have phone stands, bottle openers, ruler and protractor.
One design, the MT04, is made especially for emergency situations; it's got an oxygen sensor wrench and seatbelt cutter in addition to a host of practical daily tools built-in.
The MT03 features a large toothed comb along one side and fits into every Dango wallet design. It, too, is packed with practical uses and can be utilized as a money clip, fork, or spoon.
The MT02 is Dango's most sinister looking multi-tool, flashing blades and serrated steel in a build that can, if absolutely needed, be wielded as a weapon in dire situations. Each can be removed for use in another Dango wallet or for air travel, as two designs are not TSA compliant and must be checked in luggage.
Each Dango wallet carries a similarly slim profile that fits comfortably into most pockets, multi-tool insert or not. A key benefit that speaks to their versatility, though, is their ability to be worn and carried in a variety of other ways. Aluminum ringlets enable specific models to be worn on a lanyard, displaying identification, as is commonly seen in law enforcement.
Others pair with a woven paracord tether made with a strong metal clasp that safely secures cargo to a belt loop or exterior of a backpack. Taking note not to overlook unseen security threats, each Dango wallet is made with built-in RFID blocking technology, as well.
Journalists, hunters, carpenters or creatives, anyone that requires the tools of their trade be accessible at all times can benefit from the versatility of Dango wallets. The extensive selection available and wide variety of built-in features make them one of, if not, the best line of tactical wallets on the market. Visit our Dango Products page to find offers that will help you save money on your purchase.