Dinnerly is a meal kit service that delivers ingredients to your door, allowing you to create delicious meals for you and your family. Dinnerly is a low priced meal kit and is a highly popular one... for good reason! They have a wide selection of menu items for an assortment of different diets, such as vegetarian and gluten-free.
This meal kit is great for couples and families, and promises a great deal of delicious meals from only several ingredeints, making it easy to use and fuss-free. Here is a look at a few meals from different diets that Dinnerly has offered in the past.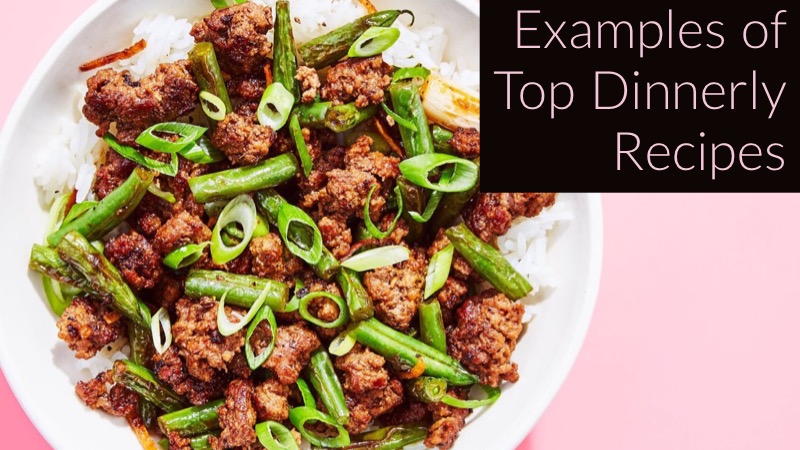 Dinnerly Menu Samples
1. Spinach Pesto Pasta with Roasted Tomatoes
This pasta is vegetarian friendly, and uses a variety of ingredients to create a delicious, one pot dish. The spinach is added to parmesean cheese, pesto sauce, garlic, and then combined with pasta. Roasted tomatoes are added in at the end to give the dish a burst of flavor. Easy to make and not time consuming at all, this recipe is perfect for busy weeknights!
2. Meatball Parm Pizza with Broccoli
Who doesn't love pizza? This pizza from Dinnerly is kid friendly, so you will have the chance to serve your kids something delicious, and the added broccoli will allow you to feel good about what you are feeding them! Add a delicious sauce and some cheese, and you have an easy meal that everyone in the family will love.
3. Crispy Honey Pork Stir Fry with Snow Peas and Sushi Rice
This dairy free meal is great for those with lactose or dairy intolerance. This easy to cook stir fry is a great way to show off your skills while not having to spend the entire day cooking. A delicious bed of sushi rice is topped with honey, snow peas, pork, and bright green snow peas. You might find it tasting even better than takeout!
4. Parmesan Chicken-Potato Roast with Carrot & Lemon Dressing
This easy to cook meal is made entirely on a sheet pan in your oven, making it easy clean up. If you are looking for a low calorie dish, this chicken dinner is perfect for you. Chicken drumsticks are combined with potatoes and carrots and sprinkled with Parmesan cheese. After roasting in the oven, it is topped with a delicious lemon dressing.
5. Cheesy Black Beans with Crispy Rice and Tomatoes
For those who would like their meals gluten-free, this cheesy dish combines a lot of favorite ingredients. Crisping your rice adds plenty of flavor, and when it is topped with beans, cheese, and tomatoes, you have a perfect meal that will satisfy everyone in your household! Save on this and all dishes with a Dinnerly coupon.

With a wide variety of menu choices that will appeal to everyone in your family, Dinnerly is perfect for those busy nights when you need to get a meal on the table quickly. Low calorie dishes, vegetarian dishes, gluten-free dishes, as well as other diet considerations, are all offered on Dinnerly for low weekly prices. Dinnerly definitely has dinner covered!