Green Chef is an eco-friendly meal delivery service with many dietary options and plans to fit your lifestyle. The menu changes every week and you can opt for weekly, bi-weekly, or monthly delivery. Each order contains three meals for two people with meal plans for ketogenic, omnivore, paleo, vegetarian, vegan and gluten-free diets.
Talk about green - all of Green Chef's food is USDA-certified organic and the packaging is earth-conscious and recyclable. Their gourmet meals are also prepared and portioned with clear instructions for even the most "green" chef. Let's take a closer look at what you can expect from their various menus.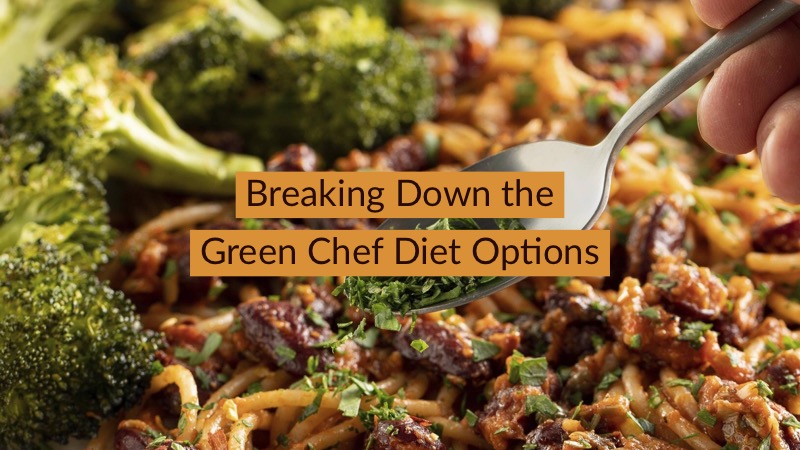 Complete Breakdown on Green Chef Diets
The ketogenic diet is very low-carb and thus high in proteins and fats. Like any sort of labeled diet or restriction, keto can seem like it might lack the diversity found in much modern cuisine, but the menu is always delicious, filling, and genuinely creative. The roasted chicken thighs recipe is a great example of something tasty for a cold night. The roasted chicken is paired with roasted broccoli, bell peppers, pesto, and mozzarella cheese crisps. The Philly stuffed bell pepper with steak, provolone, and butternut squash and cumin-roasted pork chops over roasted veggies, chimichurri, and cheese are other intriguing recipes.
The omnivore plan gets a taste of all of the many great organic ingredients used by Green Chef. There are classic dishes, lighter fares, and many unique chef-created inspirations. The meatloaf and gravy is a great dish done incredibly well by Green Chef. This is served with mashed potatoes and carrots, completing a classic meal. The sunflower-crusted chicken with quinoa, mushroom, and peas is light and filling. Hearty vegetarian dishes are available as well. These include the butternut squash chili with beans, cheese, and tortilla strips and the maple-glazed squash with quinoa and green apple slaw with pistachios.
Paleo diets aim to replicate the types of foods humans would have eaten far in the past, before we started harvesting grains. It consists of minimally-processed produce and plenty of animal proteins. While dairy and grains are not in the paleo plan, plenty of root crops and delicious fruits are used in recipes. Pork chops with braised apple, broccoli, beet, and carrot slaw, and sweet potato mash is a bright, fun meal that is pleasing and filling. Thai coconut chicken soup is a warming dish done right by Green Chef. You may also enjoy shiitake mushrooms, bell pepper, and sesame seeds as a light tasty meal. The beef patties with spiced aioli sweet potatoes, pecans, and sauteed cabbage could satisfy those deeper hungers.
The vegan diet always gets a bad rap for being flavorless or lacking diversity. Any vegan will tell you otherwise, and rightly so! Green Chef does great justice to the plant-based diet. The chickpea curry with potatoes, apple slaw, cabbage, and coconut chutney is a stellar creation. The tempeh "crab" cakes with basil-lemon aioli and arugula is very bright and colorful. Sage pumpkin flatbreads are a very cool offering available from Green Chef. It has pumpkin puree, apple, balsamic onion, and a broccoli slaw with beets that is an original way to celebrate autumn.
Vegetarian diets are meatless and allow things like cheese and other animal byproducts that the vegan diet restricts. Green Chef makes many of the great vegan dishes available in this plan as well, like that vibrant chickpea curry. The chard and artichoke quesadillas are a great flavor combination with the quinoa, sundried tomatoes, bell peppers, and olives. Baharat-spiced couscous also hits the spot as a salad with sweet potatoes, garbanzo beans, dates, feta cheese, and herbs.
Gluten-Free Meals from Green Chef
Wheat products have to be avoided for people who suffer from celiac disease. This is very hard in the modern grocery landscape where wheat has made it onto the ingredient list of many common products. Shared equipment poses another consideration for those sensitive to gluten. Green Chef keeps it easy, clean and fresh. Seafood, meat, and vegetarian options are available each week. These include the sunflower-crusted chickens and meatloaf and gravy mentioned before.The Korean veggie stir fry with broccoli, shiitakes, bell peppers, edamame, and rice is another versatile gluten-free and vegan meal available on this plan.
Green Chef has all you need for some awesome organic meals ready quickly to help save time in your busy week. Their family plan serves two meals to four people each week, featuring all of the aforementioned favorites. Meal delivery saves time while being eco-friendly and Green Chef's offerings are not short on flavor or quality.
Hungry? Check out these Green Chef subscription deals to save on your order!