Known for their flirty dresses and playful rompers and bodysuits, Hello Molly is a great place to start your hunt for the upcoming season's hottest styles. From their attractive designs to their equally attractive prices and great customer service, the brand aims to offer you a fruitful shopping experience. Ready to shop? Here is everything you need to know before opting for a shopping spree at Hello Molly!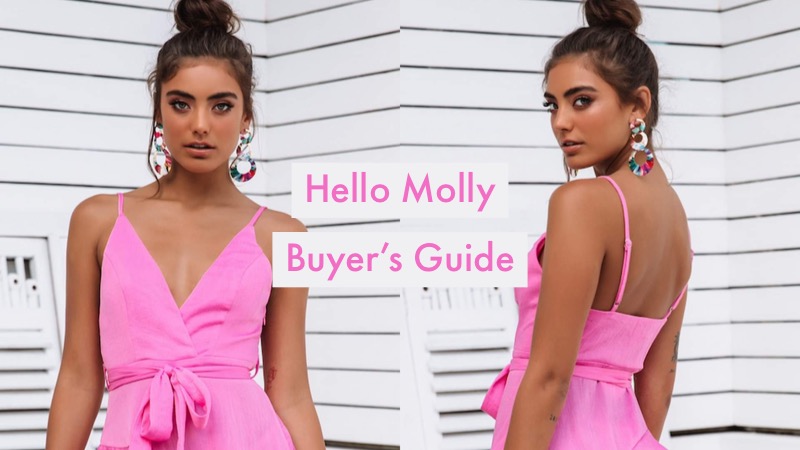 Holly Molly Returns and More
Hello Molly's Product Range: The brand offers women a wide selection of dresses, playsuits, tops, bottoms, shoes, accessories and swimwear, plus an on-trend collection of coordinated separates. The accessory selection includes everything from jewelry and hair accessories to home décor items and beauty.
Hello Molly's Size Range: The store's sizes are based on the Australian sizing system and they usually vary from size 6AU (US size 2) to size 14AU (US size 10), where 6AU corresponds to size XS and size 14AU corresponds to size XL. For more information, check out Hello Molly's detailed sizing chart here.
Hello Molly's Price Range: Expect to pay anywhere between $20 to $215 for dresses and an average of $50 to $60 for playsuits and rompers. You can find your dream top (be it a crop, long sleeved tee, knot or bralette) for anywhere in between $10 to $300, with averages around the $42 mark. As for shoes, footwear accessories retail for as low as $7, with prices going up to $180 for stylish heels. Try pairing a 2019 Hello Molly coupon with your order to save!
Hello Molly's Return Policy: In case you are not completely satisfied with your order, the brand gives you the possibility to return the products, while offering your store credit in exchange. The store usually processes returns within 7 days after receiving back the products, with slight delays during high volume periods, such as the holidays.
Hello Molly's Shipping Policy: The brand ships your products for free using Express Shipping on all Australian orders over $35, with the possibility of opting for Same Day Delivery around Sydney. If you are ordering from the US, expect to receive your products within 9 days for Standard Shipping ($15) and within 4 days for Express Shipping ($20). Find out more about the store's shipping policy here.
Hello Molly Customer Service: Hello Molly's Customer Service can be reached by phone or email. If you have any questions about the store's product range, make sure to contact them from Monday to Friday from 9:30am to 5:00pm AEST.
Hello Molly on Social Media: The brand has many active social media channels, so make sure to follow them on Facebook, Instagram, Tumblr, Pinterest, Twitter, Youtube, Snapchat and Wechat if you want to get great style tips and keep up to date with their latest collections, hottest sales and upcoming discounts and deals.
If you are shopping for a friend, Hello Molly also has an adorable collection of gift cards to choose from, perfect for any type of anniversary, birthday or special occasion. And if you are treating yourself with some of the cutest styles of the season, make sure to thoroughly browse through the brand's extensive collections, refine your search based on your budget, size, style and desired color and enjoy your shopping spree!