When it comes to losing weight, you want to choose options that are sure to help you and work with you in ways that you can rely on. That's why with IdealShake protein powder by IdealShape, complete with vitamins and minerals that your body really needs, you can easily curb cravings and keep hunger at bay for longer periods of time, helping you to reach your fitness goals.
If you feel as though you are tired of drinking the same old protein shake flavors, though, and want to spice things up, you might be looking for some recipes for a fun twist on your next shake, and lucky for you, there are plenty of them! Below is a look at ten IdealShake smoothie from IdealShape recipes that will keep your drinks delicious and fresh. You can save on your next order with a new IdealShape smoothie coupon code.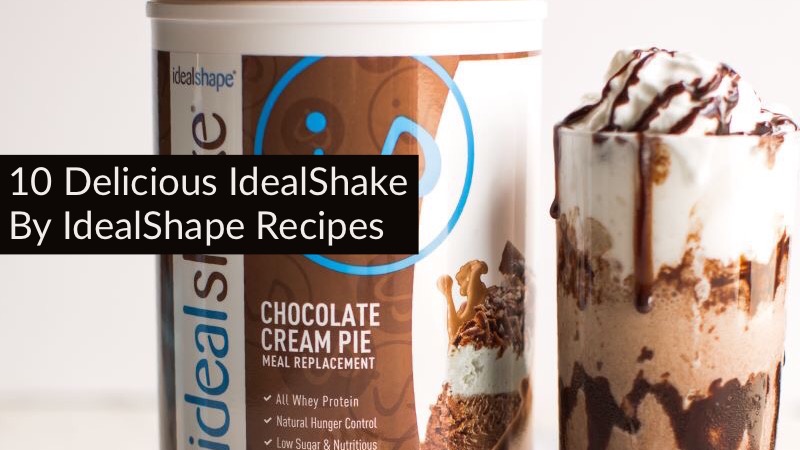 Our Favorite IdealShape Smoothie Recipes
1. Frozen Peanut Butter Hot Chocolate Smoothie
Who doesn't love a little chocolate and peanut butter together, especially when it's a frozen version of hot chocolate? By using a sugar free hot chocolate, skim milk, ice, and a single scoop of chocolate peanut butter flavored IdealShake from IdealShape, you will have yourself a delicious frozen treat is only 250 calories and 22g of protein!

2. Cookies 'N Cream Birthday Cake Smoothie
Cookies 'n cream is a flavor that many people crave, and now when it comes to your weight loss smoothie, you can have it! With unsweetened almond milk, one tablespoon of vanilla pudding powder, vanilla extract, almond extract, ice, and a single scoop of cookies 'n cream flavored ideal shake, you will have a yummy treat while curbing hunger and satisfying your craving for sweetness.
3. Chocolatey Minty Green Smoothie
Want to get in your daily vegetables while you also have yourself a yummy, sweet treat? This delicious chocolatey minty green smoothie recipe is perfect for satisfying cravings and keeping you healthy. The avocado used in the recipe ups the nutrition, making it perfect for those with high cholesterol or those who have low potassium levels. The spinach is perfect for raising your vitamin levels and getting iron into your body. Also use some unsweetened almond milk, ice, and a scoop of mint chocolate IdealShake smoothie from IdealShape!
4. Chocolate Mocha Banana Smoothie
Chocolate, mocha, and bananas create a delicious treat you can feel free to indulge in! Use a scoop of mocha flavored IdealShape smoothie IdealShake, banana, ice, cocoa powder, and unsweetened almond milk to give you this potassium boosting, energy loaded meal replacement treat, with only 177 calories!

5. Horchata Smoothie
The taste of cinnamon and vanilla rings true in this delicious, protein infused IdealShape smoothie. With all the health benefits that cinnamon offers (such as the ability to help with diabetes), you will love reaching for this one. Use unsweetened rice milk, ice, cinnamon, and vanilla flavored IdealShake to create this delicious recipe.
6. S'mores Frappe Smoothie
Who doesn't love the taste of s'mores? Add a little coffee flavoring to the mix, and you'll be delighted with this 180 calorie treat, which is great for those following low fat diets. The smoothie contains coffee, ice, chocolate IdealShake, graham crackers, and s'mores torani syrup. When topped with whipped cream, this smoothie is completely delicious!
7. Green Superfood Smoothie
Adding greens to a smoothie gives you a huge burst of nutrients - one that can help with a lot of health conditions, such as diabetes, iron deficiency, high blood pressure, and high cholesterol. It can also help reduce body weight, and tastes great while doing so! This smoothie is made with spinach, strawberries, mango, unsweetened almond milk, and vanilla superfood IdealShake.
8. Blueberry Pancake Smoothie
Do you love a morning breakfast treat? Then you will love this delicious, blueberry filled smoothie using vanilla IdealShake! Simply blend together almond milk, pancake syrup, blueberries, rolled oats with the vanilla IdealShake, and you've crafted a delicious breakfast, full of nutrients and taste, but low on calories and fat!
9. Apple Peanut Butter Smoothie
Apples and peanut butter go hand in hand, and this yummy smoothie brings your favorite snack into smoothie form! Use an apple, some unsweetened almond milk, and chocolate peanut butter IdealShake to create this fiber infused IdealShape smoothie that is perfect for satisfying your snack cravings.

10. Chocolate Banana Cream Pie Smoothie
Chocolate cream pie is a favorite dessert - especially when you add bananas! Now, you can have this delicious treat without all the guilt. Chocolate cream pie IdealShake, a banana, and unsweetened almond milk combine to bring you this shake, with potassium boosting benefits and low calories.
IdealShape is a great way to lose weight, especially when used for meal replacements to help fight hunger and cravings. When you add IdealShake into your daily nutritional intake, and combine it with a healthy diet and exercise, you can see real results. With many delicious ways to have your IdealShake, you will never run out of new and fun ways to incorporate it into your diet!