In the world of women's fitness attire, a brand called SHEFIT is turning things upside down, and for the better. After years of struggling with poorly fitting bras that offer miserable support when exercising, the founder of SHEFIT went to the popular show Shark Tank for help launching her brand. After witnessing the potential, they were eager to help.
The result is a brand that is making big-name competitors sweat since SHEFIT is the only sports bra brand offering what many women truly need. And people are taking notice, with some already putting the brand to the test against major brands like Nike and Under Armour.
If you decide to try SHEFIT, be sure to use a SHEFIT coupon code to save on your order:
Verified
Details:
Ongoing Offer
Click "Show Coupon Code" To Activate This Deal. Exclusions May Apply
5% Off Sitewide
Wondering if SHEFIT is the best sports bra for a woman like you? Read on to see what people are saying.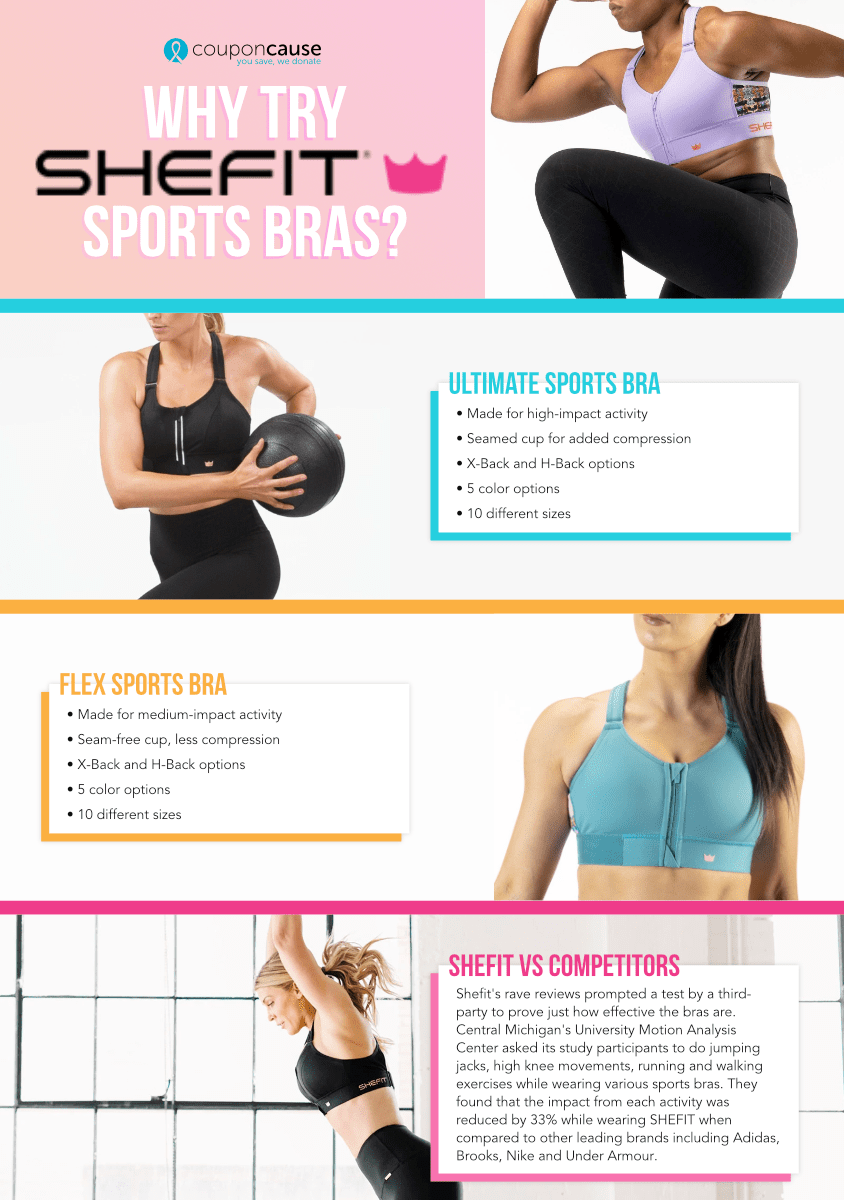 What's So Special About SHEFIT?
SHEFIT makes the first and only sports bra that is fully adjustable, from the straps to the band around the rib cage. While it comes in 10 different sizes and fits sizes A-I, its ability to adjust the band and straps makes it the only sports bra that is completely adjustable for a highly personalized level of support.
SHEFIT's bras come in two different types:
Both are available in five different colors and 10 different sizes: extra-small to 6Luxe (Shefit uses the term "Luxe" instead of "Large").

-SHEFIT Ultimate Sports Bra-
The Ultimate Sports Bra is ideal for high-impact sports but can be worn for any activity. Its straps are non-stretch, allow for 15 inches of vertical adjustability and can be worn one of two ways: X-Back or H-Back.
The straps for sizes extra-small to 1Luxe are 1 inch wide, while the straps for sizes 2Luxe and above have 1.5-inch padded straps for added support and comfort.
The cups are lined and wireless, with contoured seams and removable padding. The bust band is 2-inches wide and stabilizes movement of the breast tissue to avoid rolling. There is also an extra 8 inches of customization for a fit that lays flat and stays where it should. A fully encased zipper provides added reinforcement and has a hidden hook and eye closure.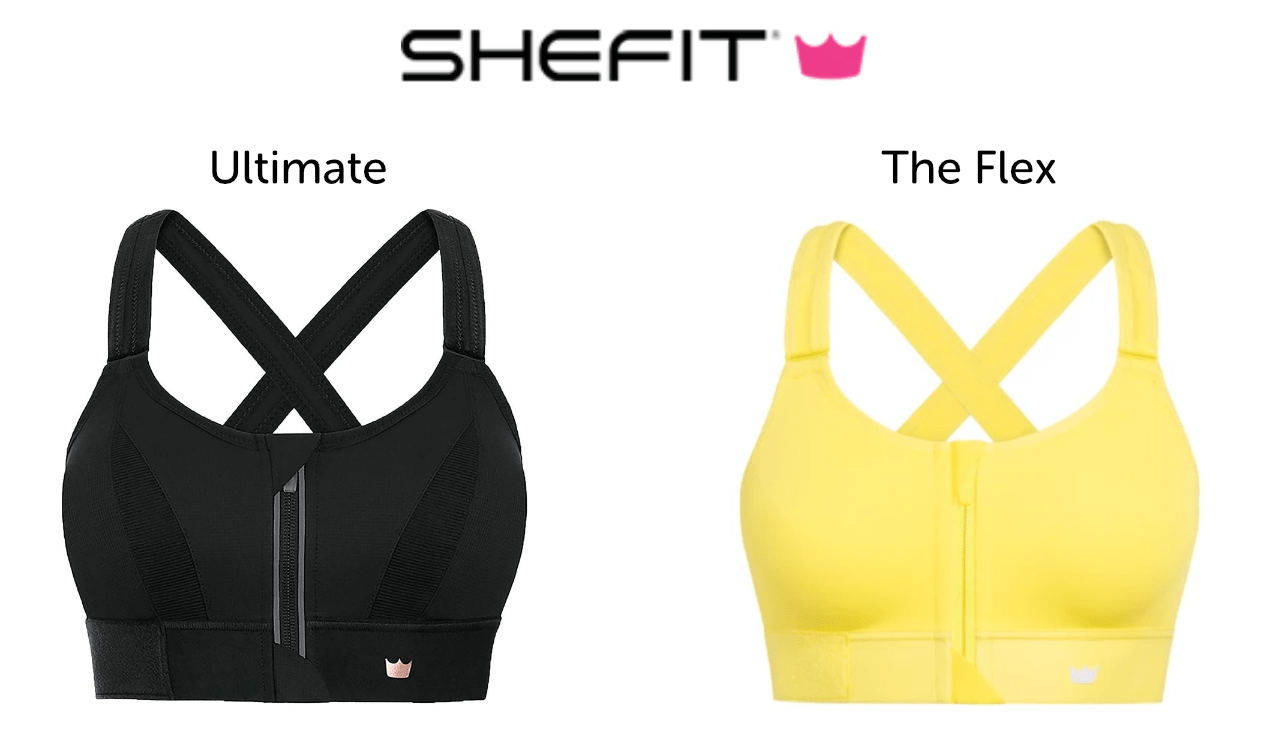 -SHEFIT Flex Sports Bra-
The Flex Sports Bra can also be worn for high-impact sports, but won't give as much support as the Ultimate Sports Bra. Still, it provides more support than its competitors. Nonetheless, it was designed for a more streamlined fit to accommodate the medium-impact activity.
It's made of moisture-wicking material, with seam-free cups that individually support each breast. Like the SHEFIT Ultimate Sports Bra, the straps are customizable, non-stretch and are 1-inch wide but allow 15 inches of vertical adjustability. They can also be worn one of two ways: X-back or H-Back. It's bust band and zipper are the same as the Ultimate Sports bra as well.
While both will offer excellent impact resistance, the Ultimate will ensure you get the highest level of support. The Flex is designed for medium-impact, less stressful activities on the body, and thus provides less support.
The main difference between the two is in the cups. The SHEFIT Flex (medium-impact) Sports Bra offers molded, seam-free cups and a sleek finish. The Ultimate (high-impact) Sports Bra offers a seamed cup, which is best for compression, and includes modesty pads.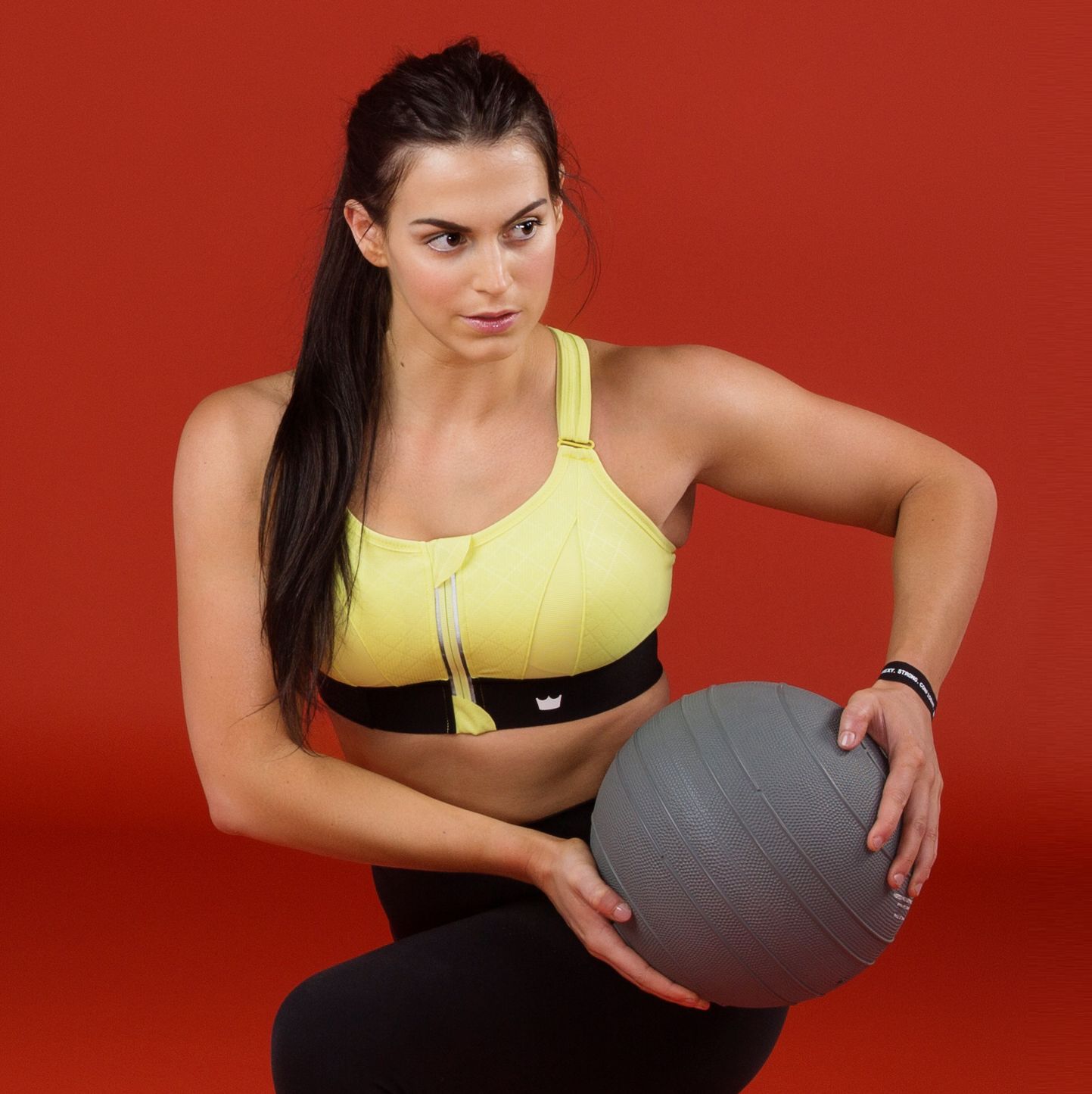 How to Order
Start by taking the SHEFIT fit quiz, a 60-second quiz that ensures you get the right fit the first time. Once you receive your perfectly sized bra and you're ready to work out, you're able to even further customize it by cinching the shoulder straps for more or less support. Next, tighten or loosen the band around the rib cage for more fit customization. Lastly, pull up the magnetic-locking zipper and you're ready to go.
Shefit vs. the Competition
As mentioned earlier, other brands are taking notice of SHEFIT, and the results are making them nervous. Its rave reviews prompted a test by a third-party to prove just how effective the bras are. Central Michigan University's Motion Analysis Center asked its study participants to do jumping jacks, high knee movements, running and walking exercises. They found that the impact from each activity was reduced by 33% while wearing SHEFIT when compared to other leading brands including Adidas, Brooks, Nike and Under Armour.
When determining whether SHEFIT is right for you, consider that no other bra has a patented "zip, cinch, lift" technology. The prices are good too, at $69 for a bra that's sure to last a long, long time. Plus, you get a free laundry bag for easy washing.