If you're an artist—or an aspiring one—you might want to expand your skills. One resource that can be helpful is Udemy! This website gives you access to a wide selection of courses that you can take to learn almost anything—including art and drawing.

Take a look at some of the best Udemy art and drawing courses in and find one that works for you. If you see a course you're interested in, try using a Udemy coupon to help save on your purchase.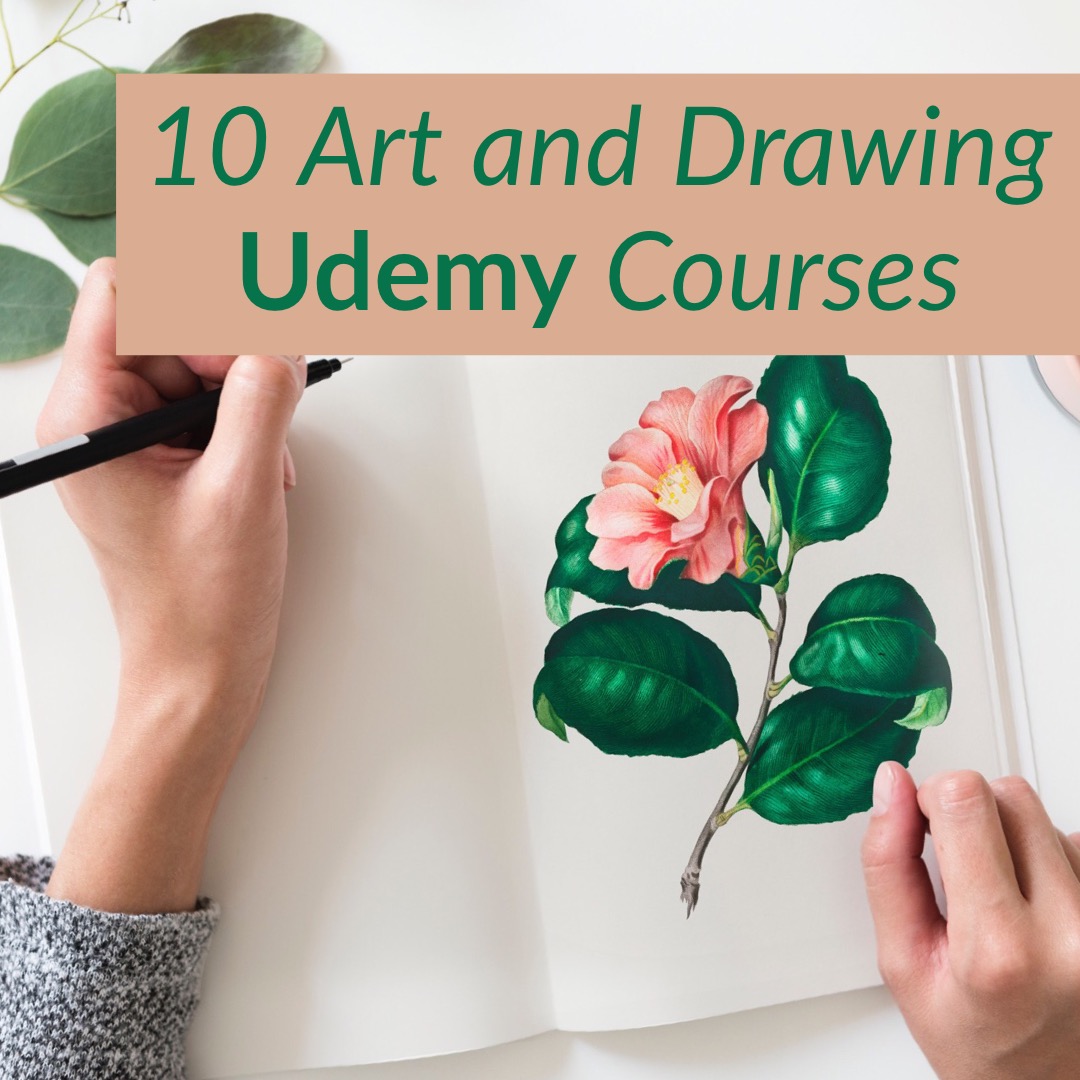 10 Best Art and Drawing Udemy Courses
1. The Beginner's Guide to Digital Art with Procreate
Of course you can learn how to draw using paper and a pencil, but you can also draw digitally. This beginner Udemy program will teach you how to draw on your iPad with the Procreate app. This is a great course to use in order to get more comfortable with drawing digitally!
2. Art for Kids & Beginners: Drawing and Watercolor Painting
Throughout this Udemy art and drawing course, you will learn how to draw and how to paint using watercolor. The techniques learned in this course are perfect for students of all ages, including children. It's great for anyone just getting started on their artistic journey.
3. The Ultimate Drawing Course—Beginner to Advanced
When you take this course, you will learn how to draw in several different ways. This includes:
Realistic light and shadow
Perspective
Human features
You will learn everything from the basics to more advanced techniques. This course from Udemy is a great way to expand your skills!
4. Art Fundamentals: Drawing and Painting Essentials
Through this course is especially focused on the fundamentals of art, it can be taken by artists of any skill level. You don't need to have any artistic experience or knowledge to get started! You will learn everything you need to know in order to become a more skilled artist!
5. Digital Art for Beginners
In this beginner Udemy art course, you will learn how to draw both traditionally and digitally. You'll learn all of the basics so that you can draw on your own. This course is perfect for anyone who has no experience and is just getting started with art! The teaching style in this course is extremely effective!
6. Anatomy for Figure Drawing: Mastering the Human Figure
This course was created with all artists in mind. You don't need to be a beginner or a professional to benefit from it! In this course from Udemy, you will learn all about drawing the human body—and doing it well. There's a great emphasis on the human anatomy in addition to drawing techniques.

7. Concept Art Architecture
Prior to taking this course, you should be well-versed in Photoshop and Art Fundamentals. Beyond that, anyone can learn how to design cityscapes and concept art! The Udemy art course is filled with valuable information, which helps you to apply the content anywhere!
8. Painting Wild Places with Watercolors: Crater Lake
Though this course is for all levels, it's most suitable for artists with at least some watercolor experience. In this course, you will learn how to paint a watercolor landscape. You will get to incorporate detail and realism as you learn important watercolor techniques.
9. The Art & Science of Drawing / SHADING FUNDAMENTALS
Shading is a tricky area for many beginning artists. Light and shadow can add a lot to a drawing, and this all-level course is the perfect way to master them. This Udemy art and drawing course will teach you the basics of light, shadow, and shading. The principles learned here can be used in other areas as well!
10. The Power of Gesture Drawing: How to Gesture Draw Figures
This course on Udemy is for anyone who wants to further their gesture and figure-drawing skills. Both beginners and professionals will be able to draw more realistically and create overall better figures. The instructor, Neil, focuses on the why behind each artistic movement so you can truly learn the techniques!
If you don't know where to start when it comes to art or drawing, be sure to give these Udemy art and drawing courses a chance. You will learn something interesting and might even pick up a new hobby out of it!