10 Free Ways to Celebrate Earth Day 2020 At Home
April 20, 2020 by Tiffany Douglas
Earth Day is one of the best times of the year to get out and enjoy nature, plant some trees, and maybe even enjoy a workshop or two. When you're forced to stay at home, you have to get creative about how to celebrate while still social distancing. Luckily, there are many amazing free ways to celebrate Earth Day at home this spring, and you'll find our favorite ten below!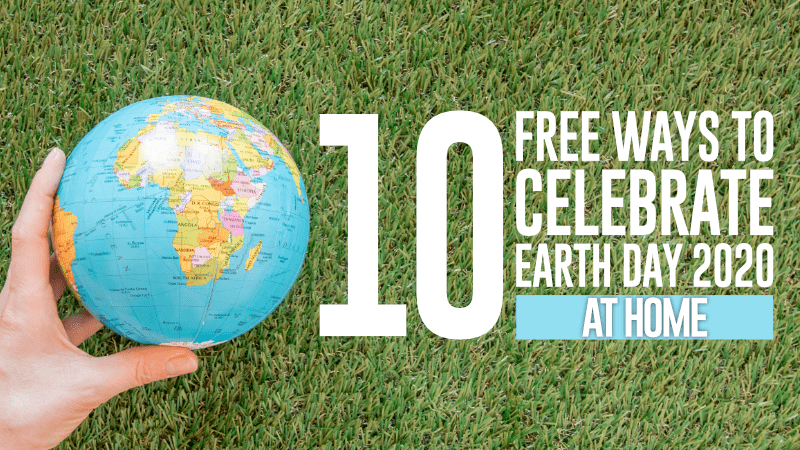 How to Celebrate Earth Day from Home
Watch Earth Day 2020 Live All you need is an internet connection or smartphone to be able to watch all the festivities brought to you by Earthday.org. This annual event is going digital for the first time in 2020 with messages of hope and calls to action. There will also be musical performances from today's hottest pop stars! You can watch it by following it here.
Virtual Tour of A National Park Google has put together virtual tours of more than 100 national parks, historic monuments, and shorelines. Use Earth Day to get some of your history or science homework done by touring a park.
Go Under the Sea Virtually The Monterey Bay Aquarium currently has 10 Live webcams streaming from their tanks including the shark tank, sea otter habitat, Open Sea Cam, Penguins, Jellyfish, and more.
Explore Another Country One of the most exciting things you can do for Earth Day from home is to gather everyone around the computer and travel to another country! Explore.org has more than 100 live streams that will let you explore the African Sahara, A Jungle of Gorillas, fields of flowers, kittens at play, and even the Aurora Borealis, among dozens of others.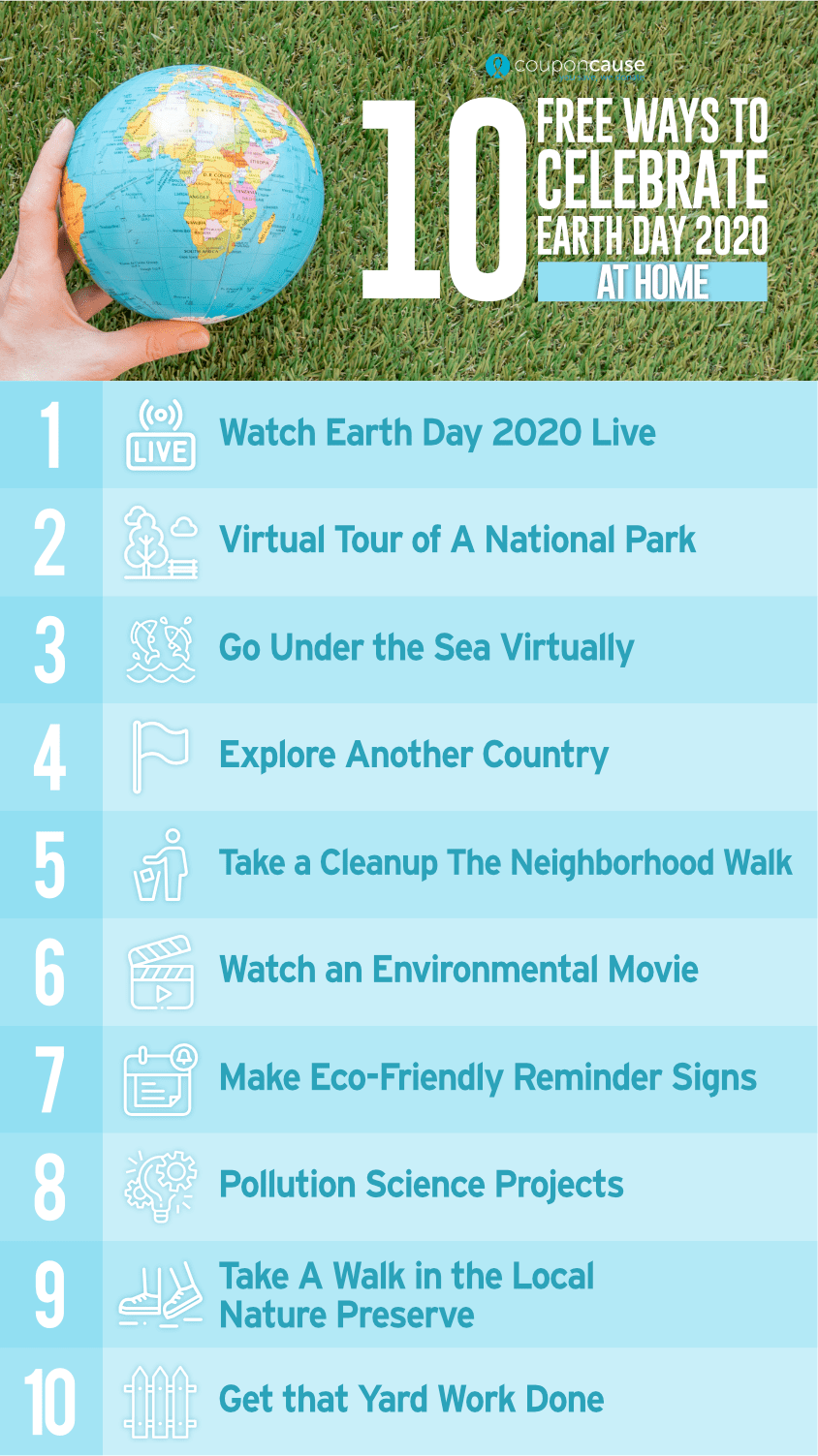 Take a Cleanup The Neighborhood Walk If you've had enough screen time, get outdoors and take a walk of the neighborhood. Grab garbage bags and gloves and pick up the trash you see lying about. If you have kids, talk to them about littering, pollution, and the importance of recycling while you're out.
Watch an Environmental Movie If you've got one of the many streaming services, it won't be challenging to find a great Earth Day movie to watch. There are also many documentaries you can watch through Hulu, Netflix, Amazon Prime, and even Disney + that raise environmental awareness.
Make Eco-Friendly Reminder Signs All you'll need is paper, markers or crayons, and some tape and you can make signs for your home with eco-friendly reminders. Make a sign that says, "Don't forget to turn off the lights" or "Turn the water off while brushing your teeth". For those with kids, these are great ways to let your kids get crafty and talk about energy waste!
Pollution Science Projects Spend the day doing science projects at home that educate on the effects of pollution. There are several different pollution science projects you can do from home that are easy and use materials you can find around the house!
Take A Walk in the Local Nature Preserve If there are parks, nature preserves, public trails, or other natural places open where you live, take a walk and talk about all the plants and animals you see while you're out. Don't forget to take a trash bag and gloves to pick up any litter you might find.
Get that Yard Work Done Need to get the veggie garden planted? Have a packet of wildflower seeds you want to spread? Need to aerate your lawn or prune back the bushes? Get your kids outside and teach them how to help you with the yard work. Talk about the importance of pollinators and good soil quality while you are planting.

There's no wrong way to celebrate Earth Day as long as you're environmentally friendly and learning something along the way! Enjoy getting outside, making crafts, or taking a virtual tour of another continent this Earth Day.
---