2019 CouponCause Donation Impact Report
February 10, 2020 by Eric White
"I love helping our site visitors save money, but what I love even more is the fact that we are able to support amazing non-profit organizations through our platform CouponCause.com. It's truly inspiring to see what these charities are doing and being able to give back to them means the world to me. I hope you find this impact report helpful to better understand where our donations are being used. At the end of the day, we could not make them without the support of our CouponCause shoppers." - Zac Duvernet, CouponCause Founder

2019 CouponCause Donation Impact Report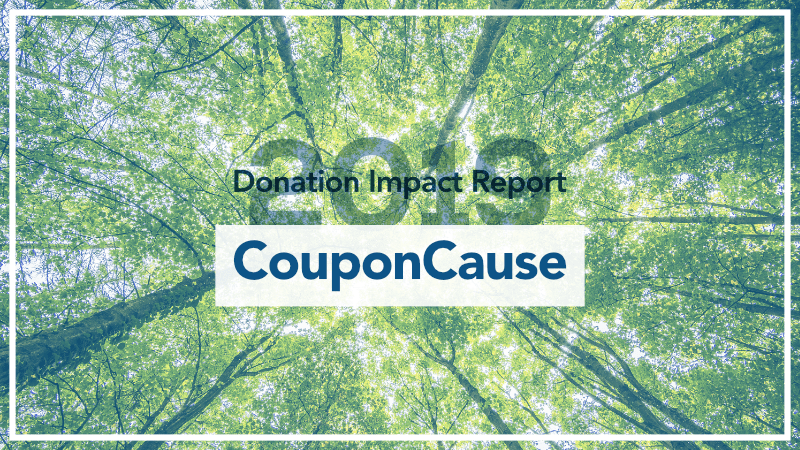 Executive Summary
At its core, CouponCause is a platform built to help shoppers save money on their online purchases. Visit CouponCause.com and you'll quickly find a wide selection of coupons available for the sole purpose of saving you cash. CouponCause, in turn, earns a small profit each time a customer purchases a product through one of our affiliate links.
What may not be immediately evident when using the site is how these funds are being used. While employees must be compensated and bills paid, it is a central mission of CouponCause to use a portion of this revenue for donations to organizations that make a positive impact on our planet.
Planet Earth and human society are being challenged from many angles. For one, climate change is altering the ecosystems in which we live. Each year, ever-larger amounts of money and effort are put forth to help those affected by shifting climates and more extreme weather events. Poverty is a major crisis in even the most wealthy nations. In the United States, homelessness continues to grow. None of the problems our world faces has a single solution but they do all require us to work together in order to solve. While things may at times seem bleak, the truth is for all problems that there is a way forward.
To help where we can, CouponCause has supported several organizations that each have their specific focus. In 2019, we donated a total of $116,500 to 20 different organizations. To help in as many areas as we can, our list of featured causes is wide and varying, as you'll see. In going back through our donations for 2019, trends in our giving become evident.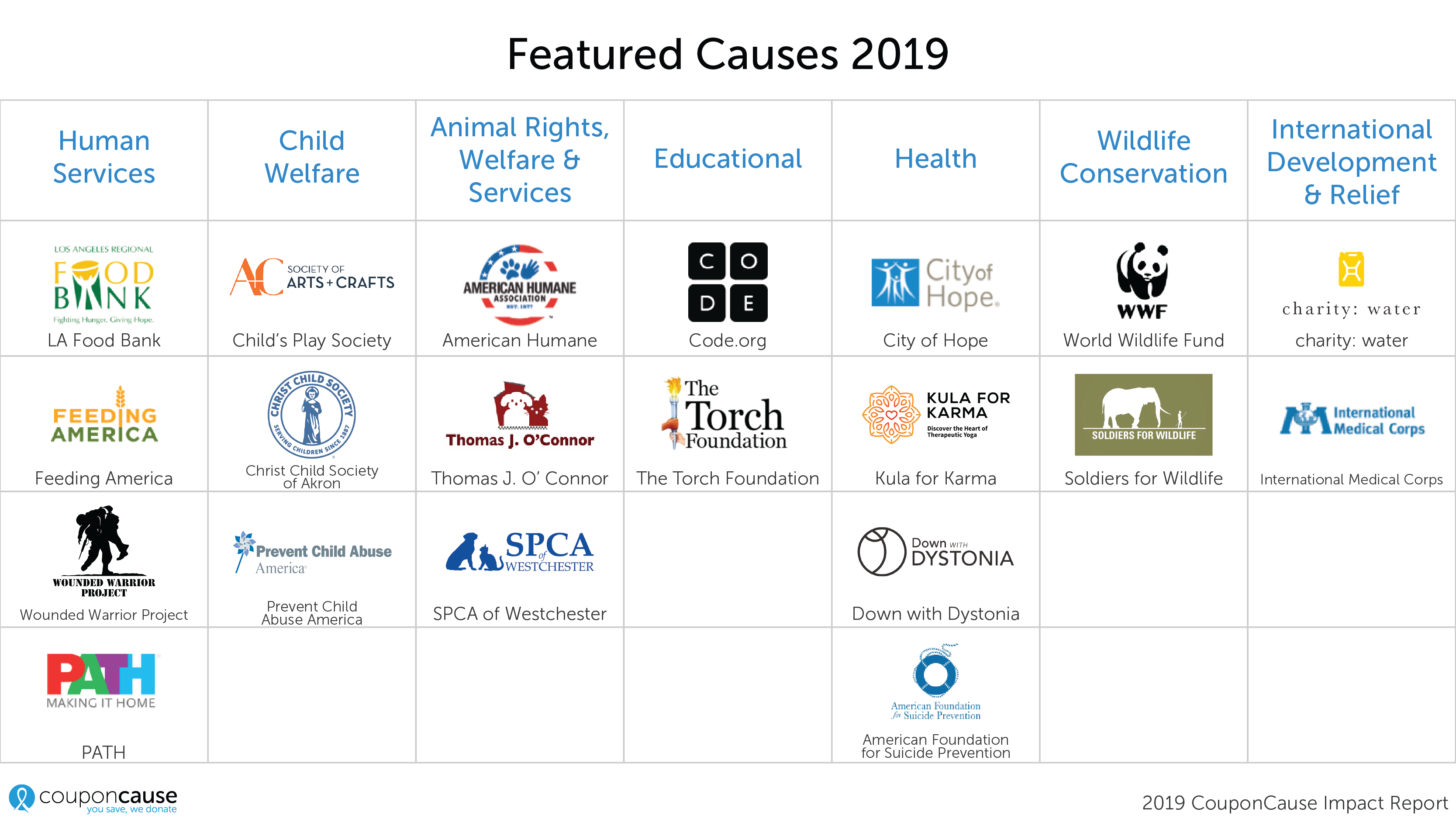 Since we aren't directly influencing the day-to-day operations of the organizations to which we donate, it's difficult to measure the success of our donation program. Instead, we must rely on reports delivered by the organizations with which we work. At the end of this impact report, we've taken a close look at five specific organizations to provide real-life examples of how our donations were used in 2019.
As you'll see below, organizations considered "Human Services" received the largest total donations ($47,500 out of the total $116,500). Human Services include organizations that work with individuals within the United States, like Feeding America and the Los Angeles Regional Food Bank.
A close second was the category International Development and Relief ($30,000), including charity: water and International Medical Corps. The least donated category was Educational ($3,500), including Code.org and Torch Foundation.
While many of the organizations CouponCause worked within 2019 could qualify for multiple categories, we decided to place each organization in the single best fitting category instead of over-representing any single group. See the chart above for a breakdown on how the organizations we partnered with break out into their respective category.
Continue reading below to see visual representations of what our donating in 2019 looked like. At the bottom of this article, we get into specific case studies of five organizations with which we partnered last year.
Our 2019 Nonprofit Donations
In total, CouponCause was able to raise and donate $116,500 with the help of our thousands of daily users. Here is a breakdown of how donations were given out to each organization we worked within 2019: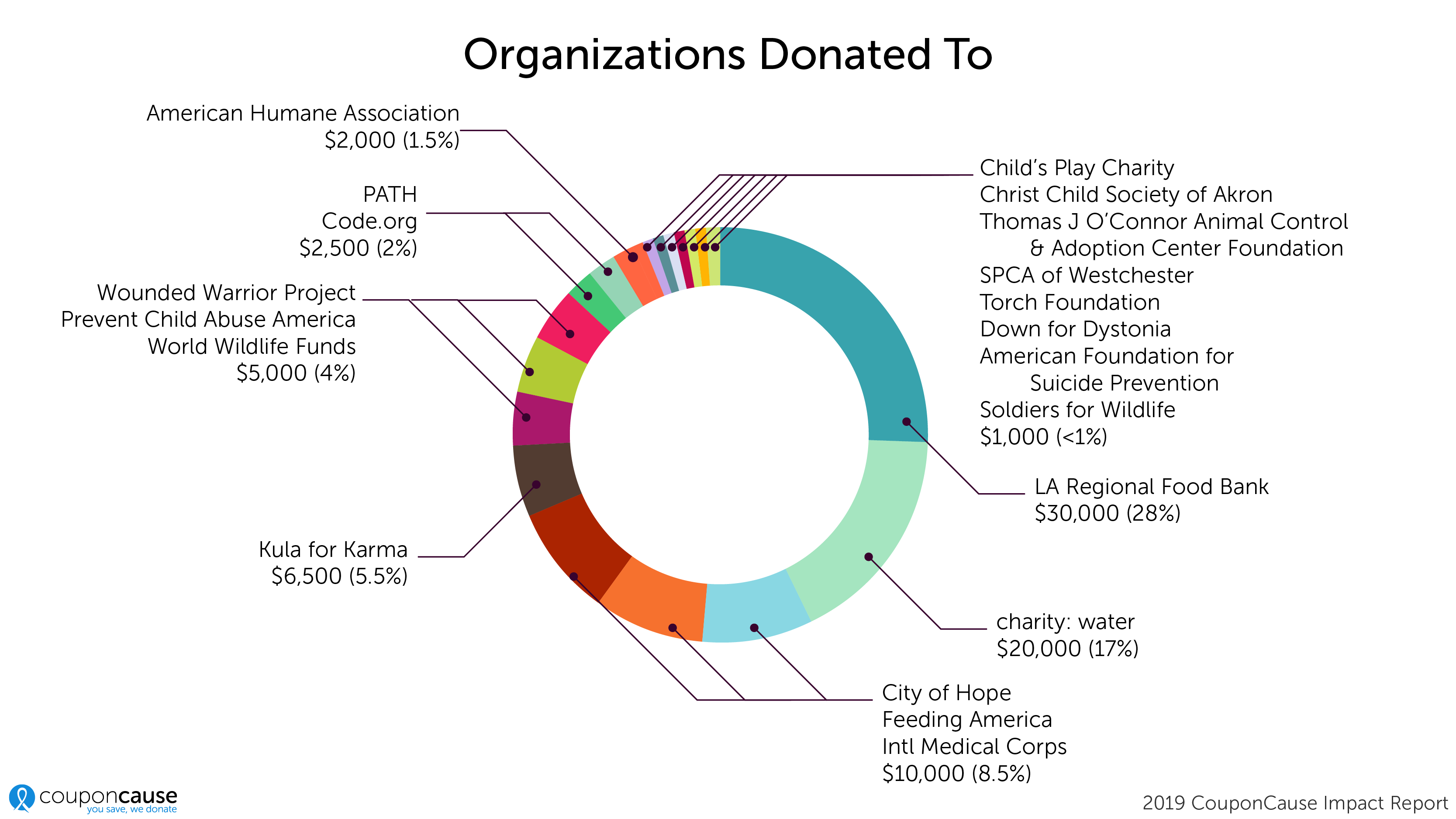 Here's how those donations pan out per category: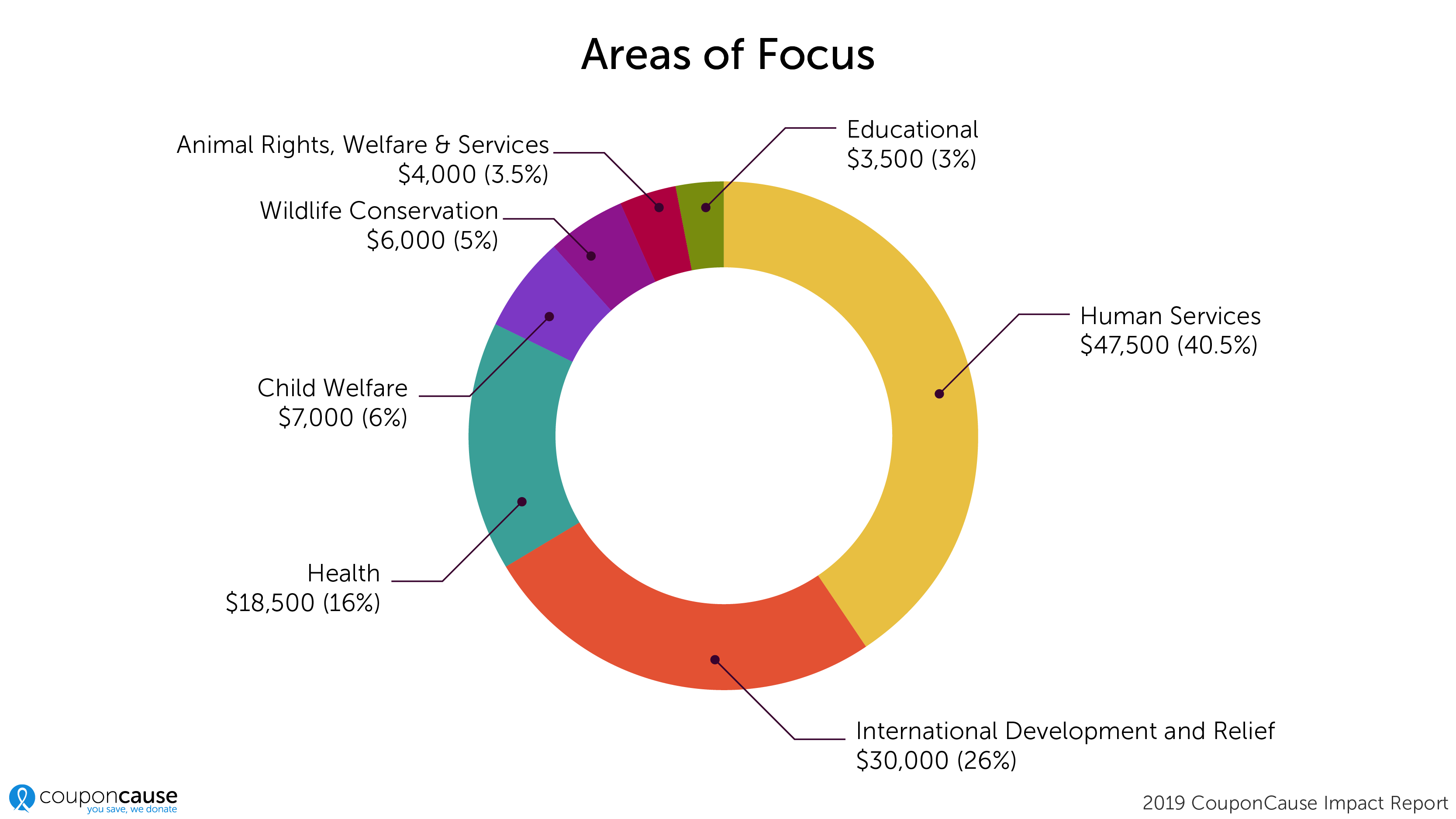 Now, let's get into some specifics about the impact our donations made by looking at 5 organizations:

charity: water
Los Angeles Regional Food Bank
Feeding America
International Medical Corps
City of Hope
2019 Case Studies
Problem: 1 out of 10 people don't have reliable access to clean water.
Mission: To bring sustainable water projects to global communities in need.
2019 Donation: $20,000
How it was used: charity: water does a fantastic job of updating donors on how donations are used. Our $20,000 donation from 2019 will be used to fund safe water, hygiene education and sanitation facilities in Cambodia. We're eager to see how the BioSand Filter program progresses in this impoverished region of Cambodia throughout the upcoming year and will provide an update on our blog once we hear news. In 2018, we made a $50,000 donation to charity: water. Check out how that donation was used to fund two separate water projects!
Problem: 1 out of 5 people in Los Angeles do not know from where their next meal is coming.
Mission: To feed those in need of assistance in the Los Angeles area.
2019 Donation: $30,000
How it was used: For every dollar donated to the LA Food Bank, 4 meals are provided. This means that our $30,000 donation in 2019 provided enough food for 120,000 meals! In addition to our $30,000 donation to the LA Food Bank, we also raised an additional $49,685 through our donation match campaign during December 2019 from the generous users of CouponCause. These two contributions totaled a donation of $79,685 for the LA Food Bank and provided a total of 318,740 meals in 2019.
"Matching gifts, like the one provided by CouponCause, help us energize our community to donate funds," said President and CEO of the Los Angeles Regional Food Bank, Michael Flood. "On behalf of the Food Bank, thank you to Zac Duvernet and the CouponCause team, who helped provided enough funding for the equivalent of almost 320,000 meals."
Problem: Food insecurity is a daily issue for 40 million Americans.
Mission: To provide food relief for individuals around the US.
2019 Donation: $10,000
How it was used: Feeding America was able to use our $10,000 donation to generate 100,000 meals! It's unclear where specifically those meals will be provided, but it brings our total meals raised in 2019 to 538,740.
Problem: Hurricane Dorian made landfall in the Bahamas as a Category 5 hurricane.
Mission: To provide the island with emergency mobile medical teams in support of approximately 51,000 people.
2019 Donation: $10,000
How it was used: 185 mph winds and 220 mph gusts slammed into the Bahamas in early September 2019 as the powerful Category 5 Hurricane Dorian made landfall. It was the worst hurricane ever recorded in the Bahamas and left many without power, food, water or shelter. Many required medical attention. Our donation to the International Medical Corps helped the organization respond to the disaster. Emergency medical teams provided outpatient healthcare for those affected and provided support in water, hygiene and sanitation, as well.
Problem: As of 2017, cancer is the second leading cause of death in the US, according to the CDC.
Mission: To fund research for, develop and implement new and innovative cancer treatments.
2019 Donation: $10,000
How it was used: According to Charity Navigator, City of Hope has a 4/4 star rating when it comes to their Accountability & Transparency. Some of the past accomplishments City of Hope has been able to achieve with the help of their donors include:
World-leading stem cell and bone marrow transplants
Cancer drug breakthroughs
Over 300 patents
Donation Report in Review
We're proud to have raised $116,500 in 2019 for donations to such a wide variety of impactful organizations. Knowing that some of our work each day goes toward causes we support is a motivating factor for the entire team at CouponCause. In fact, many of the causes to which we made a $1,000 donation in 2019 were picked by each of our team members (Down with Dystonia, Child's Play Charity and SPCA of Westchester, for example).
In 2019, we focused heavily on Human Services and International Development & Relief. These causes are dear to us and our support for them will continue. However, when looking to partner with new causes in 2020, we can use the information from this report to further diversify our support. For example, Wildlife Conservation ranked in the bottom half of total donations received by category, with $6,000 being given in 2019 between the World Wildlife Fund and Soldiers for Wildlife. This is an area that is currently in desperate need of help (see the Australia wildfires for the latest tragic example) and may merit additional attention in 2020.
The more users we have visiting CouponCause, the more we can in turn donate to charitable causes. In 2020, we will continue to work to increase the daily users of CouponCause in an effort to make the brand more profitable, but also so that we may be able to make more of an impact around the planet.
---