5 Most Effective Robocall Blockers for Smartphones
June 7, 2019 by Angie Long
The average person receives 10 robocalls per day, with 3.4 billion calls placed across the country in April alone. Even though the main smartphone networks such as Verizon and AT&T offer free monitoring services to prevent these calls from getting through, they have their pros and cons.
Considering the number of robocalls has been consistently on the rise, many people have found luck by downloading specialized apps that identify and block the pesky calls. Here are five of the most effective robocall blockers for smartphones.
Whichever app you choose, don't forget to register your phone number on the National Do Not Call Registry. Although it may not help much, that should be your first resort, especially since it can prohibit legitimate telemarketers from calling your number. Charities, survey takers and political organizations can still call numbers on the Do Not Call Registry, however.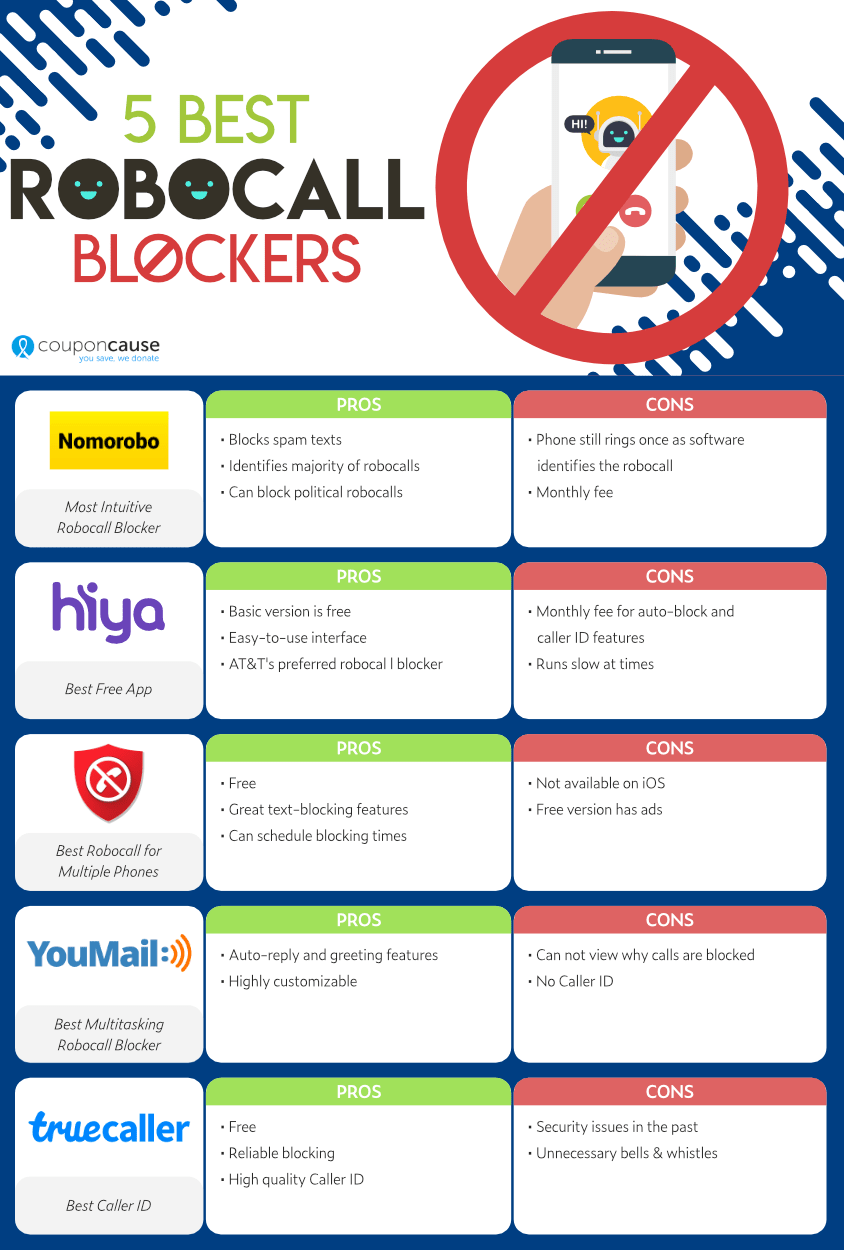 Top Smartphone Robocall Blockers
1. Nomorobo - Most Intuitive Robocall Blocker (iOS and Android)
Nomorobo has developed an algorithm that looks for the most typical calling patterns of robocalls. After identifying the phone numbers, Nomorobo adds them to a list of known offenders. It then does one of two things: blocks the phone from ringing but sends the call to voicemail, or allows the call through but identifies it as a spam caller. Nomorobo can also identify robotexts.
Nomorobo Pros
Blocks spam texts
Identifies most robocalls, with the option to block political robocalls as well
Nomorobo Cons
Isn't entirely effective at blocking calls as the phone will still ring once before a number is identified as a robocall and intercepted
Monthly fee of $1.99
---
2. Hiya - Best Free App (iOS and Android)
The Hiya app uses a massive database of numbers confirmed as spam by other Hiya users. It can block calls and blacklist nuisance phone numbers (even texts from them). Hiya also detects calls that pretend to be from the same three digits as your phone number (which many robocallers do in an effort to convince you that the number they're calling from is local).
Hiya Pros

Basic version is free and with no pesky ads
Allows for call-blocking by number prefix
Simple design for easy use
Trusted by AT&T as the designated robocall blocker for their customers
Hiya Cons

Costs $2.99 a month for the auto-block feature and caller ID
Occasional speed issues
Smartphone need an upgrade? Check out these new 2019 Best Buy coupon codes to help save on your purchase:

---
3. Calls Blacklist - Best Robocall Blocker for Multiple Phones(Android)
Calls Blacklist is a customizable robocall blocker. It also offers a built-in SMS messenger that blocks texts. Calls Blacklist is great for people who switch smartphones regularly, as it offers the ability to import blacklisted callers to a new phone without having to start over again with the call-blocking process.
Calls Blacklist Pros

Great text-blocking features
The ability to schedule specific times for blocking
Free
Calls Blacklist Cons

Works with Android only, not iOS
Free version has ads
---
4. YouMail - Best Multitasking Robocall Blocker (iOS and Android)

YouMail is a one-stop shop for robocalls. The way it works is by replacing a phone's existing voicemail service with its own custom software that identifies robocalls based on input from other users. It also transcribes voicemail messages so users can read them instead of listening. Plus, they've been around for 12 years, so they have a good track record.
YouMail Pros
A virtual receptionist that greets callers with custom greetings and auto-reply features
Lots of customization options
YouMail Cons
Inability to see why a call is blocked
Can't see the name of the caller
---
5. Truecaller - Best Caller ID (iOS and Android)

Unlike apps like YouMail, Truecaller doesn't require users to give up their voicemail. And since it crowdsources data from over 300 million users around the world, it has an incredible database of robocall numbers. In fact, over 250 million people use it to block calls and texts. If a call does get through, users will see a big warning on their phone, allowing the user to simply swipe upward to block the caller from calling in the future before adding the number to the Truecaller spam list.
Truecaller Pros
Reliable blocking
Great caller ID
Free
Truecaller Cons

Past issues with security
A lot of unnecessary functions that aren't related to blocking robocalls (which can be a pro or a con, depending on how you look at it)
Not receiving robotexts or robocalls because you don't have a smartphone? Check out our collection of new electronics coupons to find a deal you can use to save.
---