5 Social Awareness Holidays to Observe in August
July 27, 2020 by Angie Long
Holidays are always times to look forward to, since we have a way of making them ours and putting our own twist on them. That being said, it is easy to forget the origins of the major holidays and why we celebrate them. They can become so commercial that we focus more on what to buy or eat than what the holiday is truly about. That's why it's nice to consider social awareness holidays once in a while.
It can be therapeutic to use these days to put others' needs before yours and do something good for society now and then without expecting anything in return. It also benefits everyone, as we become more aware of the world and people around us while ultimately making the world a better place.
Here are five social awareness days you can feel good about observing this August.
5 August Social Awareness Holidays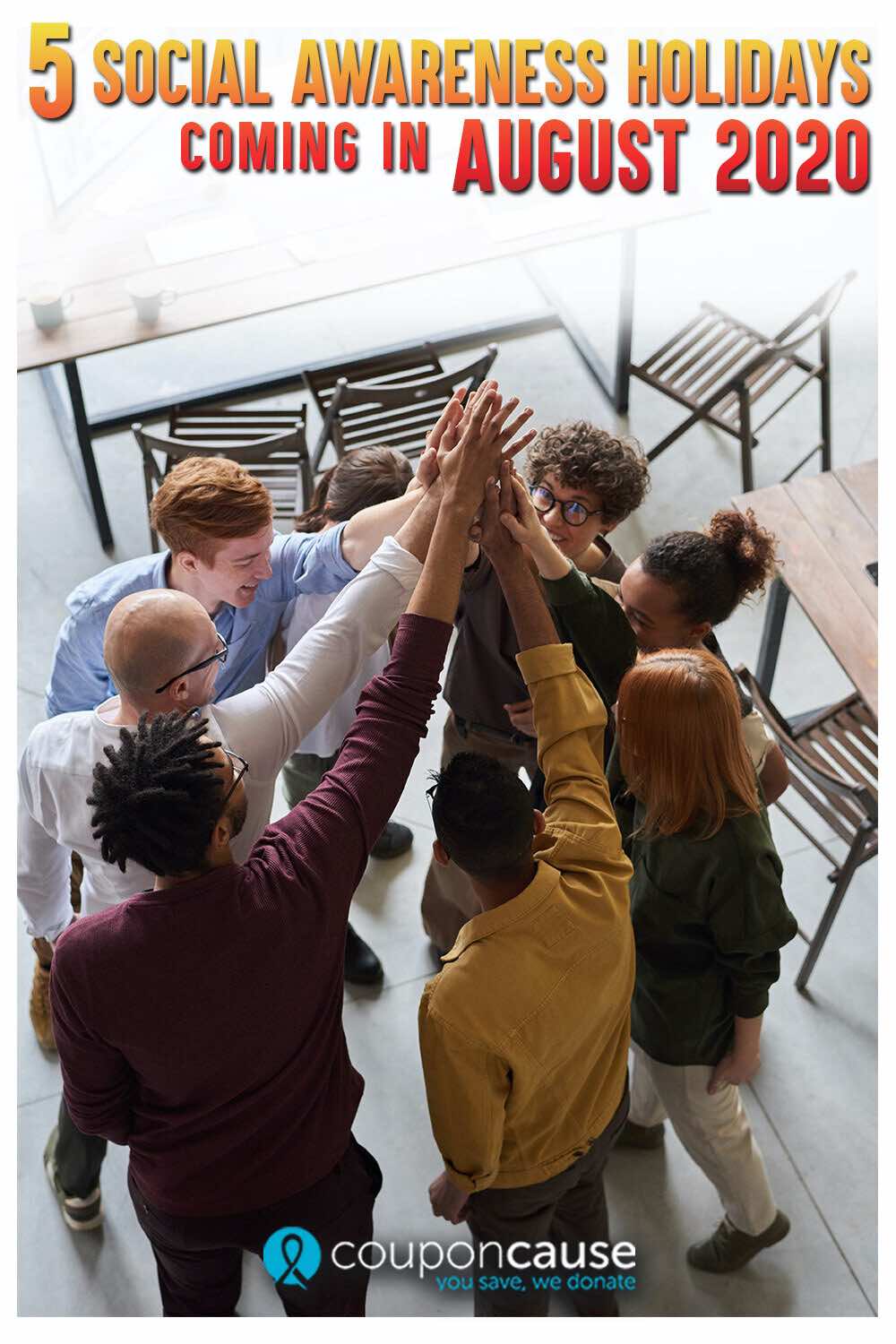 World Lung Cancer Day 8/1
Lung cancer is now the most common type of cancer in the world, accounting for over 12% of all cancer cases. Considering lung cancer is preventable, it is hard to believe that it accounts for over 17% of cancer deaths. Other than smoking, environmental factors, industrial products and nutritional deficiencies also contribute to lung cancer. That's why it is so important to take a moment on World Lung Cancer Day to learn about the disease's risk factors and highlight the importance of early detection. World Lung Cancer Day takes place annually on August 1. This year, the American Lung Association's LUNG FORCE is asking people to take the following actions:
Review their lung cancer risk factors and avoid smoking, exposure to radon gas, air pollution and secondhand smoke.
Get screened for lung cancer if high-risk (between 55-80 years old, with a history of smoking).
Join the fight by contacting Congress and asking them to support more lung cancer research.
World Elephant Day 8/12
World Elephant Day has taken place every August 12 since 2012 to keep these amazing creatures off of the endangered species list. Elephants are threatened by poaching, habitat loss, mistreatment in captivity and human-elephant conflict (such as when sharing farmlands). There are things we can do to ensure we can live in harmony with elephants while also protecting them. World Elephant Day asks us to make sure we experience elephants in a non-exploitive way and in a sustainable environment that allows them to live with proper care and protection. There are three specific ways you can observe World Elephant Day:
Donate. Your donations help support the World Elephant Day campaign and events.
Participate. Help create awareness by:

Informing other people about the danger facing elephants.
Host your own World Elephant Day event and add it to this Events page.
Purchase the "When Elephants Were Young" documentary to support the work of World Elephant Day.
Use social media to spread the word about World Elephant Day.

Sign the pledge, which states, "I pledge to support a world that protects elephants, wildlife and their habitat."
World Honey Bee Day 8/15
Did you know that honey bees are responsible for a third of our food supply? Keeping these insects alive is more important than people realize. As such, National Honey Bee Day (now World Honey Bee Day) started in 2009 to bring awareness to the benefits of having honey bees in the environment and ensuring that their environmental needs are met as well. There are many ways to support World Honey Bee Day on August 15, including:
Planting wildflower seeds that promote honey bee pollination efforts.
Buy locally sourced honey, and enjoy it in tea, on toast and as a natural sugar substitute in recipes.
Post honey bee facts on social media to spread awareness of the importance of honey bees and support local beekeepers. Use #WorldHoneyBeeDay.
World Humanitarian Day 8/19
Humanitarians are helpful people who know that the benefits of promoting human welfare benefit everyone. Unfortunately, humanitarians are sometimes so selfless that they don't think of their own needs, and may find themselves in risky situations. Whether volunteering in war-torn nations or working in a hospital during a pandemic, humanitarians can always use some support and an occasional "thank you". Originally started in 2003 after a bomb attack at a hotel in Iraq, World Humanitarian Day on August 19 gives us a chance to show our support. Here are just a few ways:
Donate to any humanitarian organization near and dear to you.
Become a humanitarian for a day. It can involve anything that relieves people's suffering close to home, whether volunteering or writing encouraging notes.
Contact your elected officials to let them know what humanitarian causes are important to you and how they can help.
Women's Equality Day 8/26
Women's Equality Day has been around since 1971, when the U.S. Congress designated every August 26 to the cause, celebrating the 19th Amendment that gave women the right to vote, as well as committing to the continued fight for women's rights. There are many ways to observe Women's Equality Day, such as:
Downloading the annual Women's Equality Day Brochure to distribute around the workplace or at local libraries and schools.
Sign the Women's Equality Day petition to elect Women's Equality Day as a federal holiday.
Thank the women in your life for all the work they do for others.
Support female-owned companies, which can be found on the Small Business Administration's website or through your local chamber of commerce.
Make sure you're registered to vote so your vote can be recognized on election day and to honor the sacrifices people made in the effort to pass the 19th Amendment.
Send inspirational notes to the women in your workplace or school.
---