50 Brands That Partner With Charity - Fashion, Home Goods, Jewelry and More!
November 4, 2019 by Samantha Carey
Giving to charity is something most people want to do but often don't because they're either not sure if they can afford to or often don't know to which cause to donate. But today, brands are making it more of a point than ever to both inform their consumers about notable causes and also partner with the charities themselves to directly benefit them financially.
Our guess is you probably buy clothing, candles, jewelry, and even cat food monthly. So why not buy the things you are already purchasing from brands who help give back? This list of 50 brands that partner with charity is your one-stop-shop for everything you could want or need to buy in your day-to-day life. With every purchase from these brands, you are impacting our earth, disadvantaged cultures, and even homeless pets.
Shop with a smile knowing that you aren't just spending money, but you are taking a step to impact the world!

50 Brands Partnered with Charity
1. Ten Thousand Villages - Jewelry, Home Goods and More
Ten Thousand Villages is the place to shop for beautiful artisan jewelry, household goods, and more and support the artists themselves. Their mission is to support a fair trade system where the artists can earn a fair wage. You can ensure that each item is made with care by a real individual making a dignified living.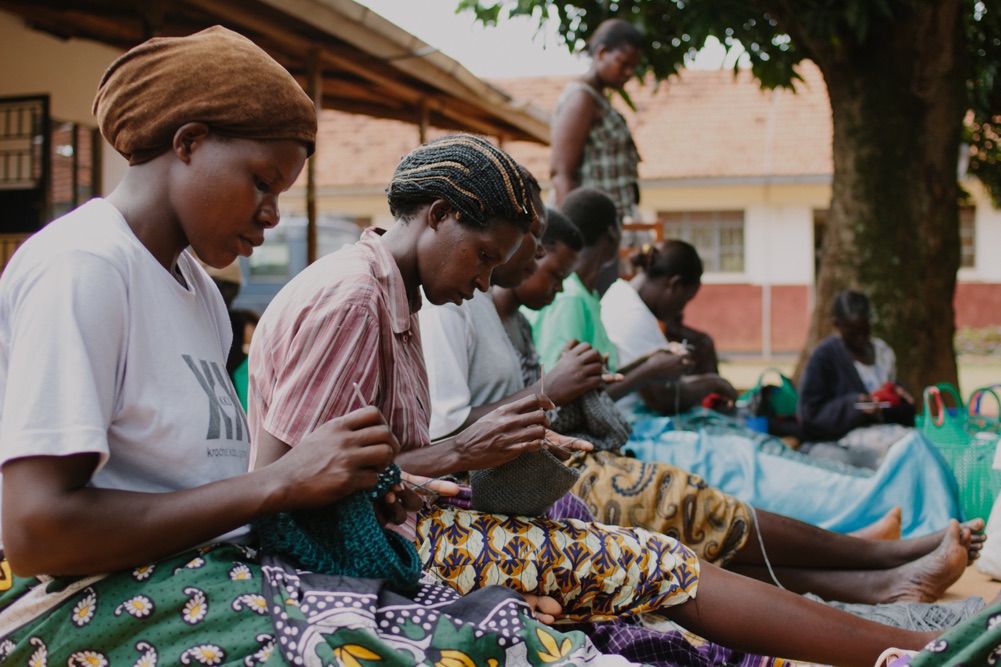 2. Krochet Kids - Headwear & Accessories
With a vision statement of "buy a hat, change a life", Krochet Kids works towards ending the cycle of poverty. They pursue this by employing women in need to create their beautiful headwear and other clothing. Hundreds have been employed through Krochet Kids to create these hats that give back.
3. Best Friends - Pet-Inspired Fashion & Pet Gear
This brand sells delicious food for your feline and also gives unadopted animals a home. Best Friends sells clothing, accessories, and pet toys with the ultimate mission of bringing about a time where there are no more homeless pets. Each purchase helps to assist homeless pets and provide care for them. You even have the choice to sponsor a pet or set up recurring donations to the organization.
4. Alex and Ani - Jewelry
A popular jewelry company, Alex and Ani exist for far more than just fashion. They have donated over 50 million dollars to over 50 different non-profits globally. The company also creates specialized jewelry that is designated towards specific causes such as the American Cancer Society, Blessings in a Backpack, and Habitat for Humanity. Here are some Alex and Ani coupons you might consider using to save:
5. One World Play Project - Soccer Balls
One World Play Project exists to make play accessible to underprivileged communities around the world. Their bright blue, unpoppable soccer balls are available for purchase and with each purchase, one is donated. Over 60 million youth have been given the opportunity to play through the company's 2 million One World Futbols sold!
6. FEED - Bags & Home Goods
FEED has the perfect gift for that food buff in your life and they also give aid towards one of our earth's biggest problems. Hunger is a daily reality for approximately 795 million people and FEED fights this crisis by providing meals for people without. Every product they sell, from kitchen supplies to handbags, goes toward this cause. Each product has a number on it that indicates the number of meals their purchase provides for those in hunger. They have provided a whopping 100 million meals!
7. Maisonette - Children's Clothing & Accessories
Many children in the school system go without basic classroom needs year after year. Maisonette has a simple solution: each purchase of their colorful, unique backpacks provides a backpack for kids in need. This is the perfect gift for that teacher-mom in your life and a great way to give back to kids and better prepare them for their education.
8. Thrive Causemetics - Beauty Products & Cosmetics
This philanthropic beauty company has a passion for giving back. Each purchase either goes towards a monetary or product donation to a women so that she may thrive. They work to fight against cancer, support those who have experienced domestic abuse, and aid those coming out of homelessness. Their donations have been astounding and they are planning their biggest donation yet in honor of their founder's birthday. They will donate $30 million worth of their products to over 50 charities including The Shoebox Project, Hays Caldwell Women's Shelter, and Safe Bae to name a few.
9. FIGS - Scrubs & Accessories
Through their "Threads for Threads" initiative, FIGS has been able to donate hundreds of thousands of scrubs to healthcare workers in dozens of countries. Their goal is to provide necessary medical scrubs for those who otherwise do not have access to them. They feature every size and type of scrubs imaginable that are comfortable, professional, and safe for medical workers.
10. Warby Parker - Prescription Glasses
One of the most popular places to purchase fashionable eyeglasses online is undoubtedly Warby Parker. Something you may not know is that with every pair of glasses you purchase, one is donated to someone with impaired vision who does not have access to eye correction. Over 5 million pairs have been donated and thousands have received free vision exams and eye screenings. These Warby Parker coupon codes will help you save on your eyeglass purchase:
11. Project 7 - Clean Chewing Gum & Candy
Project 7 turns the everyday purchase into an effort to solve major problems in the world such as hunger, sickness, and homelessness. Their shop features dessert gum, lollipops, and gummies. Each tiny purchase truly adds up and helps to support Project 7's seven initiatives.
12. Bombas - Socks
With a mantra to "be better," this sock seeks to provide its product to homeless shelters. Socks are the most requested items at these shelters and Bombas has pledged to donate a pair of socks with each pair sold. They've made a huge impact already donating over 25 million pairs.
13. SiiZU - Fashion & Accessories
The home of conscious fashion, SiiZU produces eco-friendly, 100% organic clothing. Their materials are both harvested and manufactured in the same location to provide the best quality possible with the lowest environmental impact. SiiZU high-end fashion doesn't need to compromise quality to produce something beautiful. They also donate generously towards American Forest's goal of planting 2.7 million trees this year (2019).
14. The Tote Project - Tote Bags
The Tote Project donates a massive 10% of their profits to a charity that empowers victims of sex trafficking. Their partnership with Two Wings enables women who were trafficked to be able to have access to mentoring programs, career training, and life skills workshops. They are also given opportunities for job experience through their work in making The Tote Projects beautiful bags. If you're looking for the perfect bag for your loved one, buy from this brand to make a real impact in the world at the same time.
15. WeWOOD - Wooden Watches
Buy a watch, plant a tree. It's a super simple concept that the watch company WeWOOD operates under. Through the company's partnership with Trees for the Future, they have planted over 600,000 trees with the audacious goal of planting 1 million by 2020. Each purchase of one of their stylish, sustainable-sourced wooden watches goes straight to this goal. Our WeWood promo codes can be used to save on purchases:
16. Ground & Hounds Coffee Company - Coffee
With a belief that great coffee can fuel a greater purpose, Grounds & Hounds Coffee Co. has done incredible work in the canine world. This unique coffee company sets aside 20% of their profits for animal rescue initiatives. This combination of the love of single-origin, specialty coffee and giving back to animals is the perfect brew!
17. Happy Blankie - Blankets for Children

This company knows exactly how to spread love and happiness. Happy Blankie is a cute, oversized blanket fused with a stuffed animal. Their motto is "one to love, one to give". Each purchase provides a donated Happy Blankie to children in orphanages and hospitals.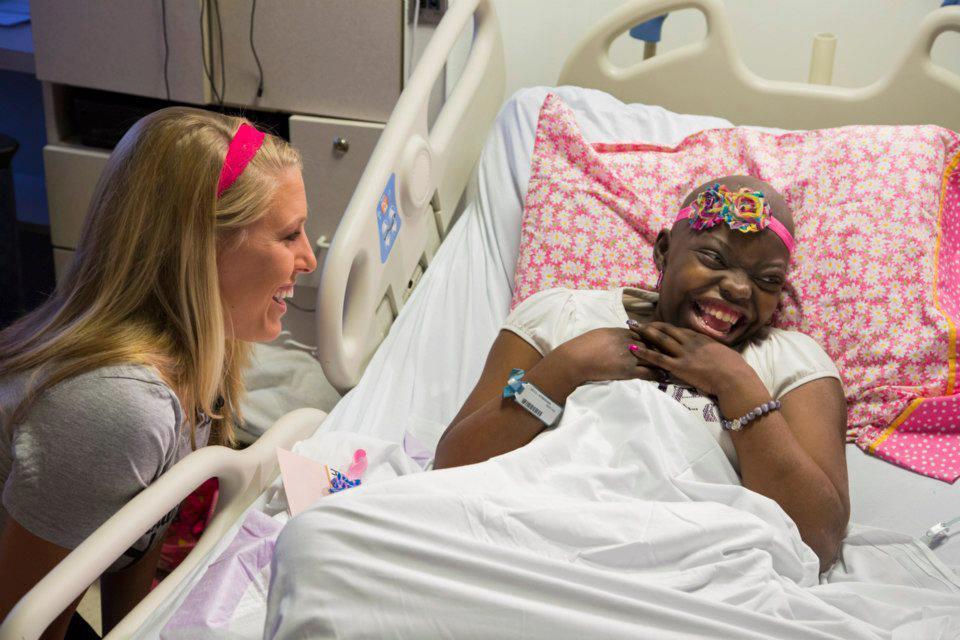 18. Headbands of Hope - Headwear
Another popular "buy one give one" company is Headbands of Hope. This brand works exclusively with children who are undergoing chemotherapy treatment for their cancer. Headbands of Hope provides beautiful headbands for these children and have donated headbands to every single children's hospital in America as well as hospitals in other countries.
19. CIRCCELL - Skincare
This skincare brand wants to be known for more than beauty but its impact on the children of the world. With each purchase of their face oils, CIRCCELL will donate $5 toward Nest Foundation, an organization that protects children from being sex trafficked and exploited. The brand also makes an annual donation to The Center for Arts in Jackson Hole, Wyoming.
20. Yuhme - Eco-Friendly Water Bottles
A producer of eco-friendly products, Yuhme is a water bottle company that is making a significant impact. Their bottles are made from sugarcane and have a negative CO2 output which greatly benefits the earth. They partner with water charity Water for Good to help supply clean water to communities and engage the communities long-term.
21. Love Justly - Fashion & Accessories
A hub of affordable and ethical fashion, Love Justly provides job opportunities. The company sells homemade bags, headbands, and fashion apparel made by individual artisans. You can ensure no one is suffering in the process of making these items and that your money is directly benefitting these artisans. Our Love Justly coupon codes are available to help you save money on purchases:
22. Juniper Ridge - Soaps, Teas, Fragrances and More
This company creates incredible smelling natural perfumes, soaps, and tea, just to name a few of their products. Their process is an age-old technique that uses real elements of the wild to create their products. They work to create only the best quality products while supporting the very nature they extract their product from. They partner with several wilderness protection groups and donate 10% of their proceeds to them.
23. LuminAID - Solar-Powered Lanterns & Chargers
For outdoors lovers exists the LuminAID solar lantern. Light is an often ignored luxury that is desperately needed in disaster situations in addition to food, water, and shelter. This compact solar light is extremely helpful to those who have been affected by hurricanes and other disasters that have left people displaced. Since the brand's origins, thousands of lights have been donated to those in need. Try one of these LuminAID discount codes to access savings:
24. Beautyblender - Cosmetics
A must-have for you makeup lovers is the famous Beauty Blender makeup sponge. This brand is constantly running new initiatives and selling specialty products to support different charity organizations. Beauty Blender is selling a pink makeup sponge through October (2019) with a portion of its proceeds going towards Breast Cancer Research Foundation.
25. TOMS - Shoes
One of the original charitable brands is undoubtedly TOMS. They are known famously for donating a pair of shoes to someone in need with each pair that is purchased. They have also expanded their efforts in creating partnerships to help support equality, mental health awareness and combating homelessness. Pairing a TOMS coupon code with your order is a great way to save philanthropically:
26. Commonplace Coffee - Coffee
A Pittsburgh favorite, Commonplace Coffeehouse and Roasters brings a family-style coffee service to its community. The company has a special featured coffee that exists in partnership with Lending Hearts. This cause addresses the need for assisting cancer patients and their families as they go through treatment. A portion of your money used to purchase the Lending Hearts Blend coffee will be given directly to Lending Hearts.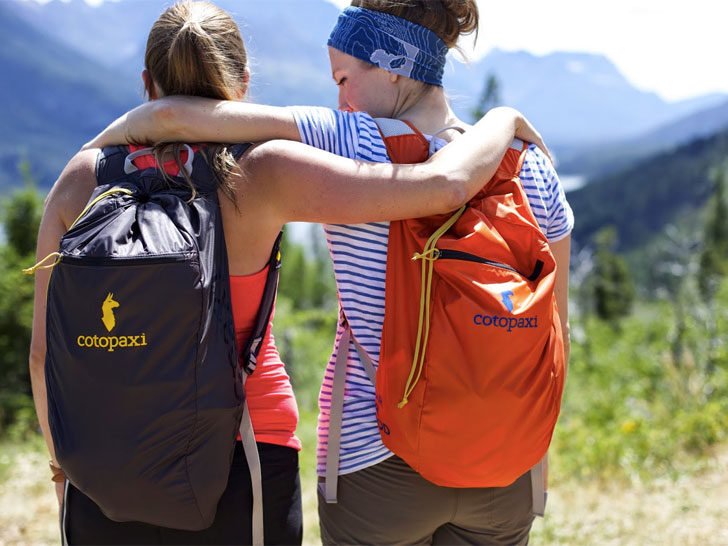 27. Cotopaxi - Outdoor Gear & Apparel
Cotopaxi is your one-stop-shop for clothing, accessories, bags, and a ton of outdoor gear. They produce "gear for good" and view their company as a vehicle to make an impact. They address poverty and support community development by donating 1% of their profits. They are a proponent of fair working conditions for their product developers and promote a positive change in the supply chain. This philanthropic powerhouse also provides grants to a plethora of nonprofits.
28. Marc Skid - Underwear
Everyone uses underwear, so why not buy your undies from a company that helps to better the world? Marc Skids is an underwear company that exists to feed the world, cure the world, and save the world. These three initiatives are coupled with a specific underwear style and color and go towards fighting against malnourishment, helping to cure preventable deaths and to help prevent pollution. $4 of every purchase goes toward these causes. This small company still packs a punch with almost $6,000 given to charity so far.
29. The Right to Shower - Body Wash & Soap
Everyone showers almost every day, but many people are living in the world that cannot take showers due to experiencing homelessness or natural disasters. The Right To Shower brand believes that access to cleanliness is a fundamental human right and they sell products to help that very need be met. In the first year, the brand committed 100% of its profits toward making mobile showers units available to those who need them. Their partnership with Lava Mae makes these showers and other hygiene essentials available to the homeless.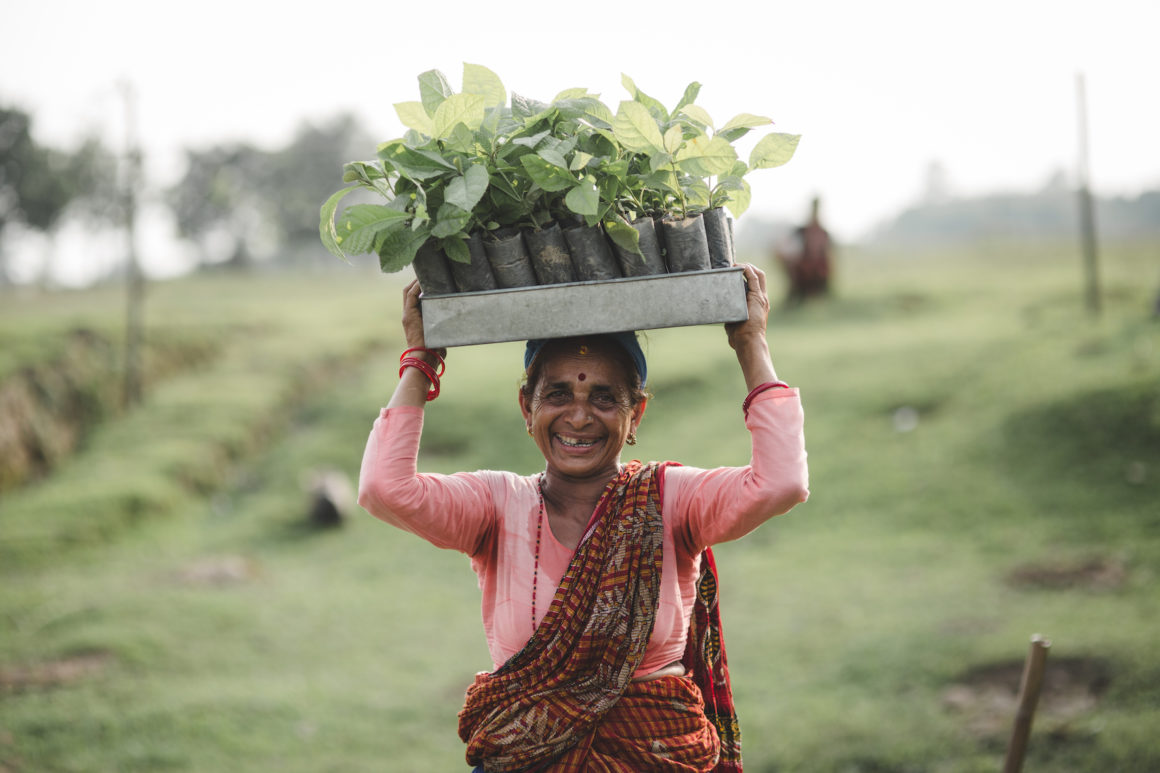 30. tentree - Clothing & Accessories
tentree has an audacious goal to be the most environmentally progressive brand on earth. A seller of men and women's clothes as well as accessories, this brand prides itself on their eco-materials. With every item purchased, a tree is planted. Tentree has a goal to plant 1 billion trees by 2030. They have already planted almost 34 million, so they are well on their way to making a huge environmental impact.
31. Sackcloth & Ashes - Blankets
This blanket company hopes to meet one of the greatest needs among the homeless population. With every purchase, Sackcloth & Ashes donates a blanket to a homeless shelter. They have the lofty goal to donate 1 million blankets by 2024. You can have a direct impact on people experiencing homelessness by gifting one of their beautiful blankets to your loved one.
32. THINX - Underwear for Women
This woman-focused underwear brand creates underwear that is an eco-friendly substitute for traditional menstruation products. Their focus is on fighting for better puberty education and reproductive rights. Their GiveRise program helps to provide education and give girls access to period products. Partner organizations such as Safe Horizons and Girls Inc. create access to basic hygiene products. Give our THINX coupons a try when you're ready to buy:
33. Sanaya Set - Beauty Products & Accessories
This clothing brand never stays silent about the things that matter the most. They make it a point to partner with product companies that align with their principles of uplifting women and social justice. 10% of their net proceeds are donated to organizations that align with their values. They greatly support the concept of intentional spending and making every dollar they receive make an impact in the world.
34. Moeloco - Flip Flops
Operating under a "one for one" policy, this flip flop company is making a huge impact on children in need. With every purchase of Moelocco's signature flip flops, a pair of school shoes is donated to a child in poverty. They want to make it easy for their consumers to make a legitimate impact in the world by simply choosing to use their money wisely and spending it on products that make an impact.
35. Light Shine Candles - Candles
Good candles, great cause. The mantra of Light Shine Candles surely shines through. This family-run company creates candles in small batches that exist from a family recipe. The brand serves with Global Outreach Development which works to serve immigrants and refugees in the states.
36. Pura Vida - Bracelets
This bracelet brand was born out of an appreciation for local artisans in countries such as Costa Rica and India. The artisans colorful, unique bracelets caught the eye of the company's founders and have since been sold by the millions. Pura Vida employs local artisans, providing them a sustainable income, and also partners with over 170 charities. Their Charity Collection has made a way for over 1.9 million dollars to be donated to causes their consumers care about. Here are a couple Pura Vida coupon codes you can use to save:
37. MiaDonna - Diamond Jewelry
We love diamonds, but the majority of diamonds in the jewelry industry are not ethically sourced and exploit children to obtain. MiaDonna exists to fight against this culture of exploitation by choosing only to use conflict-free diamonds for their rings and jewelry. They use 10% of their profits to positively impact the lands and lives that have been damaged by unethical diamond mining. They also plant a tree with every order they receive.
38. Elegantees - Fashion
This fashion brand is fighting one of our world's biggest issues - human trafficking. With production sites based in Nepal, Elegantees provides jobs to women who were once trapped in sex slavery but have since overcome and escaped. All of their designs are ethically made and their workers are paid a fair wage. This company changes the lives of women and also produces beautiful and high-quality clothing.
39. Skylar - Perfume
Want to smell super great and also contribute to providing mentorship to underprivileged girls? Shopping at Skylar is the perfect solution. This hypoallergenic, organic perfume brand has a vision to inspire confidence and does this by donating a portion of their profit to the non-profit Step Up. Before purchasing, see if a Skylar promo code can help you save:
40. Parks Project - Outdoor Gear & Clothing
Inspired by the iconic TOMS shoe brand, Parks Project was birthed from the dream to give back. This national park-focused brand sells outdoor gear and clothing in which a portion of their profit is dedicated to funding projects in parks. They give to over 50 park-protecting non-profit groups and have restored trails, provided education, planted native plant species, and even provided junior ranger badges. A purchase from Parks Projects has a direct impact on parks in the U.S. and Canada.
41. Numi Organic Tea - Tea

Numi Organic Tea produces delicious tea with an eco-friendly mindset. They work towards their vision of strong communities and sustainability through partnership with Communitea. They also work with programs that provide clean drinking water as well as educational opportunities.
42. 5028 - Footwear
This family-owned artisan shoe company specializes in small-batch, quality footwear. They spread the small family vibe by partnering with family-owned factories to produce their shoes. 5028 wants to support causes that matter so they donate $5 for every pair sold towards mental health support. They also work to help the environment by not selling their shoes in shoeboxes but rather in a convenient dust bag.
43. Happy Family - Organic Baby Food
At Happy Family Organics, happiness wins. This organic food brand has food for everyone from baby to mom and has a goal to nourish from day one. Along with their commitment to providing healthy foods, they support families around the world through nutrition education and meal donations. In fact, they have distributed over 40k educational materials and over 2 million nutritious meals in the past 3 years. They have even donated over 100k meals to hurricane victims. Happy Family truly is spreading joy!
44. Paper Culture - Greetings Cards
Everyone needs to buy special occasion cards, so why not support a brand that creates incredible cards and also gives back? Paper Culture has holiday cards, Christmas cards, wedding invites and more, and they plant a tree with every purchase. This certified Green Business also source sustainable materials for their cards, Paper Culture has been able to plant over 1 million trees.

45. WILDFANG - Fashion
This edgy, women founded fashion brand has a strong focus on supporting women. In 2018, WILDFANG raised over $400k for charities that are supporters of women's rights, immigrant rights, and reproductive rights. Their eclectic fashion makes room for all women to "wear whatever the hell they want."
46. Ivory Ella - Fashion
This popular brand sells fashionable clothing while also changing the culture around the controversial ivory trade and wildlife conservation. Ivory Ella has committed to donating a minimum of 10% of its profits and has successfully donated 1.7 million so far. Their efforts have helped to save countless elephants and are truly making a difference in the world. Check out these Ivory Ella discount codes when you're ready to buy:
47. KitNipBox - Subscription Box for Cats
The perfect gift that cat lover in your life that is also super convenient and charitable. The KitNipBox is a subscription box full of everything you need for your feline fellows from toys to treats. KitNipBox supports over 100 animal welfare organizations all across America. Your purchase helps to support The Paw Project, Brooklyn Animal Action, and SAAP to name a few.
48. Justin's - Food & Snacks
Justin's sells delicious, high-quality, nut butter and snacks. The company runs on a pay-it-forward mentality and supports Whole Planet Foundation in its efforts to relieve poverty and Conscious Alliance that works to relieve hunger. They have also partnered with The Xerces Society, a leader in pollinator conservation, to help save the bees.
49. GoodBeads - Jewelry
"Handmade jewelry on a mission" is the mantra of the jewelry company GoodBeads. What is the mission? To donate toward wildlife and environmental conservation efforts while supporting ethical & sustainable community development initiatives around the world. $5 is donated for every purchase of their products and benefit causes such as The Rainforest Foundation, Oceana, and Wildlife Conservation Society.
50. Good Spread - Peanut Butter
This food company has found a viable solution to malnutrition amongst children - peanut butter! Their specialty peanut butter called MANA is a fortified peanut-based medicine that includes extra vitamins needed for growth and overall health. For every jar of this special peanut butter sold, a treatment of the MANA ready-to-use therapeutic food is sent to a child. The perfect gift for all you PB lovers out there!
Whether you are helping to save the planet, uplift women, or provide a home for pets, there is a company out there who wants to help charitable causes. You can make the choice to purposefully support brands that give back and not ones who just hoard their profits for themselves. As you shop, consider the products you purchase as a way to make a difference in the world and make it just a little bit brighter.
---