9 Tips for Finding Affordable College Dorm Essentials
August 12, 2019 by Tiffany Douglas
Soon, colleges across the United States will be flooded once again with students eagerly seeking to build a sound foundation for their future. Many will stay in college dorms. Whether you're a freshman moving in for the first time or on your last lap, having a comfortable and stylish dorm room is essential to a productive year.
Here are 9 tips for filling your college dorm essentials list at the lowest budget possible!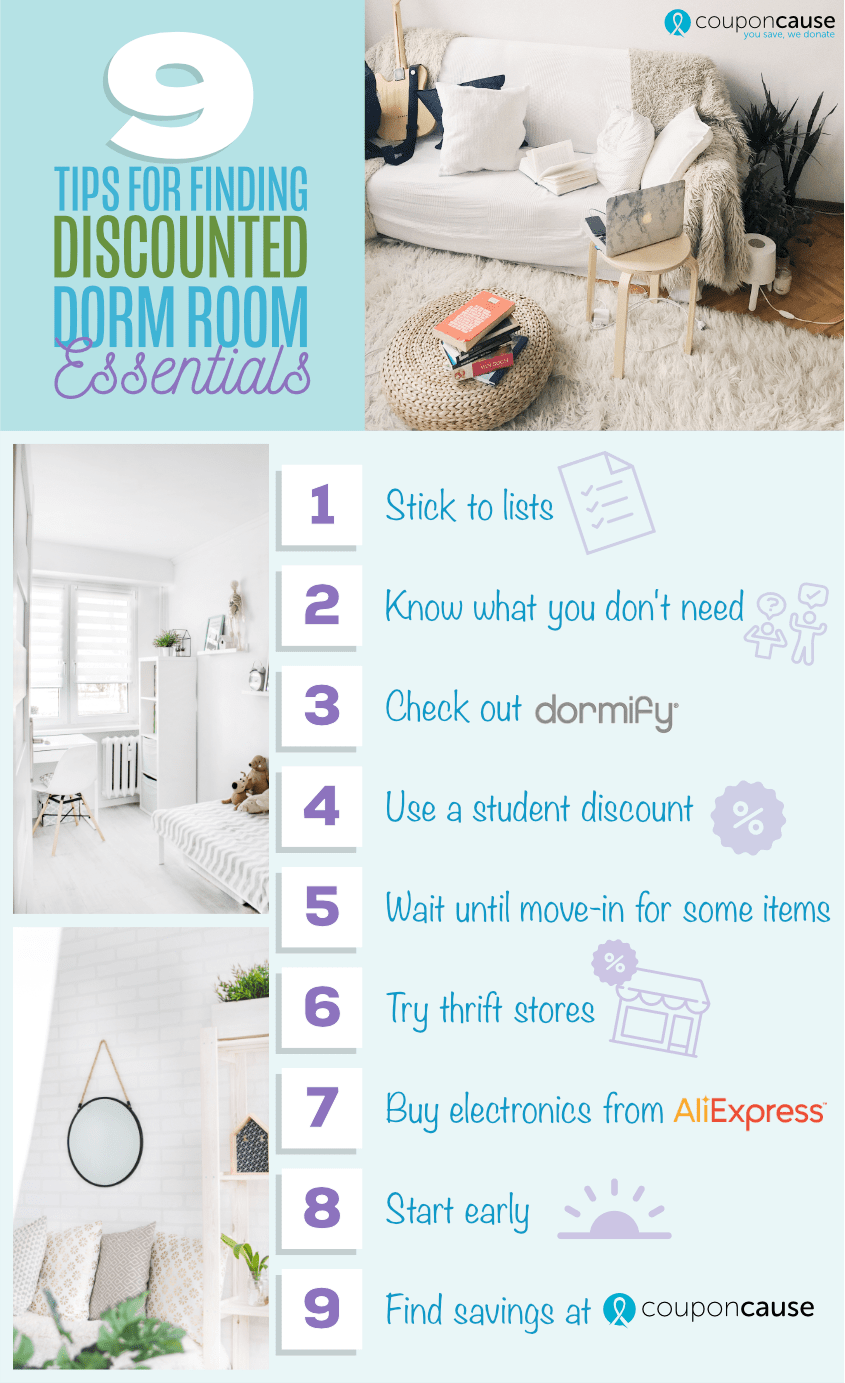 How to Buy Budget College Dorm Essentials
1. Stick to lists.

We'll talk more about lists in this list, but the importance of the point can't be stressed enough. Make a list and stick to it. As soon as you venture outside of the list, you're likely looking at a much higher bill than anticipated. Try an app like Wunderlist for list making!
2. Know what you DON'T need.
One of the best ways to limit expenses on college dorm room lists is by making a separate list of the things that are not needed. This is especially useful for students returning to the dorms and may already have a portion of the items they'd want anyway. First-year students with siblings who have gone to college would also benefit from making a list of things not needed.
3. Check out Dormify.
Convenience is the name of the game when you purchase dorm room essentials from Dormify. Find most of the things you'll need in one place and have it shipped directly to your dorm room! It doesn't get much easier than this. Here are a couple of Dormify coupon codes you can use for back-to-school 2019:
Details:
Ongoing Offer
Click "Show Coupon Code" To Activate This Deal. Exclusions May Apply
25% Off Sitewide
4. Use a student discount.
Student discounts are the most obvious way to save on your list of college dorm room essentials and a recommended place to start when looking for ways to save. We've compiled a bunch of our best offers at the link above. Many of the most popular brands for back-to-school season will have special offers or limited time coupon codes to use, so take advantage!
5. Wait to buy some items before you set up your dorm the first time.
If you have yet to visit the dorm where you'll be staying, it's a good idea to wait to buy larger items until you've had a chance to see exactly how it's laid out. Purchase the absolute essentials beforehand but wait until you've already moved in to buy larger items like couches, futons or TV stands.
6. Try thrift stores.
Thrift stores are a popular place for new-used fashion, but they are also a great place to go hunting for bargain dorm room essentials. Look for items like lamps, tables and nightstands at a thrift store near you.
7. Buy electronics from AliExpress.
If you're on the hunt for budget electronics, AliExpress is worthy of consideration. Find laptops, printers, cell phones and more at seriously discounted prices. Here are some AliExpress discount codes to get you started:

Verified
Details:
Ongoing Offer
No Promo Code Needed. Click "Get Offer" To Activate This Deal. Exclusions May Apply
Up To 50% Off Sale Items
8. Shop through CouponCause.com.
Couponing during back-to-school season is as essential as making lists. The best place to start with your college dorm room essential list is right here at CouponCause! Be sure to check in as needs arise to see what coupons we have available for you to use.
9. Start early!
The early bird gets the worm and that's true with prepping for college as well. Make sure to start early and start making lists as soon as possible. You'll be thankful on move-in day you took so much time to properly plan!
---