Best National Cheeseburger Day Deals, Freebies and DIY Recipes - September 18
September 11, 2020 by Angie Long
While the origins of National Cheeseburger Day are debatable, one thing is certain: the cheeseburger is a quintessential American sandwich that deserves its own day of honor. That day happens to be September 18. Every year, restaurants offer special deals for cheeseburgers, but they tend to be limited and there are usually long wait times. So if you have a family to feed or simply don't want to wait in a long line for something mass-produced, pay homage to the cheeseburger like the experts — make your own. If you need inspiration, here are some popular DIY cheeseburger recipes from Pinterest that are worth trying on September 18.
First, we'll cover the best cheeseburger freebies and deals available for National Cheeseburger Day this year. Scroll below these deals to find our favorite cheeseburger recipes!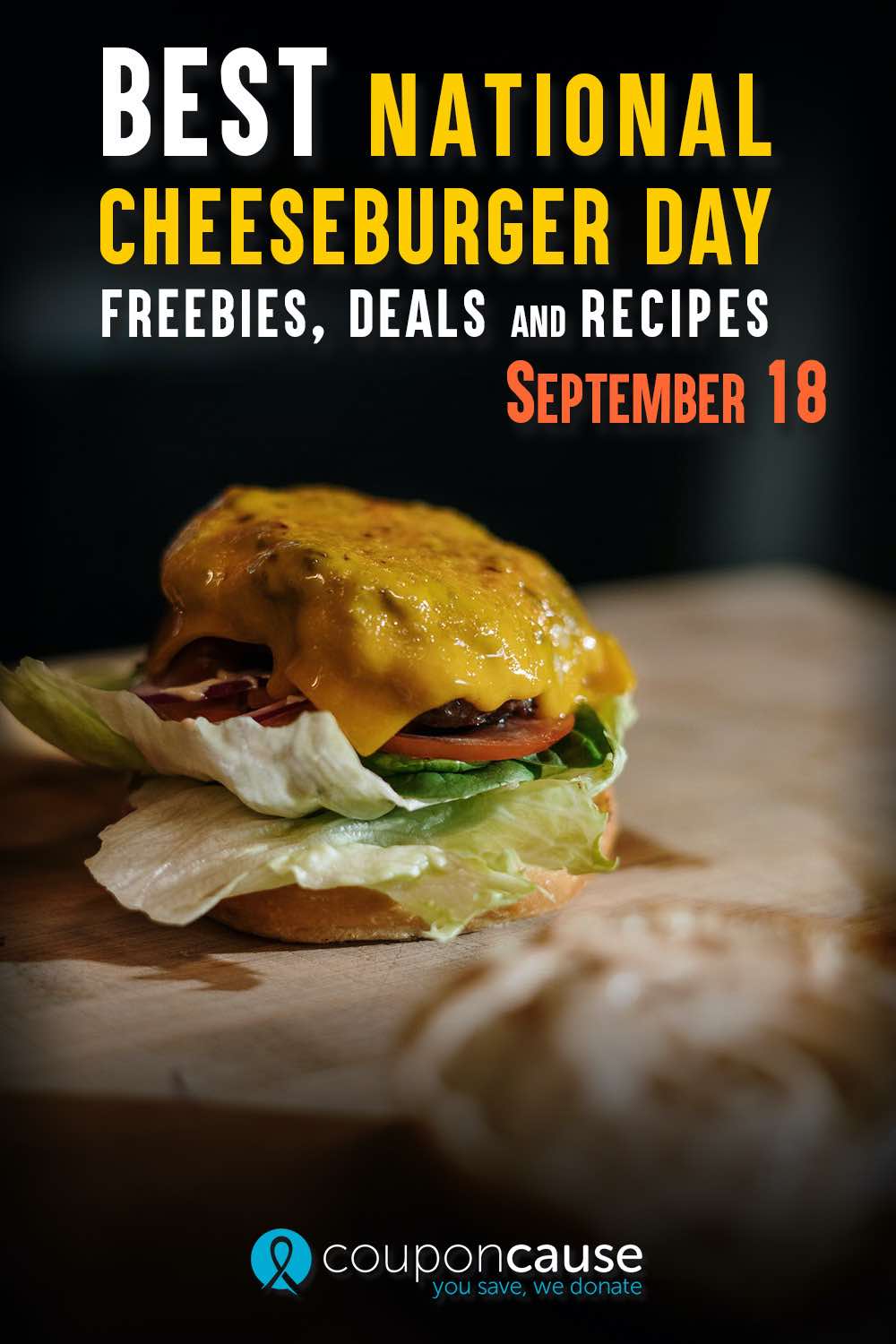 Cheeseburger Deals and Freebies for National Cheeseburger Day
Here are some of the best National Cheeseburger Day deals for this year we've found while scouring the web.
Hopdoddy Burger Bar: Visit Hopdoddy Burger Bar for a National Cheeseburger Day freebie to fill you up. Order online with the code "DOUBLE" to score an extra free patty on your cheeseburger order. Basically, you'll get a double for the price of a single!
Wendy's: For a limited time, Wendy's is selling a "Pretzel Bacon Pub Cheeseburger". It's exactly what it sounds like - a burger with a pretzel bun and juicy strips of bacon!
Wayback Burgers: On National Cheeseburger Day only, Wayback Burgers is selling their delicious "Cheeesy Quarantini" burger at a price of just $6.99-$7.49.
Slater's 50/50: Visit a Slater's 50/50 location in San Diego, Pasadena, Valencia or Anaheim Hills and say the magic words "Juicy Lucy". This will score you an upgraded Juicy Lucy patty. The Juicy Lucy is essentially a burger stuff with cheese! On top of this limited time secret menu offering, diners will receive a special coupon card for a $15 Backyard Classic Burger and beer or a $10 Backyard Classic Burger with soft drink, valid through the end of the year.
Farmer Boys: Visit a local Farmer Boys location on National Cheeseburger Day this year between 2-5pm to purchase a $2 Big Cheese!
Domino's: Out for an atypical cheeseburger experience for National Cheeseburger Day this year? Domino's has exactly what you need. Purchase a large "Cheeseburger Pizza" for $11.99!
You can also order delicious, high-quality beef to make your own cheeseburger recipes with a Grassland Beef coupon:
Verified
Details:
Ongoing Offer
Click "Show Coupon Code" To Activate This Deal. Exclusions May Apply
15% Off Sitewide
Verified
Details:
Ongoing Offer
Click "Show Coupon Code" To Activate This Deal. Exclusions May Apply
15% Off Sitewide
Best DIY Cheeseburger Recipes for National Cheeseburger Day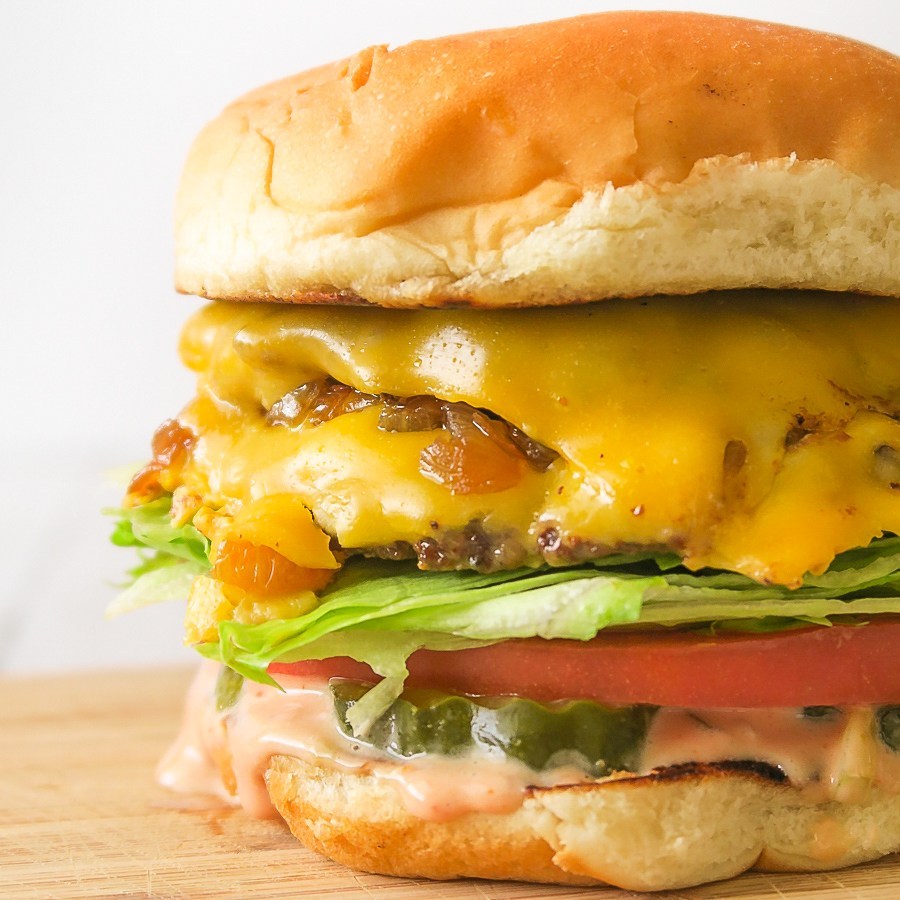 Animal Style Double-Double Copycat Recipe
Who needs In-n-Out Burger when you have this recipe to help you make and customize your own double-double burger? Here's what you'll need for four animal-style burgers:
1 lb. ground beef
8 leaves of iceberg lettuce
4 tomato slices
2 yellow onions
16 dill pickle slices
3 Tbsp. ketchup
1/3 cup mayo
1/2 cup yellow mustard
1 1/2 Tbsp. sweet pickle relish
1 tsp. salt
1 tsp. sugar
1 Tbsp. cooking oil
1 tsp. white vinegar
4 soft hamburger buns
8 slices of American cheese
4 tsp. butter
3 Tbsp. water
You'll see in the link to the recipe that this is a little more involved than the typical burger recipe, but it is worth it if you don't have an In-n-Out Burger in your neck of the woods. Try to toast the buns first and remember to make the burgers very thin. The key to keeping them crispy and flavorful is to fry each patty with a little mustard, so don't skip that step!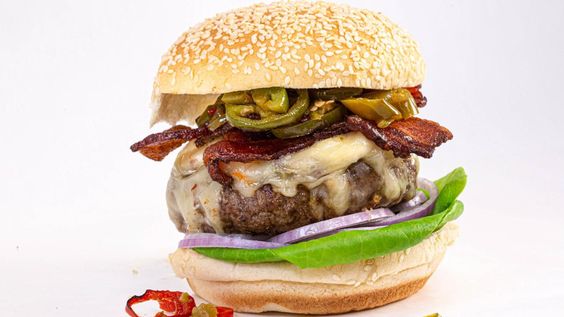 Rachael Ray's Easy Jalapeño Popper Burgers
If you've ever watched Rachael Ray's cooking shows, you know that she's a big burger lover and has created quite the collection of burger recipes. If you like it hot, here's what you need for 4 jalapeño popper burgers:
8 slices meaty bacon, halved across
2 Tbsp. canola or olive oil
1 large jalapeño pepper, thinly sliced into rings
1 large red chili finger pepper or Fresno chili pepper, thinly sliced into rings
½ cup mild or hot pickled jalapeño rings
6 ounces cream cheese
1 clove garlic, grated or minced
1 tsp. ground cumin
1 ½ - 2 pounds ground beef sirloin
Salt and pepper
2 Tbsp. Worcestershire sauce
4 deli-cut slices (or 8 thin slices) pepper jack cheese
Soft burger rolls
Lettuce, romaine or leaf
Thinly sliced red onion
If you don't want them too spicy, Rachael recommends using cheddar cheese instead of pepper jack and using mild pickled jalapeños instead of hot. You can also skip the red chili pepper rings.
Purchase high-quality beef to make a National Cheeseburger Day recipe with a Crowd Cow discount code: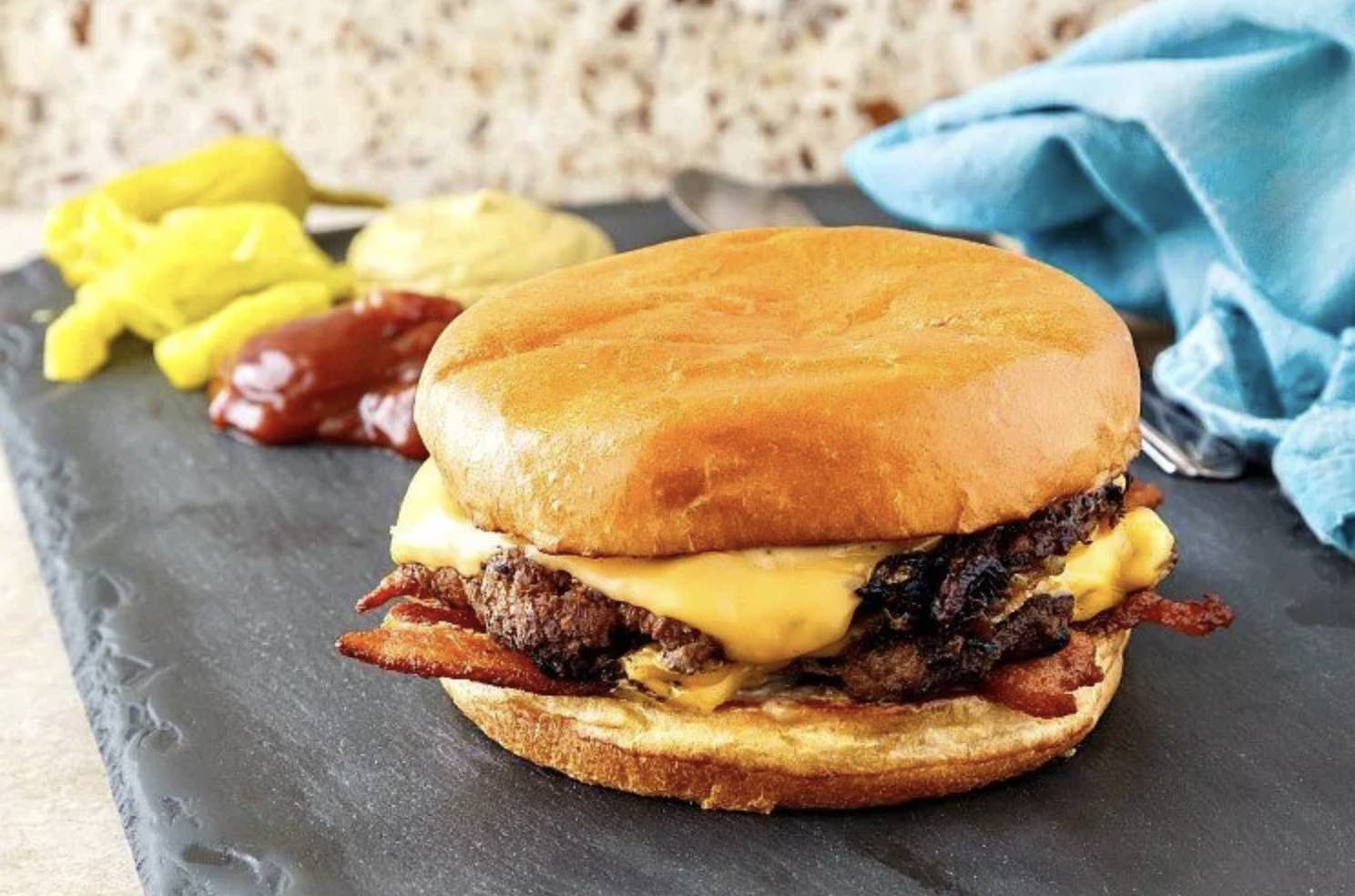 Bacon Double-Cheese Smashed Burger
According to burger folklore, the Smashburger was invented in Kentucky about 50 years ago, when a burger shop employee discovered that smashing the burger meat onto the griddle with a bean can be the best way to seal in the burger's flavor. Since then, and maybe even before, other people have found their own resources to use to smash the burger onto the griddle or pan. Nonetheless, if you like thin, crispy burgers, this bacon double-cheese smashed burger recipe is for you. Here are the ingredients for four Smashburgers:
3 large, sweet onions
2 Tbsp. olive oil
Kosher salt
Pepper
12 slices bacon
4 brioche buns, split
½ cup mayonnaise
2 Tbsp. Worcestershire sauce
8 slices American cheese
1 pound ground chuck
You'll see that this is a pretty easy recipe to make, but you'll need the right tools. So make sure you have a solid, heavy "smashing" device like a heavy pan. You'll also need a metal spatula for scraping the burger off the griddle or pan.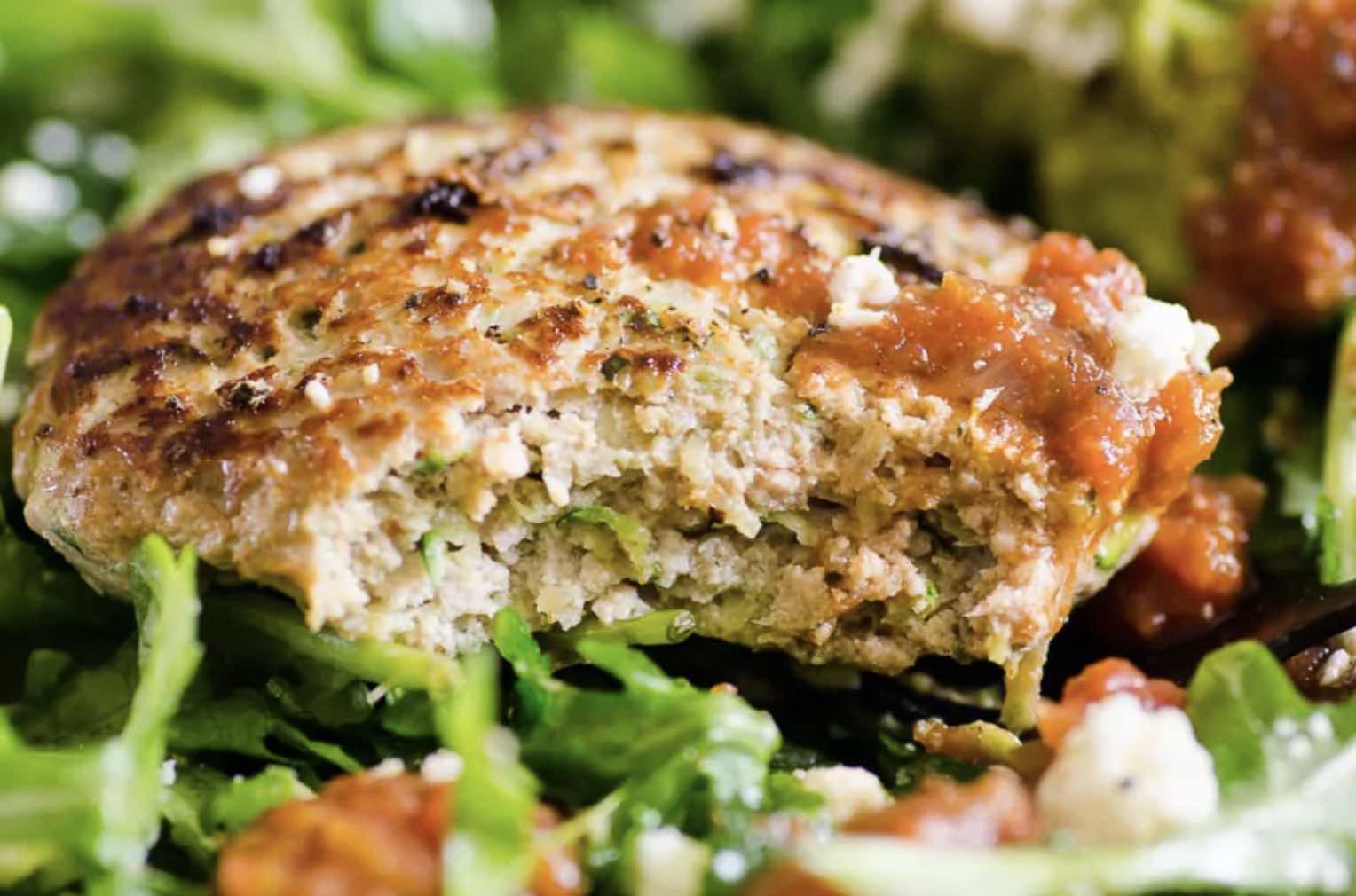 Healthy Turkey Burgers with 5 Simple Ingredients
This recipe is proof that cheeseburgers don't have to be unhealthy. These turkey burgers use zucchini as a not-so-secret ingredient to keep them moist. You'll notice in the instructions that there are a lot of ways to customize this recipe, and it serves as a healthy and delicious blank slate for toppings like guacamole and, of course, cheese. Although the original rather these five ingredients for four burgers, add some cheese to take it to the next level:
1 pound ground turkey
1 grated zucchini
1 garlic clove
Cumin
Salt and pepper
Any type of sliced cheese
Don't forget a bun, unless you want to use lettuce instead. Since they're low-fat and gluten-free, these turkey cheeseburgers will appease a lot of health-conscious eaters.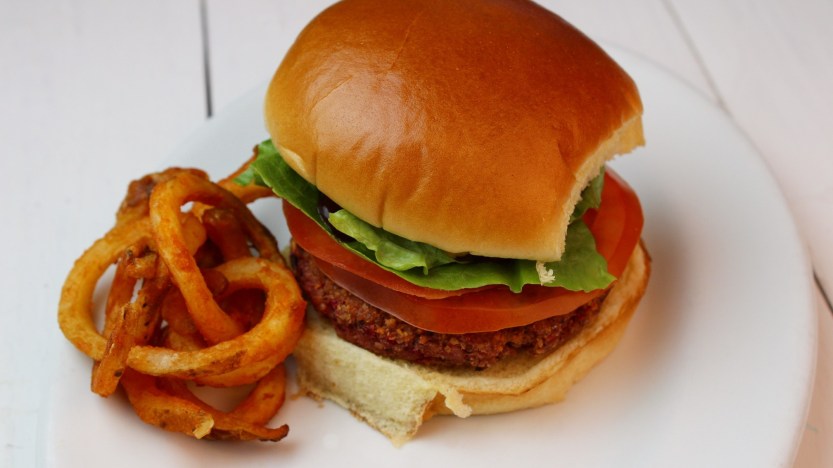 The "I'm Possible" Impossible Burger
Plant-based burgers, like those made of black beans or mushrooms, have grown exponentially in popularity over the past decade. The meat-free movement was propelled by Patrick O. Brown, M.D., Ph. D. in 2011 when he founded Impossible Foods to end the use of animals to make food. Given its popularity, we have to say it's been a success, and many people can't even taste the difference between hamburger meat and plant-based "meat." If you want to give it a try, check out this recipe, and gather these ingredients for eight impossible burgers:
12 ounces sliced mushrooms, sautéed until browned
1 cup cooked short-grain rice
12 ounces tempeh, chopped
¼ cup quick cook oats, dry
2 Tbsp. grated beets
1 tsp. salt
1 tsp. pepper
1 tsp. red pepper flakes for optional heat
1 Tbsp. nutritional yeast
1 tsp. garlic powder
1 tsp. onion powder
1/2 tsp. liquid smoke
1 Tbsp. oil for cooking, optional
Again, don't forget the buns, and most importantly, the cheese! This recipe lets you choose which kind you prefer, but cheddar is always a safe bet. If you like it gooier, use American.
---